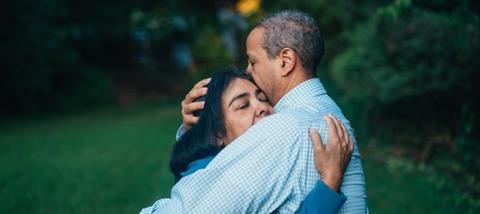 Some years ago, I read an article in the New York Times that featured the work of psychology professor, Dr Arthur Aron. I was amazed by how the study had taken two complete strangers who'd never met before and made them fall in love in a lab. How? They sat face to face and answering questions that became increasingly more intimate, followed by four minutes of uninterrupted eye contact. Six months later, they were married!
I wondered how the questions could be adapted for someone already in love...
I wanted to use the theory and began looking for a conversation game to take on an anniversary weekend with my husband to recreate some of that magic.
The only products I could find had questions that were closed and a bit superficial or too crude or intense. I was surprised at how negative many of them were - who is the worst backseat driver? Which item of your partner's would you like to throw away? I wanted questions that would prompt fresh conversation. Some that would lead us down memory lane and remember the good old days and those that would help us dream together…so in the end I created my own.
These questions had such a great impact on our own relationship I decided to play cupid for some of my friends and family. I believe that there is something truly magical and mysterious that happens in a great conversation; to be truly present, to share your story and to listen to theirs. To exchange something authentic that allows you to really know them and to be known by them, piece by piece.
Here are nine of my favourite questions to get you started:
Reflect:
1) What stands out as your favourite birthday memory?
2) What is your favourite family tradition?
3) You have the authority to pass one new law to make the world a better place, what do you choose?
Reveal:
4) Which qualities do you most value in a friendship?
5) What would you like your legacy to be?
6) What did you learn about relationships from your parents, both good and bad?
Relate:
7) Which moment made you first fall for your partner?
8) What stands out as being your favourite surprise from your partner? Why?
9) Which, of all our dates, would you go back to experience again?
Jennifer Short is an entrepreneurial mum and Founder of Q Cards, a new game created to help couples connect. Jen is on a mission to get couples talking more! She is passionate about helping to strengthen relationships through good old fashioned conversation and has secured Kickstarter funding, that saw her receive support globally, to launch her passion-project.
Premier Christianity is committed to publishing a variety of opinion pieces from across the UK Church. The views expressed on our blog do not necessarily represent those of the publisher.