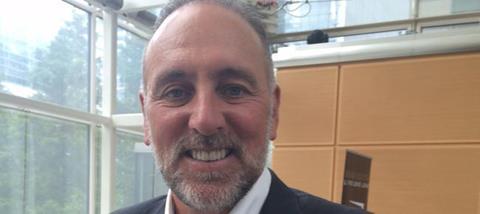 I've just been told that you're a big fan of Periscope. How did that come about?
A few weeks ago, late night Sunday I was watching Sky News. One of the presenters started talking about Periscope and how it's going to be the next big thing in social media. I'd never heard of it, but I downloaded it. I didn't even know it was livestream. I just started playing with it and having fun with it.
The funny thing is how many people are now attributing their joining Periscope to me. So I should really get paid I think, because I've become a missionary and advocate for Periscope!
How important is social media, not just to you personally, but to the church?
I think people realise social media is a blessing and a curse. You've got to make sure it serves you, that you don't serve it and you don't build your self esteem off how many followers you do have or don't have.
There was a time when we were very much in the hands of the secular press or a few select journalists who could have had agendas. Now people can get their own messages out. You don't need a record company to release a record. You don't need a book publishing company to release a book. There's so many things you can do now where you don't need to depend on a third party.
When it comes to presenting the gospel, I think it's a huge opportunity. YouVersion [Bible app] which of course comes from Pastor Craig Groeschel and their church is literally reaching 100 million people, or some outrageous number. It's exponentially picking up momentum. That's putting the Bible in people's hands.
I'm a great fan. I don't have Facetime, but I like Instagram and Twitter and nowadays, Periscope!
What's your hope for the Hillsong conference this weekend?
It's our largest conference ever, which is very exciting. What's unique about it here in London is the crowd really is from all over Europe. It's not really just an English conference. In fact we'd like to see more English people here! People from practically every country in Western and Eastern Europe.
The conference has always been about championing the cause of local churches everywhere. We never want it to just be about our church and people coming to see what we do. We want to be about equipping other people.
Our theme this year is 'speak, we're listening'. We're really believing the Holy Spirit is going to speak. We want to have ears to hear exactly what he's saying.
My faith goal for this conference is from the very first opener all the way through…God will speak to people bring direction to people's lives bringing encouragement and ultimately seeing our families our churches and our lives changed.
Many recognize how good Hillsong is at reaching Western, wealthy cities like London, New York and Sydney. But some have said you're not reaching into poorer places. How do you respond to that criticism?
Well usually I pretty well ignore them to be honest with you. Because if people aren't criticizing that, they'll be critiising something else.
But I do believe it's our calling to build influential churches in influential parts of the world. At this stage that involves quite a number of very big influential cities like New York, Los Angeles, London, Paris and others. But we're also in Kiev, which is a war zone. We're also in Moscow. We're about to start in Bueno Aires. We're about to start in Brazil and Sao Paulo.
It's not really a Western-Eastern thing or a wealthy-poor thing. It's really significant places where significant things can be accomplished.
I would imagine one day that those influential cities will be cities like Mumbai. The way you can reach 1.3 billion Indians is potentially through building something significant in Mumbai.
You've just released a new book 'Live Love Lead'. What's it about?
This book is really dear to my heart. I've done books and that before. But nothing has been in my heart like this project.
I'm very open honest and authentic. I share some of my mistakes as well as the victories in the book, which I hope people will find refreshing. Because often you can buy self help books, but there's no vulnerability. I don't see it as a self help book. I do see it as a book that can help people to be the leader God has called them to be, the husband or wife God has called them to be.
My prayer is the reader will start to see the potential they have and will be inspired to step out, be themselves, be who God has called them to be and get out on the faith lane and enjoy the journey.
To receive a free copy of Premier Christianity magazine click here