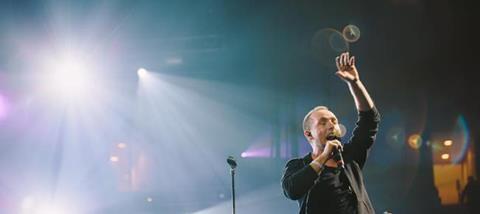 What made you move to Nashville?
Everything was going great with The Remission Flow; we were seeing a lot of people coming to know God and it was beautiful. I was 34 and ready to drift into early middle-age comfort.
Word Records from Nashville called me. They offered us a record deal. I made sure all the guys and girls in the band were offered the opportunity too. It was a natural end to The Remission Flow; life was moving on.
My wife and I tried to be obedient and follow God. Coming out here to Nashville was us saying, 'Ok God, you've opened up a crazy door and if this is going to allow us to reach thousands of people we're going to do it.'
The huge scale of the Christian music world in America has already enabled you to play to stadium-loads of people. Has it also allowed you to pursue music full-time?
Yes, for the first nine months I was writing every day. The label would set me up with different producers and I wrote 130 songs. I know how important it is to work hard, and for me playing music full-time is not a get out of jail free card, it's an opportunity to work even harder.
What drives you?
I remember every day why it is I do what I do. I was dead in my sin and God made me and our family come alive. We want to serve him. Our single 'Everything Comes Alive' is in the top ten in Christian radio. It's reaching over 8 million people a week. It's phenomenal! We're getting emails from people who were contemplating suicide and single mothers who are struggling to find a sense of hope. And they're finding peace and Christ through this song.
For me evangelism is about loving the least, the broken, the dirty. If we're going to reach those people, we have to say real things to them and be honest.
What you say about being honest reminds me of the last track on the album, 'I Don't Have All the Answers'. That's quite a brave title for a Christian song, isn't it?
You're right, it's a risky title to put on an album. It'll never get on radio, I know that! [laughs] When someone is broken or lost, I have a tendency to want to fix them. Men want to fix everything! I put so much pressure on myself – I want the world to come to Christ, but I've realised that's not my job. I don't have any answers, other than this is me, and this is Jesus. I'm going to love you and present him to you.
Hope is in short supply. I can talk about Jesus until I'm blue in the face but only the Holy Spirit can convict someone. But what I can give through these songs is hope. There is hope in Jesus; tomorrow doesn't have to be like today.
We Are Messengers (Word Records) is out now
Click here to request a free copy of Premier Christianity magazine