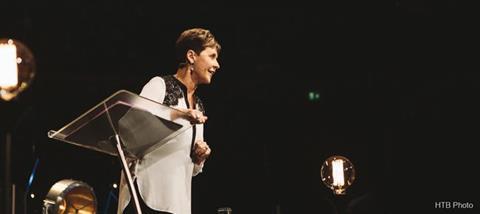 Joyce Meyer: a supremely gifted, faithful and passionate preacher of the word, or a proponent of a prosperity-gospel message and teacher of self-help? Writing a précis of one of the world's best-known female preachers is a notoriously difficult task, not least because opinions held on Joyce are wildly varied.
Joyce's frank, straight-talking teaching style has certainly earned her an enormous radio and TV audience as well as a packed international ministry schedule, which this year included a UK tour and a visit to Premier. She attended the interview with her husband, two sons and bodyguards, and there was a sense in which she seemed somehow protected by those gathered, as well as guarded in her words. Joyce is open about having been criticised in her ministry right from the start. She has had to develop a robustness, so perhaps carefully monitoring what she will and won't speak up on is the only way forward.
PEOPLE CLAP AND CHEER AND ADORE ME, BUT WHEN I GO TO BED AT NIGHT, I GIVE IT BACK TO GOD
Joyce's first visit to church was almost accidental. Her parents, she says, had no interest in going to church themselves, but a neighbour wanted to take Joyce with her. There was no altar call during the service, but wanting the salvation from Christ she had heard about in the sermon, nine-year-old Joyce approached the preacher at the end and asked him how she could be saved. She asked Christ into her heart that night.
'I always tease and say I went to church that night for the purpose of being saved and I took two of my cousins with me, and said, "We are all going to get saved." So I guess I had a little bit of a Christian leadership in me, even back then'.
Joyce's childhood was tragically marked by the abuse she experienced at the hands of her father: sexual, verbal and mental. She describes him as a 'mean and violent' alcoholic. As a teenager, she says her only ambition was 'to survive life and get out of his house'. At 18, she left home and began her career in a series of office jobs. Crippled by low self-esteem, Joyce believed no one would ever want her, and she married 'the first young guy that came along that showed any interest'.
'I always say that desperate people do desperate things,' she says, as she reflects on that first, short-lived marriage. She had a child with her first husband, and then went on to meet the 'fine Christian' man she has now been married to for almost 49 years.
Forty years into her life as a preacher and minister, 72-year-old Joyce has written more than 100 books and heads up a ministry with more than 700 employees based in the St Louis suburb of Fenton, Missouri. Her four adult children are all involved in Christian ministry.
Controversy around finance has surrounded Joyce in recent years. She is said to use a private jet as her regular means of transport and is reputed to have had extensive plastic surgery. In November 2003, the St. Louis Post-Dispatch published a fourpart special report referencing her '$10 million corporate jet, her husband's $107,000 Mercedes sedan, her $2 million home…' Meyer and her family were subsequently investigated by the Internal Revenue Service (IRS) and Joyce Meyer Ministries was later one of six investigated by the United States Senate inquiry into the tax-exempt status of religious organisations by Senator Chuck Grassley.
In 2009, Joyce Meyer Ministries received accreditation from the Evangelical Council for Financial Accountability (ECFA), which stated that in terms of the ministry's financial accountability, transparency, board governance and fundraising practices, it had met their requirements of 'responsible stewardship'.
WE CAN NEVER HEAR TOO MUCH TEACHING ABOUT WHAT IT REALLY MEANS TO WALK IN LOVE
Finances aside, the practical outreach wing of Joyce's ministry is evidently deeply significant to her. 'We have a large prison ministry, which I am very fond of and we have placed almost three million books in prison cells now… It is amazing how many people come to Christ through that,' she says. Her Hand of Hope ministry also runs medical missions, has funded the digging of wells and 36 orphanages, and works against human trafficking. 'We work a lot through partners that are on the ground. I feel sometimes like we are a bridge. We minister to people that give, then we take what they give and distribute it out in the places where it has the most need,' she says.
So what of the future of a ministry that is apparently located around the vision and teaching of one woman? Joyce says her sons Daniel and David, who work in the ministry with her, are likely to take it forward when she steps down. But she says there are unanswered questions here. 'Our ministry at this point is based around a teaching gift and thus far none of my children have exhibited having that. Then, God has a plan and we don't know exactly what it is,' she says.
How does someone with so much attention and acclaim remain grounded? 'Humility is before God as well as before people,' Joyce says. 'I might get thousands of compliments while I am here in Europe on this tour and I will be in front of large crowds of people and they will clap and cheer and adore me, but when I go to bed at night, I give it back to God.'
It is often said having a poor relationship with your earthly father can affect your relationship with your heavenly Father. Is this something you have had to wrestle with?
The biggest thing that I had to deal with was not feeling like God was mad at me every time I made any kind of a little mistake, because in the home that I grew up in you just never knew what was going to set my dad off. He was angry a lot and when he was angry there would always be punishment, whether that was not talking to you or not letting you do something you wanted to. It took me a long, long time to realise that God wasn't mad at me.
God can get angry but he is not an angry God. His anger doesn't last for long. He is merciful and kind and good, and certainly the moment that we are sorry for anything we have done wrong there is complete and total restoration.
Another thing that I really struggled with was learning how to enjoy life. I never really got to be a child; I don't ever remember being free and not having responsibility.
My father was abusing me and the big thing was to make sure I didn't tell anybody, and so I lived with this terrible secret all the time. I just didn't enjoy life. I can remember getting in trouble for laughing and having fun because my father was just so unhappy. It took me a long time to finally learn the true meaning of John 10:10…Jesus said, 'I came that you might have and enjoy your life and have it to the full, until it overflows.' Enjoying life doesn't mean we live on vacation or that it is just always about being at a party; but just learning how to enjoy, common, ordinary, everyday life.
How have you managed to find the good, even in some of the challenges you have faced?
I had to make a choice to either cave in and just give up on life, or to press in and overcome, and I chose – probably partly because of my personality, but a lot of it just being God in me – that I was determined I was going to make it through and come out on the other side and do something. Many of the [difficult] things in our lives are the enemy doing things or messes we get ourselves into, but the moment we begin to trust God to take those things and work good out of them, he can and will do that.
As a young woman, you experienced a season of poverty. Did that cause you to rely on God more or have to pray for miraculous provision?
Yes, I think so. If you don't have anybody but God then you do depend on him, and I wouldn't say that we were in poverty, but we definitely lived pay cheque to pay cheque. I was always afraid that we weren't going to have enough because I had grown up having to take care of myself. God really needed to teach me to depend on him…
I started learning how to trust God for finances many, many years ago, when it was about just trusting him for things like utensils for my kitchen and shoes for my kids.
Was there any element where you were afraid that maybe you wouldn't be a good parent to your children because of the experience you had with your parents growing up?
I can't say that I really thought about that all that much. Maybe I should have, but I didn't. It is amazing to me when I look back at what a mess I was and how good all my kids turned out…I certainly wasn't a perfect parent. I was frustrated a lot when my kids were little…You end up getting mad more than you should and being less patient then you should.
When I was called into ministry that brought a unique element into our life even beyond the problems I had had. I always say that I am a good mother but I am not a normal mother. You can't do what I am doing and be like every other person that you know. I think God anoints an entire family, not just an individual.
You mentioned that when you heard the call to ministry the dynamic of things changed in your life. How did you come to the point of realising that God was calling you to preach?
I had listened to a teaching that was back then recorded on cassette tapes, and I had had a real strong encounter with God. I just cried out to him, asking him to do something in my life. I was already a Christian and had been in church for a long time, but just didn't have any victory in my life. I came to that point where I just knew something wasn't right…'surely there is more to life than this'.
He really did touch me and made me really aware of his love, and so I started listening to more teaching…I just felt very strongly; it was…like this overwhelming desire came that someday I am going to do that; I am going to teach the word and go all over the world. I felt like the Lord spoke to my heart that I would have a large teaching tape ministry, which is kind of unique, but if you think about it now, even just being on television around the world, everything does go out by some kind of recorded message. I believe that when God calls a person to do something that they know…it is usually something that even if you want to get rid of it, you can't.
Trying to birth the ministry was so hard and I had so much opposition, and for me as a woman in ministry, when I started 40 years ago, it was very unheard of and unpopular…you got a lot of judgement and criticism for it. I had such a strong desire to do it. That has never really left me from that day until this.
One of the things that can hold us back from seeing a vision fulfilled is a sense of insecurity or fear. Did you have moments when you thought, 'I can't do this'?
I had all of that in abundance. When I first started trying to minister the word in front of people, I would be nervous. Insecurity causes us to be concerned about what people are going to think of us.
The more experience you have with God, the easier it is to have faith…The truth is that God always comes through. Any time I get up to speak, he always comes through, and if you trust God he can even cause you to have favour and for people to like you, even when there is no reason for them to.
Travelling so much must mean that church has to become wherever you happen to be ministering at the weekend. So I guess you can't really be plugged into a local church in the same way most people would be.
No, I can't…I feel like I live in church. We do lots of meetings ourselves; it just happens that I am always the one doing the preaching. But we do have a pastor that we ask to officially be our pastor. I really respect him and love him, and if we needed correction I feel that he would give it to us. He is somebody to be accountable to…I like to be around people that challenge me to always come up higher…Being a minister is not about just having something to say, it is also about being an example in how you live.
The Voice of Joyce
Some memorable quotes from Meyer's straight-talking sermons
'Have God make a message out of your mess'
'Don't run to the phone, run to the throne'
'Words are powerful; if you change your words, you can change your life'
'You can be pitiful, or you can be powerful, but you can't be both'
'Mercy is the stuff you give to people that don't deserve it'
A lot of press, particularly in this country, have criticised ministers who have lots of wealth, saying it doesn't match up with Jesus' simplicity. How would you respond to that kind of criticism?
I have kind of quit responding to it because I find that people who want to find fault, pretty much have already made their mind up, and they are not going to believe anything that you say, no matter what. We need to be content whether we have a lot or a little. I went through lots of years of having a little and I loved God just as much. Most of our income does not come from the ministry, anyway. It comes from outside sources and from the books that I have written. Any books that we sell through the ministry, I don't take any royalty off; it is just the books that are sold out in the market. It amazes me that people have this idea that if you work for God you should have nothing, which doesn't really make much sense. I think that God wants our needs to be abundantly met.
If you work hard and you do the right things and you are generous and you give, the Bible promises us that God will give back to us multiplied many times over. We shouldn't care so much about what people have, we should look maybe a little a bit more at what they do with it…I think we need to be a little bit better about keeping our opinions to ourselves and not judging things that we don't know anything about.
One part of the ministry is Hand of Hope, which reaches out to people practically rather than just spiritually. How important is it that you use your influence, your platform and your networks to reach out to people who are in practical need?
It is extremely important. It is one of the most important things to us because Jesus always helped the poor.
I THINK THAT GOD WANTS OUR NEEDS TO BE ABUNDANTLY MET
If somebody has had a terrible time in life and they have gone through one tragedy after another and you tell them that God loves them, they might just laugh at you…Many times we have to be willing to show people the love of God, and that can be anything from being patient over a long period of time to providing for a physical need that they have that may cost [us] some money. The preaching of the gospel was always connected with helping the poor in the Bible…The two really have to be put together: we preach and we serve; we show the love of God.
If someone said, 'Joyce, you can speak on anything tonight, what is the one topic you are really passionate about at the moment?
There are two things I would say.
Firstly, I believe that we can never hear too much teaching about what it really means to walk in love, and if there is anything that the Church worldwide is lacking, it is probably that genuinely walking in love with everybody. Loving people, especially people that aren't very lovable, is a huge challenge.
The other thing is learning to have a personal, intimate relationship with God; not just to go to God when you need something, but to go to him because you need him. It is one thing to seek him for what he can do for you, it is another thing entirely to seek him for who he is…It is good when we get to the point where we can say, 'God, what can I do for you today?'
Joyce Meyer's latest book, Let God Fight Your Battles: Being Peaceful in the Storm (Faithwords) is available now