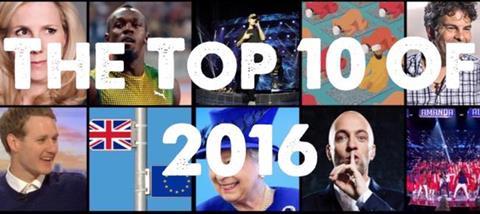 It's become a bit of a cliché to talk about how momentous (and at times depressing) 2016 has been. But whether through serving refugees, church planting or simply sharing their faith with friends and colleagues, UK Christians have made an amazing difference this year.
Not only have we enjoyed reporting on this good news – but it looks like you've enjoyed reading it too. As you're about to discover, most of this year's top 10 stories are rooted in very good news indeed. Here are the most-read articles you've been reading on our website throughout 2016:
10. Simon Cowell just experienced what it feels like to worship
The Britain's Got Talent judges had a surprise this year when the 100 Voices of Gospel choir took Christian music into the mainstream. Click the above link to watch the stunning performances for yourself. It's easy to see why the judges were wowed.
9. The letter of Pete Greig to the UK Church
Over the past 12 months we've invited leaders including Simon Ponsonby and Debbie Wright to pen open letters to the UK Church. Pete Greig's letter – which called on the Church to maintain unity and commit to prayer - was particularly well received. With a host of exciting contributors lined up for next year, make sure you subscribe to the print mag for more encouraging, inspiring and challenging letters throughout 2017.
8. How Justin Bieber's Christian faith got reborn
With murmurings of the world's biggest popstar having rediscovered his Christian faith, we asked Jamie Cutteridge to investigate. The result was our most popular culture column of the year. Click above to discover the remarkable story of how Justin Bieber was baptised in an NBA player's bathtub.
7. I'm a Christian, I voted to leave, I don't regret it
The EU referendum and Brexit result was undoubtedly the biggest story of the year. We invited Christians from both perspectives to write for us both before and after the vote. Given that 'leave' won, it's perhaps unsurprising that this pro-Brexit blog by Peter D Williams was our most popular piece.
6. Derren Brown: The Miracle Maker reveals his Christian past
We freely admit that not all of this interview makes for comfortable reading. But part of our mission at Premier Christianity is to connect Christians with those who shape culture (and that sometimes means publishing material that unsettles). What Derren Brown has to say about his former Christian faith and critique of charismatic healing events will certainly get you thinking. And the fact that an avowed atheist clearly enjoyed his sit down interview with the editor of an unashamedly Christian magazine is surely a positive sign. As Justin Brierley wrote in his editorial, "A friendly encounter, even with someone you disagree deeply with, leaves the door open for future conversation. So step outside your bubble and have that conversation. Who knows what miracles may await."
5. Sally Phillips: How I became a Christian
It's been a good year for Sally Phillips. The comic actress best known for playing 'Shazza' in the Bridget Jones franchise enjoyed huge levels of support after her BBC documentary 'A world without Down's Syndrome?' was broadcast. Her staunch defence of the rights of those with Down's Syndrome was praised by many, Christians included. In this extract from our profile interview, Sally talks publicly about her amazing testimony. For more from Sally, check out her conversation with fellow comedians Milton Jones and Paul Kerensa about faith and the funny side of life.
4. The BBC's decision to ignore Usain Bolt's faith is another sign of anti-Christian bias
The BBC's coverage of faith continues to get Christians talking! David Robertson's blog argued the BBC had deliberately side-lined Usain Bolt's faith during the summer Olympics in Rio. Regardless of whether you agree with David's argument, we can all agree the Games were choc-a-block full of Christian athletes who were very upfront in their faith. See here and here for more.
3. Why the media need to stop hounding Christian TV presenter Dan Walker
Many Christians were disgruntled to see BBC presenter Dan Walker hounded by some sections of the press for his views on creation. This on-the-nose blog by David Robertson defended Walker from the critics. Robertson wrote: "I don't care two hoots what a presenter's views are, or their sexuality, or their taste in crisps – as long as it does not affect their job."
2. 10 brilliant things the Queen has said about God
There was much rejoicing as Her Majesty Queen Elizabeth II turned 90 years old this summer. Mark Greene wrote our July cover story on the Queen's often overlooked faith and compiled these 10 wonderful quotes which further demonstrate the Queen's strong Christian beliefs.
1. Muslims turning to Christ: A global phenomenon
An unprecedented number of Muslims are becoming Christians. David Garrison, who has spent years researching the phenomenon, wrote this major feature for us in June. Since then, over 50,000 of you have read his piece, which includes testimonies from former Muslims across the Middle East.
Want more great content? Be the first with the news in 2017 by subscribing to Premier Christianity magazine and signing up to our weekly emails (tick the 'Premier Christianity' box)