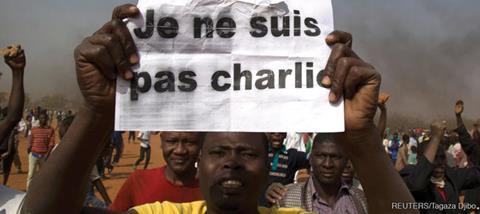 More than 70 churches in Niger have been attacked in the wake of the Charlie Hebdo massacre in Paris, which killed 12 and injured 11. In a twist on the 'je suis Charlie' ('I am Charlie') hashtag, a number of the antagonists held up signs that read 'I am Kouachi' in solidarity with the two Charlie Hebdo killers, Saïd and Chérif Kouachi.
The President of Niger, Mahamadou Issoufou, joined many world leaders and more than a million people in Paris to remember the victims on 11th January. However, while Issoufou appeared to condemn the violent attack, the rebels have chosen to align themselves with the gunmen.
Tensions rose after the satirical magazine used an image of the prophet Mohammad on its front cover a few days after the attack. Following this, many Muslims around the world who had initially supported the 'je suis Charlie' media campaign felt they could no longer do so.
While peaceful demonstrations took place in Mali, Senegal, Mauritania, Algeria and Pakistan, around 70 churches were set on fire in Niger during violent protests. Ten people are thought to have died and several hundred were injured during the demonstrations, which mainly took place in the capital, Niamey, and the country's second city, Zinder. Christian shops and homes were targeted, and reports indicate that more than 200 Christian families are now being housed in military camps.
Amadou Abdoul Ouahab, who took part in the Niamey demonstration, told Reuters: 'They offended our Prophet Mohammad, that's what we didn't like. This is the reason why we have asked Muslims to come, so that we can explain this to them.'
Anti-Muslim sentiment appeared to increase following the Charlie Hebdo killings, but many Christian leaders were quick to stress that terrorists, not Muslims, were to blame. Pastor Stephane Desmarais, leader of the French Protestant Church in London, said: 'This kind of story is not good for relations; not between Christians and Muslims, but between the population and Muslims.
'It's not good because people are very quick to confuse the two and the fact is: this is not Islam. This is why we are sorry for Islam and we are standing for them to show that there is nothing really coming from Islam in relation to this story.'
BOKO HARAM DESTROYS CHRISTIAN HOMES AND CHURCHES
Meanwhile, reports from neighbouring Nigeria estimate that 2,000 people – including many Christians – were killed during a single Boko Haram attack in January, and the death toll appears to be rising day by day. An estimated 1.5 million Nigerians have been displaced since the fighting began and the Washington-based Council on Foreign Relations puts the overall death toll at more than 10,000.
Bishop Oliver Dashe Doeme of Maiduguri believes Western military intervention is the only viable course of action against the militants now that Boko Haram has become allied to Islamic State (IS). In an interview with Aid to the Church in Need, he claimed that Boko Haram is poised to become a threat well beyond Nigeria's borders and that it is already recruiting in Niger, Chad, Cameroon and Libya.
Bishop Doeme said: 'The threat we face presents a very bleak future for the Church. Many of our members are scattered and others have been killed. In some areas there are no Christians any more, but the Church belongs to Christ. The Church will remain strong and many of our people have returned after land has been taken back by the Nigerian soldiers. The most important thing is to pray for our people. I know people are praying for us and I am very grateful.'
Release International spoke out after explosives strapped to a girl aged approximately 10 detonated in Baga, near the border with Chad, killing at least 20 people. Many of the terrorist group's attacks have targeted churches, schools and government buildings, particularly in Maiduguri, where there is a sizeable Christian minority. It is estimated that Boko Haram has destroyed approximately 1,000 churches since the start of its insurgency in 2009.
WHAT IS BOKO HARAM?
• Created in 2002, Boko Haram was declared a terrorist group in 2013
• The name means 'Western education is forbidden'
• The militant group is attempting to create an Islamic state, killing thousands and destroying property in the process
Rev Daniel Aweyi, a pastor in north-eastern Nigeria who lost 70 of his congregation in the latest bout of violence, said: 'The only joy we have is that we know where they're going and we know that Jesus said we will be persecuted and so…the scripture is becoming more real for us.'
Pointing out the disparity between the coverage of the Charlie Hebdo killings and what has been happening in Africa, Release spokesman Andrew Boyd asked: 'While you get a million out on the streets in France, where is anybody talking about the actual much larger-scale attacks that have been taking place in Nigeria?'
THE FREEDOM OF SPEECH DEBATE
The question of where the line should be drawn when it comes to freedom of speech has also polarised opinion. While some have celebrated Charlie Hebdo's refusal to be silenced by violent terrorists, others have condemned the inflammatory cover image as overly provocative and highly offensive.
Prime Minister David Cameron said that 'in a free society, there is a right to cause offence about someone's religion', while Christian author and researcher Nick Spencer, from thinktank Theos, said, 'I think [publishing the controversial front cover] was probably the right thing to do…The correct cultural norm is the ability to mock. Now that does offend people, but a society in which people are just too nervous to offend people is probably on balance a worse society to live in.'
Speaking to ITV News, Archbishop of Canterbury Justin Welby said: 'We live in a society where I may be offended, but I'm not going to respond aggressively.' However, he went on to say: 'There have to be very clear limits as to what is acceptable. Things that stir up hatred, things that stir up the despising of other people are things that are intolerable.'