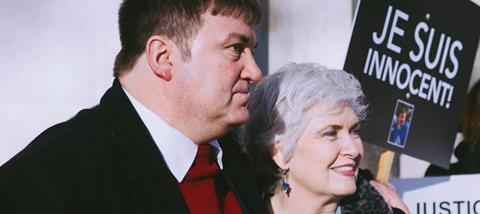 When BBC journalist Jill Dando was killed outside her home in London 20 years ago by a single bullet to the head, Michelle Diskin Bates never imagined her family could be implicated in the crime.
She was at home in Ireland listening to a news bulletin on the radio the day she found out her brother had been arrested. "I heard the name Barry Bulsara and I knew that Barry used that as an email address…I thought: how many of them can there be?" She called her mum, who was in England, and her worst fears were confirmed: her brother, whom she hadn't seen for almost ten years, was the main suspect in Britain's most high-profile murder case.
Evidence
Barry's arrest came one year after Dando's death. Michelle believes he was questioned because he was flagged on police systems as someone with a criminal past. "They realised that for a year they had got nowhere with the investigation they were running, so they said: 'Right, we have to go back and start at the beginning', which is right; it's what you have to do. So they were looking into who else was flagged up, and Barry was flagged up a couple of times and so they thought: 'Well, let's go and have a look.'"
Barry had previously been convicted for attempted rape and indecent assault some years earlier, and he lived in the vicinity of Dando's flat. When I ask Michelle about these serious charges, she doesn't respond defensively or try to protect her brother; instead she explains, gently, that she too was horrified when she discovered the truth – and told her brother so: "I'm afraid he was given quite a tough time from me; he didn't enjoy that visit one bit," she says, briskly. "But I think it needs to be understood that Barry is like a nine-year-old boy living in an adult's body. These things should not happen, and he knows right from wrong, but at the same time, he has a whole host of disabilities."
When the police searched Barry's flat for evidence of his involvement in Dando's death, they found him living in squalor. A common trait of Asperger syndrome, which Barry was later diagnosed with, is developing obsessions and hoarding things. Michelle says they found hundreds of newspapers and magazines, some about guns (one of Barry's interests) and some (1 per cent) containing articles about Jill Dando. "There was nothing underlined, circled, cut-out, highlighted in any way," she tells me. But, she claims, the police and the prosecution spun the story differently.
The trial
Michelle soon realised that Barry needed her help, so she booked flights to England, leaving her husband and three children behind in Ireland. "I'm so grateful to God that he only gives us a lamp unto our feet," she explains, thoughtfully, "because if I had seen 18-19 years ahead of me – that I was still going to be in this battle – I don't think I would have taken that first step." Michelle tells me that it would have been irresponsible if she hadn't asked herself the question: "Did he do it?". But once she spoke to the legal and medical teams, who were convinced of his innocence, and after reviewing the evidence, she was sure Barry couldn't have committed the crime.
The trial proved to be an incredibly stressful time for Barry. His mental health problems – that include ADHD and "an abnormal brain" caused by severe epilepsy – meant that he struggled to understand what was going on. "It was so devastating that my mother could not even go to the trial," Michelle says quietly.
In her book Stand Against Injustice (Malcolm Down Publishing) Michelle describes what happened during the preliminary stages of the trial. She explains how he was led into the courtroom wearing "the most awful clothes imaginable". The T-shirt and corduroys he had been given by prison officers were dirty and several sizes too big, she says. Journalists reporting on the case pounced on these details, "making it sound as if this was a choice he had made, to attend court looking like a tramp". When I ask her whether his vulnerable status was taken into consideration during the trial she explains that Barry's lawyer – Michael Mansfield QC – took the decision not to tell the jury about his mental health problems because the prosecution insisted his previous convictions be included also. "A conviction against women could well have prejudiced the trial," she says.
When Barry, then 41, was found guilty by the jury and handed down a life sentence, Michelle was devastated. She never doubted his innocence but she also didn't expect to be fighting for his release seven years later. When I ask what toll this took on her faith and family, she responds with optimism: "Most families that find themselves embroiled in wrongful conviction of any sort go through absolutely appalling times – personal victimisation. Very unusually we didn't and that was almost unheard of."
She says they were targeted by the media but experienced no condemnation from friends and family, and she attributes this to the power of prayer. In fact everything about Michelle exudes a deep sense of trust in God. She describes that period of life simply as "walking in faith".
If what I'm doing now helps somebody else, that's making good come out of bad
"My children have grown up through all of this with their mum missing quite a bit of the time. We were clear with them what was going on and they did understand. It didn't stop them missing me, but they understood what was happening and that you don't stand for injustice."
Retrial
After seven years in prison, and with an initial appeal lost, a crucial piece of evidence that had helped convict Barry – residue from a firearm found on his coat – was being analysed in a new light. Michelle explains: "Apparently the forensic experts from the first trial talked with a colleague at the Forensic Science Service who said: 'I think too much weight was put on this piece of evidence by the prosecution; I think we should look at this'…They came up with the conclusion that the evidence that was found on Barry's coat could neither prove nor disprove that it had anything to do with Jill's death. In other words it was totally neutral." Two witnesses also came forward contradicting the police claim that none of its officers were armed when Barry was arrested. In other words: how the firearm residue came to be on Barry's coat was now in dispute. His case was finally taken up by the Criminal Cases Review Commission.
At the retrial the details relating to the firearm were ruled inadmissible by the trial judge. This lack of scientific evidence linking Barry to the crime scene, along with further witnesses corroborating his whereabouts at the time of Dando's death, proved crucial in overturning his conviction. The trial ended with Barry's acquittal on 1 August 2008.
Miscarriage of justice
"We believed, when Barry's conviction was quashed, that he went back to being innocent…it turned out that because he had a retrial, this country could say: 'That means we had evidence [originally], so we were right to take the case, so you're not a miscarriage of justice,'" Michelle says.
He left prison with absolutely nothing as a result: no compensation, no home to return to (he had been living in a council property that was redistributed) and with no belongings. The entire contents of his flat had been disposed of without consultation with Barry or his family, Michelle tells me.
The Miscarriage of Justice support services (part of Citizens Advice) helped Barry to find emergency accommodation and purchase the essentials, but as media scrutiny and intrusion continued, in the end, Michelle supported a move to Ireland.
Michelle tells me that because Barry has never been formally exonerated, the spectre of the case hangs over him: "He lives it and he breathes it every single minute of every single day. When he wakes up in the morning, it's the first thing on his mind. All through the day he's thinking about it, and when he goes to bed at night, he is still thinking about it."
As for Michelle, she now attends All Party Parliamentary Groups in parliament to advise on miscarriages of justice and share her story, but she's humble about her role: "I have never felt that I have enough knowledge to look at somebody's case and say: 'Oh, clear miscarriage of justice', but I will look at somebody's information and see whether they require support. I am very happy to support families. It's in a small way, but a small way makes a huge difference. Just to contact someone and say: 'Keep going, you're doing well.' These things are so vital."
Faith
Barry was on the threshold of giving his life to Christ (just weeks away from being baptised) when he was arrested and his life crashed down around him. He attended every religious service while in prison, but Michelle tells me he wasn't allowed to be baptised and hasn't taken that step since.
Although Michelle believes he has a faith, and that it was a source of comfort during his years in prison, she says his "mental limitations" are always going to be a challenge. As for Michelle's own relationship with God, she says she always felt a deep sense that good would come out of their adversity. "My faith was such that I just kept coming back to: 'God, you will work this out your way and in your time.'
"I can't tell you what was in God's mind, but if what I'm doing now helps somebody else, then that's making good come out of bad. And if I've been given a platform because of what happened to Barry – because he can't do it – then again, that's going to help make something good occur within our justice system. To make it more just, to make it what the public thinks it is."
Enjoyed that? Get more articles covering news, culture, faith and apologetics in every print issue of Premier Christianity magazine. Subscribe now