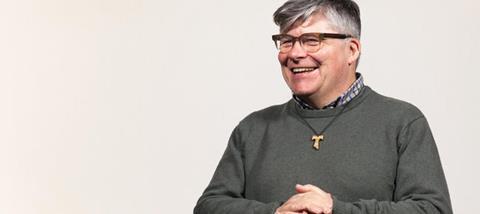 For most of his life, Dr Micha Jazz has been known by his birth name: Michael 'Mike' Morris (read on to discover what prompted the change). Converted to an evangelical brand of Christianity while studying Modern History at Oxford, Morris threw himself into the scriptures, was baptised in the Spirit and soon developed a teaching ministry.
He helped birth Spring Harvest, worked as an evangelist with Youth For Christ and was a leader at Revelation Church, Chichester.
Evangelicalism had given Morris a firm Christian rooting and a career. He saw himself as an 'activist' and enjoyed speaking on major platforms. He was happily married to Katey and on the outside everything looked good.
But looking back, Morris now understands 'the reality' that 'activism can run faster than the encounter with God'.
'I had a very shallow encounter with God and a very large active profile. I'd so fallen in love with the evangelism, counselling and praying that my quiet time was non-existent.
'I didn't have a strong, personal encounter with God. I knew about God and enjoyed reading the Bible, but I didn't have a deep, hand-in-hand friendship with God.'
IMPLOSION
Two life-changing events would reveal the insufficiency of Morris' spiritual roots. First, the couple were devastated to discover that they couldn't have children. Then, Katey was diagnosed with multiple sclerosis (MS). As a self-confessed 'problem solver', Morris struggled to cope with events that were entirely outside his control.
Speaking of the moment he discovered his wife's MS would be progressive with no remissions, Morris says: 'It's at that point I find myself behaving in a bizarre way. My world is beginning to collapse around me. Some of these constructs I can't hold in place any more and I'm getting angry and swearing at people – never a good idea if you're a church leader. I am going into implosion and finding that the level of connectedness I have with God isn't sufficient for what life is now inviting me to consider.
'It's like I had stepped into an elevator shaft but the cab wasn't there. I was in free fall and I didn't know if I was going to land safely. I was in a complete mess and out of control.'
As he watched his wife suffer, Morris at times wanted to 'throw God out of the window'. But he couldn't.
'Every time I've wrestled with God in anger and frustration, I've come back to that moment of conversion I had in St Aldate's Church, Oxford. I can't deny the reality of that. It's real to me.'
DECONSTRUCTION
Morris was caught between the profound sense that Christianity was true, and the concern that his relationship with God was insufficient.
'I decided I had to deconstruct everything I believed in and then only hold on to those bits that made sense to me. Voices were ringing in my head from my evangelical background that to do such a thing was dangerous. But I needed to deconstruct.
'Because I was deconstructing my world, I didn't know what the end result of that was going to be.
I was imploding emotionally, psychologically; probably having a measure of mental health trauma. I was angry and difficult to live with.'
It was during this time that Morris began reading the writings of the Church fathers and monastics. He discovered there were five approaches to prayer, and evangelicals were typically good at three of them: praise, confession and intercession. But the other two had been neglected.
'I had to find another way of encountering God and that's when meditation and contemplation showed themselves to me for the first time,' he shares.
Over time, Morris' approach to spirituality changed dramatically. Looking back, he describes himself as previously 'judgemental and prescriptive' in his faith. He also used to think a liturgical approach to church was 'boring and tedious'. But now he embraces it.
'I had to come to understand that turning up in a disciplined way before God was valuable. It wasn't about what I took from it, but how I showed up for God. I was greatly helped by a third order Franciscan, Kay. At my very first meeting with her, she said: 'Your horizontal relationships are fantastic' – as they would be in a new church – 'but your vertical relationship with God is ridiculously thin and hopeless,' which I thought was a bit offensive!
'I didn't turn a corner overnight, it's a relearning. I was almost unravelling what I intuitively was about and learning a disciplined process to encounter God.'
Morris learned to say a daily Office, be quiet in contemplation and engage in Lectio Divina (Latin for divine reading). He says this was about 'not reading scripture purely to reinforce my theology, but engaging to encounter the person of God in scripture'.
He continues: 'I was learning a whole new set of skills, tools and a whole new way of living.'
But Morris is at pains to explain that this was not a quick fix. 'Oh, that it had been a sweet, ordered series of deep, meaningful revelations of God that brought me on! It was much more a chaotic bounding around, being completely out of control at times, for which I'm sad. I'm sad for the people who were in the way of that and who got damaged by that. It's damaged and destroyed relationships along the way.'
Ultimately, Katey lost her battle with MS. One year later, Michael Morris changed his name by deed poll and became Dr Micha Jazz.
'"Mike and Katey Morris" was how we were known in the evangelical world. It was a very precious time in my life, but I couldn't move on. A bereavement counsellor explained that in some cultures people leave a name where it is and move on. I felt if I took a new name it ought to reflect something of who I wanted to be in God. So I took the name "Jazz" because jazz is freeform music; it's never written down. I felt my role was to facilitate and enable. Jazz is part of who I wanted to be.'
RESURRECTION
Despite undergoing this painful process of deconstruction, Jazz says there is 'very little' in his evangelical heritage that he has rejected outright. He doesn't want to push the 'wisdom' within evangelicalism out of the way. Instead, he has added to it, and in doing so his faith has resurrected into something broader and more expansive.
As he has opened himself up to other Christian traditions, Jazz has found new tools to help him commune with God. He has also been able to share what he has learned, but not from the major platforms he used to stand on. 'After Katey passed away I didn't set out to draw people around or do spiritual direction. I found people coming to me who had been through acute pain. They had questions and began to trust me. God said, "Just wait, and I'll bring people to you." It was a very different way of working. I had anticipated going back and being on platforms and being in my old world. That didn't happen.'
Instead, Jazz is now part of St Cuthbert's Oratory: 'a house of prayer, retreat and spiritual formation'. He says he has been 'guided into a life dedicated to prayer and contemplation'.
He broadcasts the daily devotional Be Still & Know on Premier Christian Radio (also available in print), but how would he explain meditation to evangelicals who are sceptical or even fearful of such a practice?
'Meditation is taking the time to use external forms – it could be the word of God or a piece of artwork or a walk through nature – to allow our minds and imaginations to explore the beauty of God. It never takes me away from the reality that is rooted in the scriptures and theology. But it expands our way of encounter.'
Another concept unfamiliar to many evangelicals is 'Novena'. This month Jazz will be inviting Christians of all backgrounds and denominations to join in with Premier's Novena (see box).
'What we're doing with Novena is saying, "Why don't we dedicate nine days to prayer?" We're working this year around the area of Pope Francis talking about a Door of Mercy. Don't let the fact it's the Pope put you off! Doors of mercy is what we like. 'In our busy, chaotic lives, if we can commit to nine days of consistent prayer, we can add our voice to changing the world.'
Be Still & Know is available now from premier.org.uk/shop
For more details about the Novena visit premier.org.uk/novena