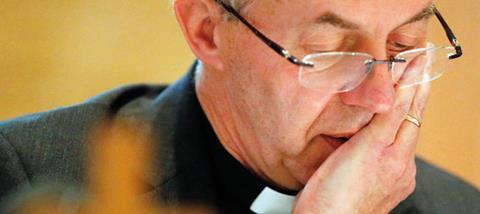 Justin Welby is being credited with a miracle. From 11-15 January 2016, the Archbishop of Canterbury brought together all the archbishops and leading bishops of the Anglican Communion ('the Primates') and kept them together, with only one exception (the Archbishop of Uganda left early.)
At the end, the Primates unanimously committed themselves to 'walk together, however painful this is, and despite our differences, as a deep expression of our unity in the body of Christ'.
The Primates recognised that their differences in theology over gay marriage meant that they could not all speak with one voice. A two-thirds majority decided that the Episcopal Church (TEC) in the USA are 'required' for three years to not represent the Communion officially and to participate without voting in internal Communion bodies.
The expectation of most observers had been for a parting of ways, either managed or forced. Journalists were waiting outside to catch archbishops storming out of the meeting in indignation. The unexpected unity was deemed a miracle.
GAY MARRIAGE
The majority of Anglicans in the USA and in some dioceses in Canada and Scotland see gay marriage as a God-given development in line with the inclusivity of Jesus. The majority of Anglicans in most other national churches see gay marriage as an unacceptable departure from the teachings of scripture. TEC has not only developed a view on gay marriage seen as unorthodox, it has also changed its practice unilaterally, without consultation with the rest of the Anglican Communion. It has blessed gay partnerships, consecrated openly gay bishops, and conducted gay marriages.
In 2004, an official Anglican Commission produced the Windsor Report about how the Communion should deal with such strong differences over homosexuality. TEC was invited to express regret for its unilateral actions, to suspend moving ahead in a direction at odds with the rest of the Communion and to restrain from voting in some Communion bodies. Two Primates' meetings endorsed the report but key recommendations were not adopted, neither by TEC nor by Rowan Williams, then Archbishop of Canterbury. In response, Conservative Anglicans, especially from Africa, in 2008, formed their own new movement within the Anglican Communion (GAFCON). The 'fabric' of networks within the Anglican Communion seemed torn.
Justin Welby recognised the loss of trust in the position of Archbishop of Canterbury, and visited each Primate personally. He secured commitments from everyone to attend the 2016 meeting. He urged all parties to make every effort to preserve unity and repeatedly stated that the decisions of previous Primates' meetings would be respected.
After four days of prayer and talking behind closed doors in Canterbury this January, the Primates released a statement that TEC are now required to become non-voters for three years, within a commitment to 'walk together.' The Primates also asked the Archbishop of Canterbury to appoint a Task Group to work out a way forward.
Archbishop Justin Welby's reaction
It really was possible that we would reach a decision to walk apart...Some have said unity is worthless if achieved at the expense of justice. Others have argued unity is a false prize if it undermines truth.
Both of these views misunderstand the nature of the Church, which is not an organisation but a body of people committed to each other because they are followers of Jesus Christ.
The meeting reached a point where we chose quite simply to decide – do we walk together at a distance, or walk apart? And what happened next went beyond everyone's expectations. It was spirit-led. It was a 'God moment'. As leaders of our Anglican Communion, and more importantly as Christians, we looked at each other across our deep and complex differences – and we recognised those we saw as those with whom we are called to journey in hope towards the truth and love of Jesus Christ. It was our unanimous decision to walk together and to take responsibility for making that work.
WHAT HAPPENS NOW?
The Task Group will need to make a serious investigation into whether gay marriage is a matter over which Christians can agree to disagree. Books and articles aplenty have been written about the rights and wrongs of gay marriage, but hardly anyone has addressed whether this is a primary issue, over which separation is needed, or something less.
The Windsor Report gave a detailed history of how Anglicans decided to agree to disagree about women priests and bishops, and stated, 'The precedent that could have been set by this procedure has not, unfortunately, been followed in the matters currently before the Communion. This, we conclude, lies at the heart of the problems we currently face.' The report highlighted important questions: How central is gay marriage to Christian faith and practice? How do we know? Who decides? So far these questions remain unaddressed.
The Church of Scotland has officially decided to agree to disagree, particularly about openly gay ministers. Their General Assembly decided that although the majority affirm marriage as exclusively heterosexual, they could allow churches which so decide to appoint a gay minister. This may be one way forward for Anglicans as well.
TEC leaders have said they will not change their views or decisions on gay marriage. They have had an unspoken understanding that this is a primary issue which is more important than maintaining the unity of the Church. They have fought bitter legal battles against traditionalist dioceses and parishes. However, TEC's new presiding bishop, Michael Curry, does speak about making good provision for traditionalists, and seems open to agreeing to disagree.
Perhaps TEC will express some regret about the unilateral way it moved ahead with gay marriage and will then seek a way of agreeing to disagree. Many Anglican Conservatives would resist this.
Justin Welby has, for now, mended the fabric and held together the relationships among Anglican Primates. Making the mend permanent is a challenge which will need more assistance from our miracle-working God.