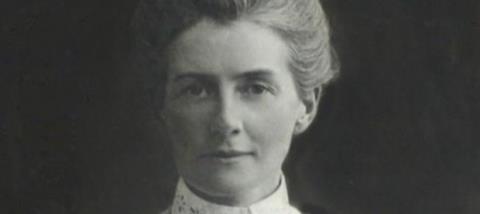 Her crime: 'conducting soldiers to the enemy' - soldiers who could then continue to fight against the German army. Her Christian faith, which had sustained her throughout her life, equipped her to face the firing squad with confidence that for followers of Jesus, death is not the end.
Edith Cavell was part of the Belgian resistance movement in the First World War and helped more than 200 soldiers to escape German-occupied Belgium into neutral territory.
In 1907 she had been invited to start a training school for nurses in Brussels (Belgium owes its nursing profession to her skill, and sees her as their Florence Nightingale). When war was declared in 1914 Edith was at home in Norfolk visiting her mother. Without a thought for her own safety, she returned to the training hospital and prepared to care for the casualties of war, whatever their nationality.
After the Battle of Mons, the Belgian resistance movement brought two British soldiers to Edith; they needed a place to hide while plans for their escape were made. When she agreed to hide them, a crime punishable by death, she sealed her own fate.
Edith Cavell - Faith Before The Firing Squad (Monarch) highlights the impact of Edith's Christian faith. As the Rt Revd Graham James, former Lord Bishop of Norwich writes, 'Edith's faith was woven into the tapestry of her life...she cannot be understood without it. Patriot, Nurse, Martyr - yes, Edith was all three but primarily a disciple of Jesus Christ.'
The daughter of a Norfolk vicar, Edith was often seen praying at patients' bedsides and used her final weeks in solitary confinement to meditate on The Life of Christ by Thomas a Kempis, underlining several sections.
When the chaplain visited her in prison to give her Communion, Edith told him: 'I have seen death so often that it is not strange or fearful to me…life has always been hurried and full of difficulty. This time of rest has been a great mercy…This I would say, standing as I do in view of God and Eternity, I realise that patriotism is not enough. I must have no hatred or bitterness towards anyone.'
She knew that the patriotism her fellow prisoners had used in their defence was not enough to enable her to stand in God's presence. Just as she had said daily, in repeating the Lord's Prayer morning and evening, 'forgive us our trespasses, As we forgive them that trespass against us' she knew that she needed to forgive others; even those who had betrayed her and those who would execute her.
After they had shared communion, they said together the words of the hymn 'Abide With Me'. When the chaplain said, 'We shall always remember you as a heroine and a martyr' she replied, 'Don't think of me like that, think of me only as a nurse who tried to do her duty.'
As he left her cell, she took his hand and said with confidence in her eternal future, 'We shall meet again.'
Edith Cavell's trust in Jesus sustained her to the end.
Catherine Butcher is HOPE's Communications Director and the author of Edith Cavell - Faith Before The Firing Squad