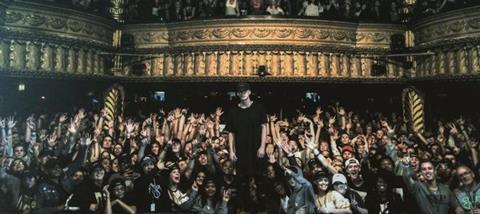 Nathan Feuerstein, more commonly known as his stage name NF, recently reached number 1 in the US Billboard charts. The success of his latest album Perception has propelled the rapper to stunning heights. It's rare for a Christian rapper to reach such a position.
NF doesn't call himself a Christian rapper, but others do. And it's easy to see why. He's signed to the biggest Christian music label in the USA, and often mentions faith in his lyrics ("I live for the King", he raps in 'All I Have').
The only other Christian rapper who has received this high level of mainstream success in recent years is Lecrae. The 38 year old has been the darling of the evangelical world, especially in the USA, quoting the theologian John Piper in his songs and playing to Christian audiences up and down the country.
But earlier this month, Lecrae admitted he was "divorcing" evangelicalism – not because of doctrinal disagreements but because of the negative reaction of white Christians to issues of racial justice. Over the past few years, as the Black Lives Matter movement has grown, Lecrae has begun to speak up on social media about racism in America. And he's paid a heavy price. Speaking on the 'Truth's Table' podcast, Lecrae said: "I went from a show that may have had 3,000 there to 300."
Two weeks ago Lecrae released All Things Work Together (the title is based on Romans 8:28). So far it isn't selling nearly as well as his previous album Anomaly, which you could argue was released during the honeymoon period of his marriage to evangelicalism.
Enter NF
It's in this cultural context and climate that NF has risen to prominence. The rapper has been making music since 2010 and has managed to navigate the difficult balance of success in the Christian and secular music industries. He's collaborated with Christian artists such as TobyMac and had mainstream attention being featured on the Madden NFL 16 soundtrack. Next month he'll play a sold out show in London.
Perception is NF's third studio album. His two previous albums reached number one in the US Christian charts and his second album Therapy Session reached number 12 in the billboard charts. He has been extremely consistent, releasing three albums in three years which has kept his momentum growing.
NF has received some comparisons with another Michigan born rapper, Eminem. Both have a very raw and hard hitting style. Honesty is something that can often lack from Christian musicians, but NF puts it all on the table and has been known to address difficult subjects such as his mother's death from an overdose.
NF is signed to Capitol Christian Music Group, the same label as Chris Tomlin, Michael W Smith and Hillsong United. This means he has the platform to reach both the Christian Hip-Hop world and the mainstream industry – the same combination which gave Lecrae success with Anomaly.
So has NF become the new go-to rapper for evangelicals? There's no doubt that Lecrae's stock has fallen with the more hardcore Christian hip hop fans. Early this year, Christian Rapper Shai Linne released a song called 'Random Thoughts 3' where he questioned Lecrae and some other Christian rappers for the direction that the Christian hip hop genre was heading in. Are Christians turning to supporting NF instead of Lecrae?
NF has been content to exist in both spheres. This has helped him build a strong following of dedicated fans. He has just over one tenth of the followers Lecrae has on Twitter, but it seems that NF's fans are invested in his music the way Lecrae's fans used to be in the past. This more than anything is probably the reason for his strong success. He has his audience and they are willing to engage with all the music he puts out.
So in a time when some Christian rappers are moving away from explicit references, NF is proof that embracing the Christian and secular markets can bring you success. He is unlikely to be 'white evangelicalisms new mascot' like Lecrae was due to his determination not to be boxed into the Christian genre, but he is open enough to embrace love and support – wherever it comes from. If you're looking for a long-term career in the music industry, this seems like a sensible approach.
Click here to request a free copy of Premier Christianity magazine