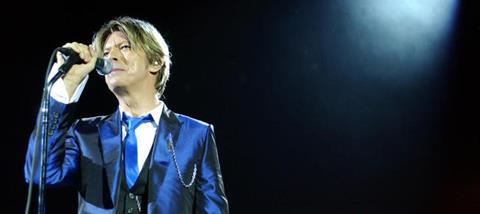 David Bowie died this weekend. David Bowie doesn't live here anymore. David Bowie has left this planet – though it never really felt like he was part of it.
A world without Bowie feels both sad and unthinkable. Some people exist in a world so unlike our own that it's difficult to imagine them being bogged down with the concerns we have – concerns like breathing or living. Everyone is going to have different Bowie reflections – that's what this blog is about.
I found myself thinking about summer 2012 and the Olympics. How different would those glorious few weeks have been without 'Heroes' (as far away from the original meaning as it was) as the soundtrack. How fewer goosebumps would have spread around the country? Heck, how many fewer medals might Great Britain have won?
Bowie was a genius. There's no 'three points and a gospel message' here. Instead, we've rounded up tributes. So many people - Christians included - have been touched by Bowie's life and work. David Bowie, made in the image of God. David Bowie, a man whose creative brilliance shared some of God's creativity.
Ground Control to Major Tom Commencing countdown, engines on Check ignition and may God's love be with you (David Bowie)

— Gianfranco Ravasi (@CardRavasi) January 11, 2016
@JustinWelby "very, very saddened to hear of Bowie's death. Says he listened to his songs "endlessly in the '70s particularly"

— C of E Newspaper (@churchnewspaper) January 11, 2016
Trying to imagine a young Bowie being told his death would be publicly mourned by an Archbishop of Canterbury. https://t.co/bWwoJBsoZG

— Jim Waterson (@jimwaterson) January 11, 2016
Bowie's last album released last week. Lead single "Lazarus" Opening line "Look up here, I'm in heaven" Now that's going out in style

— Mark Ferguson (@Markfergusonuk) January 11, 2016
And the stars look very different today. #DavidBowieRIP

— Jim McDermott (@PopCulturPriest) January 11, 2016
Anyone else got Starman going round their head on a loop? #Bowie

— Kate Wharton (@KateWharton27) January 11, 2016
Sad to hear about the passing of David Bowie. I once exhibited in an art exhibition with him. His creative genius transcended music.

— Jarrod McKenna ? (@jarrodmckenna) January 11, 2016
Sad news about death of music legend #DavidBowie. Let's pray for his friends and family in this time of grief.

— World Prayer Centre (@worldprayerc) January 11, 2016
Sad to hear the world has lost the ledge do that was David Bowie. It takes courage to be a true artist. We need more with his conviction.

— Sally Hitchiner ? (@SallyHitchiner) January 11, 2016
RIP David Bowie - not only a pop icon, but a screen legend. pic.twitter.com/bvaktJHBp8

— Damaris Media (@damarismedia) January 11, 2016
Shocked at the death of David Bowie! One of the true all time greats. #RIPDavidBowie #RIPBowie #DavidBowie #Music

— James Byers (@JamesByersMusic) January 11, 2016
Grateful for David Bowie. Coolest Englishman ever. I love too many of his songs to listen to anything else today.

— Anthony Delaney (@anthonydelaney) January 11, 2016
Sad news about David Bowie. Eternal rest grant unto him, O Lord...

— Jack Regan (@CatholicYMGuy) January 11, 2016
#RIPDavidBowie pic.twitter.com/vn0p7zHBz1

— Andy Haynes (@premierhaynesy) January 11, 2016
Sad to hear of death of David Bowie - his music was for me and for so many others an integral part of my growing up

— PJ Kirby (@kirby_pj) January 11, 2016