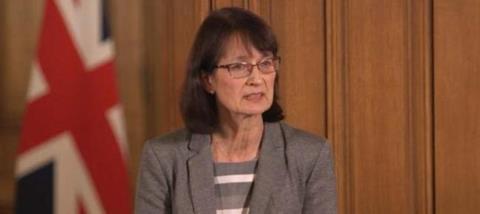 Last night I watched Frozen II with my daughter.
There's a moment where Kristoff (the kind-hearted, brave boyfriend who sings a power ballad about his feelings) is reunited with Anna after she's been out rescuing her sister. She apologises for going into the fight alone. Instead of displaying a bruised ego or expressing jealously he says, "It's OK. My love is not fragile."
No wonder he's being named Disney's best hero.
Sometimes it takes a worldwide life-threatening pandemic which drives us all indoors, to reveal how fragile our relationships, and our beliefs about the purpose of relationships, are.
On Tuesday, the deputy chief medical officer for England Jenny Harries, said partners in different households should "ideally" avoid visiting each other. Alternatively, they should "test the strength of their relationship" and move in together. That last recommendation is one that many Christians in a dating relationship do not feel right about following.
As James Doc, a Christian who is due to get married on May 2nd, told Premier: "My fiancé and I are longing to get married...but the Bible is really clear about sexual purity and Jesus is really clear about fleeing from temptation. Jesus talks about if your eye causes you to sin, cut it off. He talks about not even giving the devil a foothold.
"We're really convinced that cohabiting is a really bad idea at the moment and these are our values. Even in a time like this - when it's hard and all I want to do is being able to see her - we're not going to budge. We're not going to move on this, because we're convinced about what it means to stay sexually pure and actually not putting in anything that will tempt us to violate that because Christ is worth so much more than that."
The fear of isolation
I've been reflecting on what the chief medical officer's words reveals about the nature of modern relationships. In an age driven by consumer values (of which I am a victim as much as anyone), I wonder if we're expecting too much of our romantic relationships. They're in danger of becoming just another route to our needs being satisfied, as we expect the people we date to be the pillar that supports our sense of self, the 'real me' I'm supposed to be expressing all the time. If the goal is that I'm #livingmybestlife what happens when a virus forces me to make quick decisions about how I'll face isolation (isolation being the greatest fear of our times). Of course I want to self-isolate with the person I have the strongest feelings for, or the person who so far is meeting my needs.
I appreciate I am probably sounding super-smug married person right now. I'm holed up with a husband, a flat mate and two children. But that's the point - it's really tough. Being locked in together is putting huge pressure on all our relationships. I'm so grateful to have these awesome people in my life and my household. But if for a moment I thought that being in love meant that I'd always be #beingmybestme then I've been woken up!
Faithfulness
In these extraordinary times we need to be kind to ourselves and each other, as we all seek to make decisions that protect the greater good and that demonstrates care for ourselves and those we love. But for those wondering what to do to keep their relationships strong, and flourishing over the next few days, weeks and months, there's a message of hope. We're made by God, for God. Our deepest needs are met by him as we grow in intimacy with him. Married, single, widowed, divorced, dating, whatever. Our closest, most defining relationship is with him. And he's with us wherever we are, whatever our household looks like. And as people made like God, we're built for love and faithfulness. Entering a season where we don't have as much access to those we love is a great sadness, but it's also a possibility for growth of our faithfulness muscles. We're called to be faithful in all our relationships, just as God is faithful to all God has made.
Sliding into a commitment, or being forced into a pseudo-committed set-up because of Covid-19 isn't good for us. The marriage vows remind us that the deepest of commitments is "a way of life that all should honour; and it must not be undertaken carelessly, lightly, or selfishly, but reverently, responsibly, and after serious thought."
So I'll be praying for Christian dating couples who are deciding what to do. I'm praying that those who take that radical, counter-cultural step of not moving in together, knowing what that means, will know deepening joy and hope as they pay attention to their beautiful, fragile relationship in these strange times. May this lead to stronger relationships, marriages, families and society. And may we all have a love for one another that is not fragile, but strong. God knows we need that now, more than ever.
Premier Christianity is committed to publishing a variety of opinion pieces from across the UK Church. The views expressed on our blog do not necessarily represent those of the publisher.