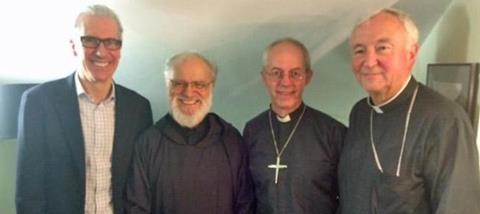 In John chapter 17 Jesus prayed that his followers would 'become perfectly one' so that the world might believe.Sadly this prayer of Jesus has, for most of church history, remained unanswered. While Christians may have stopped killing each other, many still view the church as divided. The fault lines of Catholic/Protestant/Orthodox in particular still run deep.
It was with this sad history in mind that I attended the final day of Alpha International's Leadership Conference.The theme for the conference is 'unity', but organisers are under no illusions that something as brief as a two day conference can heal centuries of bad blood or immediately alter the direction of the worldwide church.
That said, when the leader of the Church of England Justin Welby and the leader of the Catholic Church in England and Wales Cardinal Vincent Nichols share the stage, it is without doubt a significant moment. (Nicky Gumbel went as far as to call it 'historic').
The two leaders spoke openly about their trust in one another. This trust is not something that either party take for granted, but what practical action can it lead to?
Cardinal Vincent Nichols said it is 'on our knees and in the service of the poor' that Anglicans and Catholics will be unified. His words suggested that while declarations and conferences have their place, unity must be lived out by individual Christians who engage in the nitty gritty of demonstrating the Kingdom of God together with those of other denominations.
Many Christian leaders including Pope Francis have recently called for greater Christian unity. Both conference speakers and delegates believe this desire for greater unity is a work of the Holy Spirit.
But while there is hope for a brighter future, there is also sadness. Justin Welby (whose Spiritual Director is a Catholic) spoke movingly of how the church is not united in the sharing of the Eucharist, and how this pains him.
Father Raniero Cantalamessa's message this afternoon reminded those gathered that neither those who persecute Christians around the world, nor God himself make denominational distinctions. 'In the eyes of our persecutors we are already one...and in the eyes of God we are already one' he said.
The preacher to the Papal Household was optimistic - 'I am convinced one day we will be amazed of not being aware earlier of what Holy Spirit was doing in our days beyond official channels'. Not all Christians want this kind of unity. I remember a few years ago being greeted by protests when I attended a day of prayer where Christians of all denominations came together. 'Ecumenical' is still a dirty word, for some evangelicals in particular.
Some may object to the inclusion of Catholic speakers at this conference. There is a belief among some Protestants that Catholicism is centred around works and not grace. Those who hold such a view would do well to download Fr Cantalamessa's talk when it becomes available. The Franciscan Priest speaks more frequently and clearly about grace than many of his Protestant counterparts. 'Christianity does not begin with telling people what they must do to be saved, it begins with telling them what God has done to save them' was a superb one-liner. And there were many more.
As time went on I even wondered if the Franciscan was on a mission to convince any sceptical Protestants who may have been in attendance that Catholics really do understand and celebrate God's grace. Fr Raniero led the thousands gathered in first, singing the hymn Amazing Grace and later, reciting the first two verses of Romans chapter 8 ('there is now no condemnation for those who are in Christ Jesus, because through Christ Jesus the law of the spirit who gives life has set you free from the law of sin and death').
From the loud contemporary worship led by Tim Hughes and Matt Maher to the quieter, but equally powerful hymns led by an organist and choir, Christian joy was on full display at The Royal Albert Hall today. And as thousands of Christians from many nations, ages and denominations sang one song of praise, I couldn't help but wonder if, thanks in part to our display of unity, we were experiencing a foretaste of heaven.