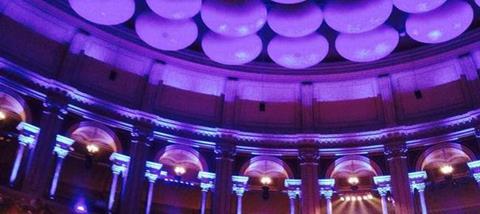 This morning I heard Chris Tomlin's 'How great is our God' sung with lines of the classic worship anthem translated into a range of languages including Chinese, German and Spanish.
I don't speak any of the above, but I was right in there, along with 6,000 others in the Royal Albert Hall, belting it out (apologies if you were in the adjacent seat).
It was a picture - and a sound - that encapsulates the message of HTB's 2015 Leadership Conference.
Rev Nicky Gumbel, vicar of HTB, launched the two-day event by sharing his heartfelt passion for a united global Church.
'There is a crisis in the world; there is a crisis in the Church; there is a crisis of faith,' he said. 'Unity is the only hope for the world.'
'The same Spirit lives in the Catholic, the Pentecostals, the Anglicans - that's what makes us one.'
Unity around Jesus, he said, is the key to the evangelisation of a nation. 'A divided world demands a united Church.'
Achieving a united Church boils down to our own individual choices in how we lead and how we follow. 'Ultimately, unity is not doctrinal, it's relational,' he said.
At a conference at which preacher to the Pope Father Raniero Cantalamessa and the Pentecostal mega-name that is Joyce Meyer stand side by side in the speakers' line up, Gumbel reminded those present that we can even choose unity through the way we listen to a speaker.
'You may not agree with everything I say or that other speakers say,' he said. 'May I encourage you to bring out the best in every speaker... How we listen is as important as how they speak.
During the day, Nicky Gumbel interviewed Joyce Meyer on the main stage and she openly shared her story about the horrific sexual abuse she received at the hands of her father as a child. 'I can truly say that God has delivered me an lifted me out of the pit I was in when he met me', said Meyer.
'I'm a firm believer that there is nobody who can't be completely whole and healed if you make God the center of your life.' She also added 'I don't think I would ever have made it as a Christian had somebody not taken my hand and discipled me.'
Gumbel reminded his listeners that maintaining unity is no simple task. 'It's easy to argue. It's really easy to split... It's easy to start our own group with everyone who agrees with us.'
He said that pride leads to division, and instead we need to bear with one another. Unity does not equate to uniformity.
Loyalty to our leaders - whether or not we agree with them - is also essential if we are to build unity. 'I feel so blessed to have Justin Welby as the Archbishop of Canterbury. Whatever he decides to do we will back him.'
Gumbel also reflected on the plight of Christians killed by ISIS in his call for a united worldwide Church. 'How important are our divisions in comparison to the beheading of Christians by ISIS? They think we are just one body...Let's get perspective.'
This event may be a prophetic snapshot of the unity so many of us do dream of for our beloved Church. Gumbel closed his message with a challenge to us all: Will you pray for unity? Will you believe for it?
Check back for news from Day 2 of the Leadership Conference 2015 tomorrow...
To request a free copy of Premier Christianity magazine click here