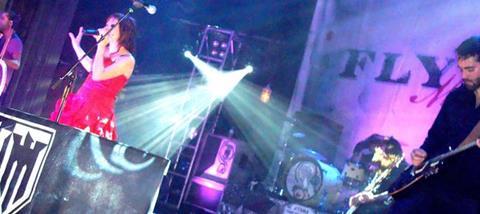 For listeners of alternative music in the 2000's, the raucous tones of the alternative metal band, Flyleaf were a familiar sound. Their hit single, 'I'm So Sick' came across the radio as a cry of a young woman – the lead singer – projecting the sound of someone who felt a devastating disease growing inside their soul, and searching for the cure. That lead singer was Lacey Sturm.
Born Lacey Mosley, she was raised in an atheist home. As a teenager, she fell into deep depression. She could honestly see no purpose or reason within her life. Said Lacey: "When you're an atheist, if life gets too hard, there's really no reason to keep going…"
In her testimony, Lacey describes how she began to entertain thoughts of suicide, but Lacey's grandmother recognised the distress and emotional trouble that she was in, and insisted that Lacey go to church. The thought of going to church and being surrounded by Christians was repugnant to Lacey, who found Christians to be judgmental, finger-pointing phonies full of hateful speech. However, after a great deal of insistence on her grandmother's part, Lacey agreed to go in order to silence her.
The day that Lacey went to the church, her plan was to sit through the service, go home, and commit suicide.
Lacey was surprised when the pastor began by talking about pain and struggle in people's lives. She had always thought of Christians as people who didn't have real problems or know about struggle or pain. It seemed to her as if the pastor was describing exactly how she felt.
Even more disturbing to Lacey was when the minister began to describe feelings of suicide, and call out to the congregation for anyone with those feelings to come forward and be prayed for. Lacey found the experience extremely unsettling, and felt the need to leave. As she attempted to walk out, she was met at the door by an elderly Christian gentleman with tears in his eyes. The gentleman took her aside and spoke kindly to her, sharing the message of Christ's love and how it could speak to and remove the pain which she felt inside.
Despite her skepticism and her cynical attitude towards Christians, she felt as if this gentleman was being genuinely sincere, and allowed him to pray for her.
During that prayer, Lacey describes how the reality of her sin in the sight of a perfect and holy God impacted her, but that it was not God's judgment and condemnation that she felt, but rather his love, forgiveness and desire to restore her.
Lacey's plans for her life had ended at her intention to commit suicide. When her conversion kept her going beyond that, she began to dedicate her time and talents to the God she had found.
A talented musician, Lacey joined several others in 2002 forming a group named Passerby. In 2004, they changed the band's name to Flyleaf. Since then, Lacey has done a number of projects, including work with Third Day which won her a pair of Grammy Nominations for 'Best Gospel Performance'.
Notably, she also recorded a song, 'Heavy Prey', for the Underworld: Awakening soundtrack.
In 2014, Lacey published her autobiographical work The Reason: How I Discovered a Life Worth Living. This year she released her debut solo project Life Screams.
Click here to request a free copy of Premier Christianity magazine