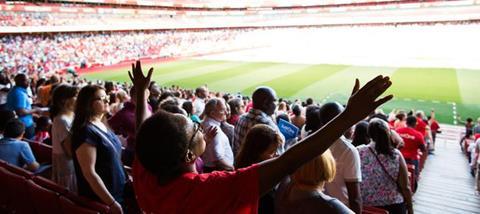 "Is stadium evangelism coming back?"
The question was on many people's minds, as we journeyed to The Emirates Stadium, wondering if this would be a new era for the Church as we returned to an approach once common with the likes of Billy Graham and Luis Palau, back in the 1980s.
The ingredients were there. JustOne encouraged Christians to bring a friend, neighbour or colleague to hear the Gospel. Hundreds of churches had supported the event financially. Christians had bought tickets at £5 a head. There was a fabulous 21st century stadium and a proven evangelist known to the UK public through student, Church and conference events.
So did it deliver?
As always, it depends what you are looking for.
Christians clearly enjoyed it: worship led by Hillsong London; London Community Gospel Choir (vigorous and very loud); and after the break: Matt Redman and Noel Robinson. So there was something for most contemporary music tastes, and all wonderfully professional.
Looking around it seemed like maybe 80% of the 23,000 there had hands raised during worship, reflecting the breadth of ethnic mix of London churches. This was New Wine at the Emirates. Early on the panel of interviewees (BBC One Show style) responded to J John's questions, sharing their stories of coming to faith, with occasional applause for what they said.
What of the non-believer?
J.John has responded to criticism of stadium evangelism by saying that, among other things, this style provides anonymity. A church setting might be a bit too personal for someone wanting to investigate the faith. So you can bring someone to the event and they are free to engage with what goes on at whatever level they wish. Some elements of the day were excellent in this regard, and others less so.
First, the positives. J.John was terrific: pithy sayings, humour, and wonderfully accessible illustrations. He spoke for half an hour and was engaging throughout. Like a film critic hoping that a sequel would live up to the first film, listening to J.John I was thinking: "good, we are safe here!". He treated listeners with respect. He didn't assume truth. I was wishing more of my friends were here to listen. To use a sporting comparison, he's the Lionel Messi of evangelists.
J.John was terrific: pithy sayings, humour, and wonderfully accessible illustrations
And many responded! Early reports suggested 6,000 had, although JustOne have since given a figure of 1,743. This response was to three offers that J.John gave: 1) To open the door to Jesus (conversion), 2) To put Jesus in the front seat (re-commitment) and 3) to investigate further (enquiry).
There was no way of knowing who had responded to what and certainly not possible to validate the headlines I have seen suggesting many thousands were converted. But good things clearly happened.
On the less positive side, it seemed like around 80% of those in attendance were Christians. J.John had asked that Christians bring 'plus ones', which would have resulted in a 50-50 split of Christians to non Christians.
Maybe some (like us) asked friends who didn't come? The invitations will have sparked conversations. But my concern is the very things that Christians enjoyed at this event were not accessible for non believers.
One worship leader invited people to raise their hands if they loved Jesus. The songs assumed a level of faith. I can think of friends we invited who we were glad didn't come, sadly. Three hours is a long time if you haven't yet bought in to it all and especially if you are asked to sing stuff you don't yet believe. I am not sure we need worship in our arsenal….
Three hours is a long time if you haven't yet bought in to it all and especially if you are asked to sing stuff you don't yet believe
But if worship is deemed a key component of such an event (and Hillsong London seem to do very well reaching people with this style) might songs that proclaim truth rather than assume singers have already embraced the faith, be more suitable?
This event clearly helped many, and as J.John looks to hold other events (they have provisionally booked the aptly named, Priestfield Football Stadium in Gillingham for Saturday 9th June 2018) one hopes that lessons can be learned, that will help the many who are ignorant of faith.
Is stadium evangelism back? This event helped many Christians and some to find faith. That's wonderful.
But surveys suggest ignorance about the faith, especially among the under 40s, is huge. For many, Jesus is not a real historical figure and Easter is a public holiday where we eat chocolate.
Stadium evangelism can work at a greater level if it is cringe-free and believers who value it are out befriending non-believers, answering questions, engaging in their world and looking to the Holy Spirit. Without those ingredients no style of evangelism, whether in a stadium or a phone box, is going to work.
May the faith and courage of JustOne encourage us all to do the graft that makes the fruit of this kind of event possible.
And ultimately, perhaps we should be mindful of Billy Graham, who when criticised about his evangelism methods said, "I prefer the way I do it to the way you don't do it!"
Click here to request a free copy of Premier Christianity
All photos (c) JustOne