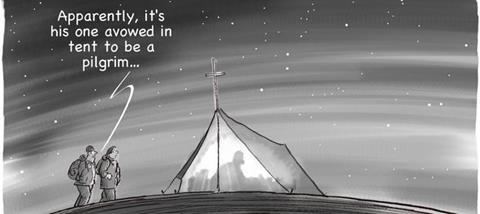 In reality, our soggy kindling woodenly refused to emit a flame, the zip on my sleeping bag broke, and the rain came down in a deluge that would have made Noah nervous.
Life in the wild can be just that ? wild. I've been chased by a raccoon, and even hotly pursued by a duck with anger issues.
Putting the tent up is stressful to the point that it can threaten family harmony. Other campers sometimes find themselves with a spare peg after erecting the tent. I usually have a tent pole or two left over, which does not suggest enduring stability.
Arriving at a site after dark, we inadvertently set our tent up beside a golf course. The next morning, thrilled by the thought of brewing tea on a propane stove, I was oblivious to the Japanese golfers who were teeing off just yards away. I soon became aware of their presence, receiving a golf ball, driven at speed, in a rather tender spot. Much screaming from me followed, as did much apologetic bowing from them. I suffered no permanent damage, and went on to father two children. But I've decided. A happy camper I am not.
Almost half of the book of Exodus is an instruction manual for putting up a tent ? the tabernacle. With pillars of cloud and fire acting like an ancient GPS system, the divine wilderness trekker called his people to journey with him, pausing where he paused, and moving on with him whenever he chose to break camp.
The God of the Hebrews was (and is) always going somewhere. Back in Moses' day, 'gods' were treated like vending machines. If you needed a bumper crop, good weather or the blessing of a baby, then you'd sacrifice to the god who specialised in agriculture, sun or fertility. But there was no sense of divinity with a direction. And then the Lord revealed himself to Moses as a traveller with a plan not just for Israel, but for the whole earth. Later, when the temple was built, the tabernacle was scrapped, but there was always a sense that God's 'proper' abode was a tent.
And then Jesus came, and in the language of John's Gospel, 'he pitched his tent in our neighbourhood'. He called time on the temple, which had become a static monument, languishing in tradition, and insisted that he was now replacing its rituals with himself.
He invited people to follow him, not promising an easy excursion, but a hike that could involve pain, persecution and death. The gospel call is not to ask Jesus into our hearts ? him coming to where we are ? but rather that we become his followers and friends, who go with him where he's going. And it's not just that we travel through the scenery of changing circumstances, but into the personal metamorphosis that he brings. We're a people on the move.
Or are we? Perhaps some of us have settled into sameness for a while. Or we tend to think more about past expeditions rather than trails that are up ahead. If we wonder if we're still discovering, consider this: when was the last time we admitted that we were wrong? Settlers often snuggle down into the warm myth that they are invariably right.
Asked to give a benediction at a Christian event recently, I decided to replace the usual words of blessing with a less orthodox parting shot: 'God says, "I'm off. Who's coming?"' It's time to pack, not park. Let's go.
This month Jeff has been launching into a new area of ministry ? as an actor. Appearing in Colorado with the Searchlight Theatre Company in their acclaimed production of Chariots, he is looking forward to he experience, and feels an affinity with Owen Wilson because, as Jeff says, 'We both have noses that can see around corners.'