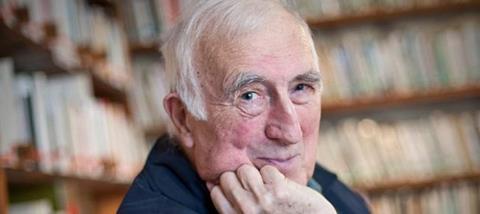 I have a vivid memory of Jean Vanier receiving the Templeton Prize at St-Martin-in-the-Fields church, London in 2015. It wasn't the speeches, choral singing or ceremony that stayed with me. It was a piece of theatre, staged by Vanier and his friends from the L'Arche community.
A banquet table had been laid out in the middle of the church, laden with sumptuous food, drink and party decorations. Vanier was joined at the table by people with various physical and learning disabilities. There, as celebratory music played, they ate and drank, embraced and laughed. The scene recalled the parable of the great feast in Luke 14 where Jesus pointedly tells the Pharisees that "the poor, the crippled, the blind and the lame" will be the guests of honour. It was a simple but remarkably effective piece of drama.
That scene summarised the ethos by which Vanier lived his life. He didn't minister to or work for those with disabilities within L'Arche. Rather, he was a neighbour and friend, living alongside them, learning from them, experiencing the ups and downs of life with them. This has been the defining mark of L'Arche since its inception in 1964. The volunteers are not 'looking after' those with disabilities, rather they meet as equals with different repsonsibilities and roles as part of a community with Christ at the centre.
As Vanier explained in an interview with me afterwards: "It's about revealing to people that they are precious. That means listening to them, understanding them, doing things that help them to grow. Having fun together. The important thing is just to say, 'I'm happy to be with you'."
There are some people who seem to radiate holiness. It's a combination of inner peace, a loving spirit, and the grace of God manifest in their word and actions.
L'Arche showed the world what it means to honour people for who they are rather than what they can achieve
To those who knew him, these markers of holiness were abundantly present in the life of Jean Vanier, both in public and private. Since the news of his death (which came after a brief period in hospice care) numerous people have referred to the founder of L'Arche as a 'living saint' during his lifetime.
Vanier himself would have waved away such language. In his world he lived alongside saints of all kinds. Every act of service, care and community at L'Arche was an expression of Christ's presence in the midst of often messy human lives.
The first L'Arche community was founded in France in 1964 in the village of Trosly-Breuil near Paris, when Vanier brought intellectually and physically disabled people out of institutional care and created a place they could call home, living alongside able-bodied volunteers. In time further communities would be established all over the world. Yet, wherever Vanier found himself, Trosly-Breuil and the people who lived there, would be the place he called home for over 50 years.
As a Catholic philosopher and theologian, Vanier had created a place where the theology of love became a lived reality. L'Arche showed the world what it means to honour people for who they are rather than what they can achieve. Vanier's pioneering work among those with disabilities - now widely respected across both the secular and religious spectrum - centred on the dignity of individuals because they are made in the image of God.
Arguably, more than ever, today's world values people according to what they look like, their achievements and their usefulness to society. Following in the way of his Master, Vanier modelled something very different. It's a lesson which, over 50 years later, our world still needs to learn.
Click here to read our Profile interview with Jean Vanier. See also our review of Summer in the Forest, the documentary which tells the story of L'Arche
Get more articles covering news, culture, faith and apologetics in every print issue of Premier Christianity magazine. Subscribe now