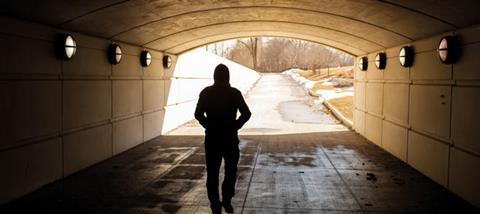 James describes being locked up as 'the worst experience of my life'. He found it hard to cope with the violence.
'You've got to constantly watch your back,' he says, explaining how his experiences in prison nearly broke him. Once he had served his sentence, James was moved to a probation hostel. It was while he was in the hostel that he made contact with Langley House Trust, a Christian charity that helps offenders turn their lives around.
Moving to one of Langley House's 80 properties was a 'massive fresh start' for James. The trust gives male and female offenders a place to live to help aid their rehabilitation. For James, the community hostel in Taunton where he currently resides is an important stepping stone towards independent living. 'It's done me very good,' he says.
CHILDHOOD
James grew up in Portsmouth and says his childhood was a happy one. He shrugs off the bullying that happened at school. 'School was average. Everyone got bullied at school, it's just normal,' he says.
He lost his father when he was 21. 'My sister was only two years old and even now she asks, "What was he like?" It's hard for her not growing up with a dad,' he says. 'When my dad died, that was a trigger but I had to stay strong for my family.'
James got married at the age of 24, but when the relationship began to break down a number of years later, he turned to drink. 'I didn't care about anyone else. I drank myself silly and did stupid things when I was drunk,' he recalls.
James says his 'terrible drinking problem' was so serious that there was a high chance he would 'end up in a coffin'.
While he admits that he 'did stupid things' and made mistakes, James is also adamant that he was not guilty of the charge on which he was convicted, and he is currently fighting to clear his name.
THE TRIAL
'Mine was a five-day trial where the prosecution put their case across and you're made out to be the worst person ever, and you just want to climb into a big hole,' he explains.
'Two or three days in you're able to fight back and put your story across. But going through the legal system is so, so hard. Your barrister does their best but you've got to stand your ground.
'I should never have gone to prison. My appeal is ongoing… hopefully in time the conviction will get quashed and thrown out.'
James was locked up for 23 hours a day in prison. With so much time on his hands, he often turned to prayer: 'I used to pray to live every day as it comes and to help me; praying my conviction would be quashed and I can move on with my family and my kids. Some of those prayers were answered.'
He had previous experiences of church and the Christian faith, but it wasn't until James moved to the Langley House Trust property that his faith really grew. Nine days before speaking to me, James completed the Alpha course. He is full of admiration and praise for Nicky Gumbel and the course in general. 'It gave me even more of an insight into God,' he says.
'The more I attended church, the more I was getting closer to God. And now I've got such a good relationship with him, it's brilliant. I've gone from being a rebel to a Christian. Before, I didn't forgive anybody for anything. But forgiveness now is real to me. It's a massive transformation.'
HEALING AND RECOVERY
Carolyne van Agen, project manager at Langley House Trust, says she has seen 'a massive change' in James' behaviour during the 18 months he has been at the house.
'When James first came here, he was very quiet, withdrawn and very closed,' she recalls. 'That's quite typical of the people we work with. They've been through the prison system and they have to survive. To survive you have to put a front up.
FORGIVENESS NOW IS REAL TO ME. IT'S A MASSIVE TRANSFORMATION
'What's been amazing is the honesty he has now. He's opened up about the struggles he's had, and his past. It's been great for him to be able to talk about it and be honest. There's been a real healing.
'What really changed him was when he started to go to church. Sometimes some of the guys go to church because it looks good, and there was an element of that, to be honest. Sometimes he'd say he'd go and he wouldn't turn up. There was obviously a struggle and a battle inside him. But in that God was working in him.'
OVERCOMING ADDICTION
Carolyne, who has been working with Langley House Trust for 14 years, says most offenders battle with addictions. She explains it can be hard to overcome these addictions while on the inside.
The perception that drugs are easily available in prison is at least partly supported by recent statistics (although, almost every statistic and report related to the prison system is hotly debated and discussed). According to a 2010 Policy Exchange report, 85% of prisoners said they could easily get hold of drugs if they wanted to. However, the Centre for Social Justice's 'Drugs In Prison' report released in March this year found that only 31% of prisoners said that it was easy to get drugs. Whatever the case, it's clear that prisons are still a long way from being a drug-free zone. A Channel 4 News investigation earlier this year even found inmates 'brazenly uploading pictures of drugs…on their illegal social media accounts'.
But as Carolyne explains, there is another reason why inmates find it hard to overcome addictions while they are locked up.
'It's very hard to feel safe enough to work through your issues in prison because you have to put a hard face on to survive,' she says.
'One thing that's quite shocking is with some people, they can't cope… They go through the system a lot and eventually they're used to prison. Everything is done for them. And for people with addictions they can't cope with the outside world. It doesn't help them to become independent. That's the issue I have [with the prison system]. A lot of them want to go back to prison because that's where they feel safe.'
PROTECTING THE COMMUNITY
Langley House Trust has been criticised in the past. Because the organisation works with convicted criminals, not everyone is keen to support it.
Carolyne's response to this is twofold. First, she says: 'There but for the grace of God go I.' Secondly, she says that the trust is well aware of its obligations to the wider community.
'Our two main aims are to protect the community, but also [to] help someone lead a crime-free life,' she explains. 'We always look at that element of the community… Our whole focus is helping someone change their life. Not just change it for a little while, but change it for life. That means no more victims and less finance on the taxpayer.
'The freeness of forgiveness is amazing to see. When someone has changed their life, they're able to go out and speak and share that forgiveness. The power of a testimony in helping others is amazing.'
It is Langley's job to help rehabilitate prisoners so they can return to crime-free lives and independent living. But is it working? Does their work help reduce the number of prisoners who reoffend?
OUR FOCUS IS HELPING SOMEONE CHANGE THEIR LIFE
A Ministry of Justice tool called 'Justice Data Lab' looked at 231 offenders who received support from Langley and compared their reoffending rates with a group of offenders who did not receive support. It found that 35% of those in the group who did not receive support went on to reoffend. But of those who did receive support from Langley, only 26% reoffended.
Langley says the results prove its work makes a 'significant difference to people's lives' and points out that, during the time the 700 individuals it has worked with were under its care, the reconviction was just 2.6%.
REHABILITATION
James is now coming to the end of his time with Langley House. He hasn't had a drop of alcohol since he left prison nearly two years ago and is eager to be rehabilitated back into the community.
His story isn't neat and tidy, but it is real. James found out six months ago that he was adopted when he was eight years old. The revelation came as a shock, especially as his adoptive mother has told him not to ask any further questions.
'I would like to know my background, but at the same time it's going to hurt my mother because there are things she doesn't want me to know,' he shares. 'It's a difficult choice to make.'
Moving forward, James has three aims: 'To move on to independent living, see my kids again and have a good relationship with God.'
He is also full of admiration for Langley House Trust. 'They aren't out there enough,' he says. 'We all need a break and we all need to move on. And I have.'