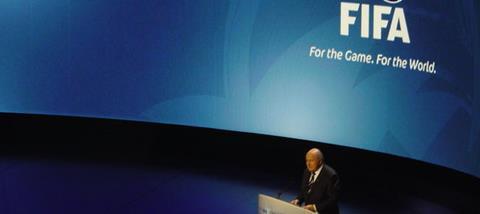 The history of football is a long and complex one.
The first reference to a game called football came in 1314 when Nicholas de Farndone, the then Lord Mayor of the City of London issued a decree on behalf of King Edward II banning football because '...there is great noise in the city caused by hustling over large "foot balls" in the fields of the public from which many evils might arise...'
Football used to be a violent game. An account from a particularly rough parish wide game in 1595 tells how 'old Gunter drew his dagger on Gregory...' Both wound up dead.
Thankfully after a few hundred years of deaths and mayhem, footie was codified in 1863 and the FA was formed, which led to the beautiful game we have today. Or so you would hope.
Recent headlines have been dominated by stories of bungs, backhanders, dodgy deals, bribes and corruption on a scale that makes Enron look like the equivalent of little Timmy lying about nicking little Harvey's lollipop in nursery. It's been rumbling on for years now and frankly enough was enough. The fans, the pros, the kids kicking a ball about in junior leagues up and down the country, the armchair pundits and non football watching general public at large have had a bellyful of it.
That Sepp Blatter has resigned is very welcome. That he felt it was ok to front out global political leaders, international Football Associations, 80 yr old Ethel from Dagenham and my mates down the local and stand for reelection in the first place demonstrates all that has gone wrong.
I hope we see an overhaul and a reboot of FIFA
Greed, narcissism, materialism and arrogance have nearly destroyed something that should, has been and could be amazing. Of course, not everyone in football is rotten, in fact it is full of some very decent players and executives who genuinely love the game, but where there are serious profits to be made and the opportunity to bend the rules to get a new villa on Lake Como, there will always be those who'll succumb to the dark side.
I hope we see an overhaul and a reboot of FIFA. I hope for the sake of future generations of fans and players that we witness a restoration of honour and respect. I suspect that as it was in the beginning it will depend on those in the grass roots of the game to make a difference.
I also hope we see some Godly men and women ascend to positions of influence in the global game. Perhaps we should pray that they do. I hope it becomes less about the cash and more about the sport. From hugely spoilt pros to corrupt execs it's all a bit depressing. Time for a change.
Better late than never Mr Blatter and well done for not taking a dive.
To receive a free copy of Premier Christianity magazine click here