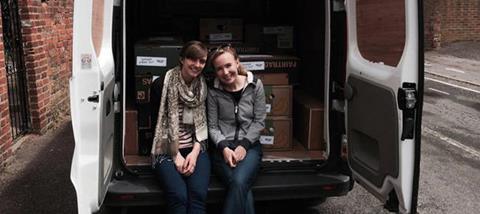 At the start of 2015, student worker Pam Robertshaw made an unusual new year's resolution. Having had her heart burdened with the nation of Iraq for over a decade, she prayed, 'Lord, I really want to go to Iraq this year.'
Pam's background is in nursing and she had received disaster and relief training from her employer's (Christian charity Agapé) Global Aid Network (GAiN). She was keen to reach out to the people of Iraq, but previous attempts to visit the war-torn nation had failed.
There was also the question of security.
'My husband was cautious about me going because it's so dangerous,' Pam recalls, adding: 'It's good not to be gung-ho about it. There are real risks. But you come to this place where you say, "Lord, I know the risks that there are, but I'm willing to go and serve anyway." We both had to come to that place.'
A REAL FAITH
Within four months of praying that God would send her to the second most dangerous nation on earth (only Syria is more unsafe, according to the 2015 Global Peace Index), Pam was on a plane to Erbil. Her aim both there and in Duhok was to provide practical support for refugees. But she also wanted to gather their stories.
Pam explains, 'I wanted to hear people's stories in their own words. With the whole refugee crisis you can read an article but it's really someone else's narrative over the refugee situation. You often don't hear the voices of refugees themselves.
'The first woman I met described how her family had come from Nineveh to Erbil having had lost everything. She was a Christian and said her faith had just been routine before, but now she had a real faith as part of going through this. She was so emphatic about how God was good.
'She really wanted to encourage me, and the conversation was not just about her as a refugee and me as a Westerner. That was what was so beautiful about it – we were two women encouraging one another. She had the joy of the Lord in her. It blows you away.'
Pam was also astounded at how local Christians were responding to the crisis.
'We spoke to one man whose daughter was in captivity with ISIS. He wanted us to help him and it's really hard to know how we can… People in Iraq are living with the risks of ISIS being five minutes away. They live with that day in, day out…But there's a softness in the Christians' hearts – to be praying for their enemies – even ISIS.'
DOES ANYBODY CARE?
Upon returning to the UK, Pam was changed. She describes having her head and heart 'full of Iraq'. One evening she went to hear a BBC journalist speak at Oxford University. After the lecture, Pam asked the journalist how she could get the refugee stories she had recorded out into the media.
'He said, "There are refugees all over the world and no one cares. And no one really cares about your stories."
'Leaving that event I was really disheartened, but also really galvanised because I think there are people who care.'
Pam had seen first-hand how the women in Iraq were struggling. She knew how great the need was. She was also determined that if people were given the opportunity to hear the accounts she had gathered, they would be moved to action.
HOPE
Over the next few weeks, Pam shared the refugee's stories with a handful of Oxford students and they formed a wider team of students who wanted to take a lead on making a difference. Pam visited all of the various colleges at Oxford University and read out the words of the refugee women that she'd recorded (see box for example). After the talks, the students made personalised cards and messages for the each of the women. The students also put together care packages containing toiletries, clothes and sanitary products for the women.
There's a softness in the Christians' hearts – to be praying for their enemies – even ISIS
As Pam had predicted, hearing the first-hand accounts of refugees had a profound impact on the students. By the end of her campaign, Pam was able to send 50 packages and personalised notes to women in Iraq through the charity Samara's Aid.
'The students were really impacted by the stories. The word everyone kept using was "hope". People could see these women had hope and the families had hope. It was really powerful.
'You don't come away feeling "Oh, poor refugees". You come away feeling that these are amazing people who God is with. He's there with them, he's comforting and he's strengthening.'
For more information about the work of Agapé and GAiN, visit agape.org.uk and globalaidnetwork.org.uk
A refugee family shares their story
We came from Qaraqosh; it is a beautiful place. We had a good salary and a good standard of living. When the crisis first happened, and ISIS attacked Mosul, people came from Mosul to our village and we helped them and cared for them. But then ISIS attacked our village with rockets and we all had to leave.
We have lived here in Erbil for six months. Many of the families that live in this building are from our village. We lost everything together and now we are here together. ISIS took everything. We don't know, if we go back, what will be left. Will we be able to rebuild our homes? Who will care for us? The government don't care about us.
My son has thalassaemia, he is very ill. He can't get treatment here. I am very worried that he is going to die. My daughter was pregnant when we left Qaraqosh, but when we arrived she had miscarried. Everything we had been through, it was so much. God is good, and though we have lost everything, Jesus stays.
We hope that the situation will get better. We know that God sees us and is always helping us. When you visit us, it makes us feel like someone cares and is thinking about us. We hope to return, even if our house has been destroyed. We want to return to the place; we would even live in a tent where our house was.
Our home and our country are always open to you.