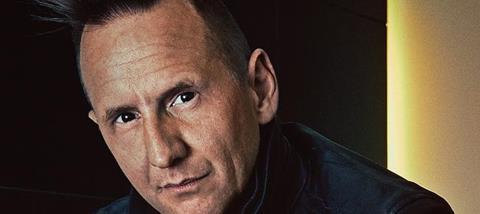 Martin Smith is best known for fronting Delirious?, arguably the biggest Christian band of all time (unless you count U2). But long before he strummed a guitar or sang into a microphone, Smith's family feared he might never make it out of the hospital.
Martin was just six months old when he contracted bronchial pneumonia. "No big deal, but I nearly died" he quipped as he told the story midway through his album launch party last week.
The singer was placed inside what he described as an "iron lung" – a piece of medical equipment which allowed him to breathe. His mother uttered the kind of desperate prayer which is all too familiar for those who have bargained with God while watching their children suffer: "God, if you let him live, we will give him back to you".
The deal was struck, and as Martin grew up and penned many of the songs which came to define the modern worship movement ('I could sing of your love forever', 'Majesty', 'Thank you for saving me') his mother looked on with wonder and amazement at her dramatic answer to prayer.
And the significance wasn't lost on Martin either. He acknowledged, he's made "a bit of noise" for God since that prayer was uttered.
It's fitting then, that 'Iron Lung' is one of the stand out tunes on Smith's forthcoming studio record. It's a personal, heartfelt and emotional song with a stunning second half. Smith is on the cusp of releasing some of his best music to date, but it hasn't been a straightforward path.
The difficult beginnings of a solo career
The journey from Delirious? frontman to solo artist was never going to be easy. Not only would Smith need to carve out his own sound, but he'd need a new team, including a new band. Three years after the band ended, he was ready to release new music. His first attempts at this were four God's Great Dance Floor (GGDF) EPs, which came out between 2012-13.
Two albums followed, but both drew heavily from the already released EPs. With the benefit of hindsight, it could be argued much of the material from GGDF was Smith attempting to fit the worship mould of the time (although Live from New York - his collaboration with Jesus Culture - was far better, and received multiple 5 star reviews).
Army of Bones
In 2016, Martin quietly began work on a brand new project. Despite being produced by the same pool of musicians who worked on GGDF, the new material sounded completely different, and was released under a different name: Army of Bones. The name was inspired by Ezekiel's vision of a valley of dry bones. The Old Testament prophet is instructed in Ezekiel 37 to "prophesy to the breath", as the dead bones before him miraculously join together and rise up to become "a vast army". It's a story which Smith had long been fond of (he'd often read out the passage during Delirious? gigs).
When Army of Bones' debut album was released in 2017, it signaled the resurgence of those electric guitars and pulsating drums that were often prevalent in the Delirious? days yet sadly missing from the GGDF era. It was as if the same musicians who worked on GGDF had suddenly been given permission to experiment, be creative and let loose.
Although there were plenty of hints and references back to faith (one track was called 'Ecclesiastes'), in the main Army of Bones' debut project wasn't about God, it was largely about Smith's marriage. And it rocked.
Importantly, this was the project which allowed the singer to be released into the pubs and clubs again, the small venues where no one knew his name. In doing so (read our review here), Smith proved he is equally comfortable performing in a dingy club as he is leading worship in stadiums. But it did more than that. Army of Bones helped the worship leader find his voice again. It was as if he'd been recommissioned to do what he does best: make great music, without concern for whether it might fit a perceived 'congregational worship' mould.
As Smith said of the Army of Bones album during our sit down interview last year, "The record has a real bite to it. The guitars were up front…It really opened me up in a way I wasn't expecting. I loved being in front of those small crowds. It bought me alive again."
A shift was taking place. Smith's songs were getting edgier – both lyrically and musically. Last summer, he released a new collection of worship songs, recorded live with the Army of Bones band. It was called Love Song for A City, and received many a favourable review. All this has paved the way for the new record, which will be released next month.
Breathing again
As I stood watching Smith perform his new songs on stage last week, I realised that in one sense nothing has changed since the Delirious? days. He still believes music has the power to change lives. He still loves reaching out to those outside of the Church. And he's as comfortable straddling the worlds of pop/rock and worship as he's ever been. At the same time, his style has changed. It has grown, matured and been reshaped. And for that, we have Army of Bones to thank.
On the night, his latest singles 'Great and glorious' and 'Fire's gonna fall' shone. And the collaborations (with rapper Guvna B and later a brass section from the Salvation Army) were similarly memorable. The level of creativity and energy which he displays on stage is remarkable. It's easy to forget the singer is actually 48 years old (he does not look his age). If he hadn't sighed deeply and declared "I need a cup of tea" after one particularly energetic number, he might have passed for a 30-something!
Smith's as yet untitled studio album will feature a smattering of songs which could easily be sung on a Sunday morning (there's a chance 'Exalt' could become his most popular song in years). There were many other special moments on the night, including the aforementioned 'Iron Lung' and the punchy 'Runaway'. Smith fans should also be on the look out for 'Everybody is broken'. It's not the sort of title you'd expect a worship song to have, as Smith concedes. "Everybody is broken," he croons, "but the bones will live again".
Martin Smith's new, as yet untitled, album will be released on May 10. For more information visit martinsmithmusic.com
Enjoyed that? Get more articles covering news, culture, faith and apologetics in every print issue of Premier Christianity magazine. Subscribe now