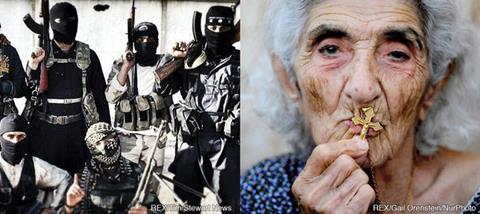 Religious leaders from Iraq have described a 'Christian holocaust' as reports of countless beheadings and crucifixions have continued to flow out of the country, including the well-documented beheadings of US journalists James Foley, 40, on 19th August and Steven Sotloff, 31, on 2nd September.
These and many other executions were carried out by jihadist group Islamic State (IS) – formerly known as ISIS – in response to US air strikes.
In a letter to Foley's family, which was read aloud at a special memorial mass, Pope Francis wrote that he 'joins all who mourn him in praying for an end to senseless violence and the dawn of reconciliation and peace among all the members of the human family'.
At a press conference the day after Sotloff's murder, Archbishop of Canterbury Justin Welby said: 'Our prayers and thoughts are with Steven Sotloff's family during this time. We remember that he is both the latest and most prominent recent victim, and represents many who have suffered.'
He continued: 'We are seeing an extreme religious ideology that knows no limits in its persecution of those who are culturally or religiously different. Those who promote this intolerance must be challenged and the perpetrators of violence held to account without impunity.'
Other faith leaders have also condemned the actions of IS, including Saudi Arabia's top cleric, Grand Mufti Sheik Abdul-Aziz Al-Sheik, who described the ideologies of groups such as IS and al-Qaeda as 'Islam's number-one enemy'.
CHRISTIANITY IN MOSUL IS 'DEAD'
Around 100,000 Christians are believed to have left Iraq since IS issued its ultimatum to convert, pay the Jizya (a tax for non-Muslims) or 'die by the sword'. Estimates suggest that around 1,500 Christians and Yazidis have been sold into sexual slavery and that many more women and children have been raped.
Up to 40,000 Yazidis were believed to be trapped on Mount Sinjar in northwest Iraq in August, having fled from IS militants. Meanwhile, around 15,000 Shiite Turkmen found themselves stranded in Amirli, north of Baghdad. Both groups have been served with the same ultimatum as the country's Christians.
In a strongly worded letter, Prince Charles told Chaldean patriarch Louis Raphael Sako: 'You can have no idea how heartbroken I am to hear of the truly unbearable and barbaric persecution being suffered by Christians in Iraq, but also by some of their neighbours of other faiths.'
Mark Arabo, who was born into a Chaldean Catholic family in Iraq and now speaks on behalf of Iraqi Christians from the US, told CNN: 'This is truly a living nightmare that's not going away. Christianity in Mosul is dead and a Christian holocaust is in our midst.'
Referring to the situation as a 'Christian genocide', Arabo adds: 'They are systematically beheading children and mothers and fathers. The world hasn't seen an evil like this for generations. There's actually a park in Mosul [where they] beheaded children and put their heads on a stick. This is [a] crime against humanity; the whole world should come together. This is much broader than a community or a faith.'
ASYLUM A MUST
Arabo estimates that 95% of all Christians in Mosul – Iraq's second-largest city – have fled and that the remaining 5% have converted to Islam. He claims 300,000 Christians are currently struggling to survive in Iraq and that countries around the world must follow France's lead in offering asylum to Iraqi Christians.
Vicar of St George's Church in Baghdad, Canon Andrew White, agreed with Arabo that other nations must offer asylum to Iraqi Christians. 'It's a life or death situation and we really need people to actually be allowed in here [the UK],' he told Premier Christian Radio.
An open letter addressed to David Cameron and written by Rev Nicholas Baines, bishop of Leeds, echoed Arabo and White's entreaties. 'The French and German governments have already made provision, but there has so far been only silence from the UK government. Therefore, I ask for a response to the question of whether there is any intention to offer asylum to Iraqi migrants?'
Archbishop Welby has also spoken out on this subject. 'I believe that, like France, the United Kingdom's doors should be open to refugees, as they have been throughout history,' he said.
The world hasn't seen an evil like this for generations
CLOSER TO HOME
Just before Premier Christianity went to print, IS announced fresh threats to kill British hostage David Haines, an aid worker, unless US air strikes in Iraq were abandoned. Asked if the atrocities could spread to UK soil, White says: 'Absolutely, yes. They will do it like they're doing in Baghdad at the moment.'
For those who consider this far-fetched, it is worth recalling the case of Fusilier Drummer Lee Rigby; the beheading of a British soldier on British soil. Rigby was beheaded by British men who were raised as Christians and later converted to Islam.
White warns those who are watching events unfold from a comfortable distance not to become complacent: 'We are brothers and sisters together, and we have to live together and work together. We must realise that these are not just people in a far-off place; they're our people and we need people to stand with our people.'
A British Christian teacher*, now based in Kurdistan, shares four prayer requests for people in and around Iraq:
• Pray that God will protect the believers in Iraq and that the nominal Christians will come to know him in a true way.
• For Iraqi churches and church leaders to know how to lead people in worship...This is a real test of maturity.
• In some parts of Kurdistan, the population has increased by 50% due to the influx of refugees, mainly Yazidis and Christians. Pray for the refugees; they are living under trees, in petrol stations and in school halls.
• We should always pray for our enemies, especially when we find ourselves embittered towards violent people…Pray that they will see the light, acknowledge Jesus as king…repent and, like Saul of Tarsus, even become preachers of Jesus.
*Name withheld for anonymity
Foley's Christian faith
In his last communication to friends and family, devout Catholic Foley said: 'I know you are thinking of me and praying for me. And I am so thankful. I feel you all especially when I pray. I pray for you to stay strong and to believe.' He went on to give personal messages to many of his loved ones, including a reminder to his granny to 'take your medicine, take walks and keep dancing'.
Sotloff's Jewish faith
Sotloff, who had dual US and Israeli citizenship, reportedly hid his Jewish faith and nationality from kidnappers during his year in captivity. An unnamed fellow hostage, who has since been released, told Israeli newspaper Yedioth Ahronoth: 'He used to pray secretly in the direction of Jerusalem. He would see in which direction [his Muslim captors] were praying and then adjust the angle.'