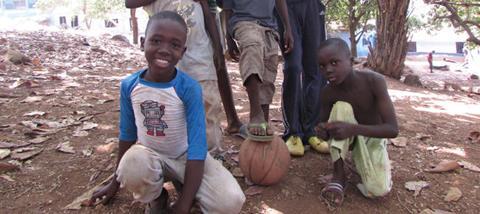 PJ Cole is just 29, but in his short life he has dodged bullets, rescued hundreds from Ebola, and given a speech to an audience that included the Queen and Prince Charles.
PJ rubbed shoulders with royalty when he accepted one of the Queen's Young Leader Awards earlier this year. It's an honour that recognises young people who have 'transformed their own lives and the lives of those around them'. It was awarded for his work in leading Lifeline Nehemiah Projects, a charity set up by his father that has been on the front line of the fight against Ebola in Sierra Leone.
FLEEING LIBERIA
PJ moved to the UK when he was 20, and now has a very British accent. When he was 4-years-old, he and his family had to flee their home country of Liberia, where his parents ran a boarding school and a successful farm. War had broken out and there was no more food, forcing the family to move to Sierra Leone. But conflict raged in that region of Africa for years, and PJ's family had to move regularly.
'I think growing up, we moved seven times, five of which we lost everything,' says PJ. 'I've lived with nothing and just looked to God.'
PJ's childhood was strongly shaped by the lives of his parents, Richard and Yeakah Cole, who set up the Lifeline Nehemiah charity. Although they struggled through desperate and tumultuous times in West Africa, Reverend Richard took Jesus' command to love his neighbour very seriously.
'Even when we had nothing, we still took people in and gave them a home,' says PJ. 'My father and mother taught me about giving and sharing. That's been a huge factor in how I see the world, my response and my choice of work.'
WELCOMING CHILD SOLDIERS
In 1996 the family started to take in child soldiers. For the next five years, 800 children passed through PJ's home.
'People kept coming – more and more. Initially I did not fully understand what we were doing. Dad brought children and said, "PJ, look after them." That meant sharing with them. I was just doing what I had been taught, caring and being friendly.
'A lot of the young people had had very difficult experiences, and so acted out. But there were always people there who would support them through that difficulty.'
One young person who moved in slept with a knife under his pillow and stabbed an adult who came to wake him up. One of the child soldiers had even been involved in the killing of someone in PJ's family – but found forgiveness nevertheless.
CAPTURED BY REBELS
When PJ was 4, his family was captured by rebels. They suspected that his mother was passing messages to the Guinean government – meaning certain death for all. Though the men threatened to kill her, the young PJ begged the commanding officer to show mercy.
'He said he wouldn't want to take my mother away from me, and they spared her,' he says. 'That was a miracle, because the rebels did not have sympathy. The more likely outcome was that they would have said: "You will die with your mother." But they gave us food and let us go, showing us routes out of the country.'
WHAT THE ENEMY MEANT FOR HARM, GOD WOULD USE FOR GOOD
Another miracle occurred when PJ was 13, while he was sheltering with 150 people in a five-bedroom flat due to fighting. He decided to explore outside, but soon discovered why they were hiding. 'I heard a whistling coming my way, and I just ducked,'
he says. 'Where I had moved my head from, the bullet hit the wall. I took the bullet – my mum probably still has it.'
LOVE IN ACTION
Despite the troubles, PJ's family continued to help others, especially young people caught up in the conflict and orphaned. Today, PJ hears from people from all over Africa who were helped by his parents as children.
Many want to 'give back'. 'Many people who came from the Nehemiah home are working in different aspects of development, serving the nation,' says PJ. Many of the charity's staff today are former child soldiers.
PJ thinks the children's lives changed because in the home, they were taught that they could have a good life, whatever their past.
I'VE LIVED WITH NOTHING AND JUST LOOKED TO GOD
'If we see a child soldier or orphan, we don't see a victim,' says PJ. 'We see someone that is going to change the nation, be a leader in the community or of the family, because we know that we're going to care for them, love them and treat them as one of our own. The difference is that love. My father made sure we never called it an orphanage. It was a large family and that's how we sought to approach it.
'My dad would always say, "I'm not training boys, I'm training men who will rebuild this nation." 'He did not believe that their past had to determine their future. It's not that everyone in the Nehemiah home would be a president – what the world considers a leader. No, we would expect people would become better fathers, better husbands, learn to be more compassionate.
'Love in action, that's what Dad preached. It was explicit...he would talk about love and compassion and Jesus Christ. What the enemy meant for harm, God would use for good.'
FIGHTING EBOLA
In 2006, PJ moved to London to study law, after his father passed away. He had planned to work in corporate law, but three years ago, Lifeline Nehemiah asked him to take charge. The charity continues to look after orphaned children in Sierra Leone and helps local farmers to improve their yields.
When Ebola hit Sierra Leone, the charity worked to educate people about the deadly virus. Many thought that there was a conspiracy, and that hospitals were killing people, so they kept away from medical aid. But a member of the Lifeline Nehemiah team designed an audiovisual education programme that gave people the opportunity to ask questions about Ebola. It was shown to more than 70,000 people. The charity gave food and other support to more than 11,000 families who were in quarantine, so that they didn't have to leave their homes and risk infecting others. Hundreds of Ebola victims were helped in the charity's clinic, which has now shut down thanks to the recent quenching of the outbreak in Sierra Leone.
PJ won the Queen's award in part in recognition for this work in the fight against Ebola. But he has seen God at work in every part of his challenging and eventful life.
'To be able to know God personally and to look to him constantly for support has been pretty amazing,' he says. 'Growing up, I've had so many near-death experiences…I know that he is always there.'
Find out more about Lifeline Nehemiah Projects