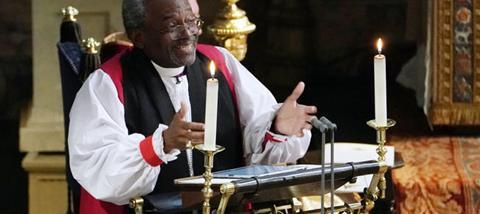 As a theologian in training who studies love and desire for a living, listening to Bishop Curry's sermon at the royal wedding on Saturday felt a little like being on a roller coaster ride. Alongside the enjoyment was the fear that maybe the ride would malfunction and we'd be plunged into that hackneyed, godless fluff of a false view of love that is commodified all around the world.
But no, Bishop Curry qualified that love: as not being just about marriage or sex. Yes, there were moments in Bishop Curry's sermon where love was not tethered robustly enough to the cross and the resurrection of Jesus. Too much was made of our capacity to discover or 'make love happen', and not enough of God's transforming power and our need to surrender to the grace and love of God by repenting and receiving the forgiveness of our sins. He also made God's action in the Kingdom to directly redeem the world a little too far from sight. However, the explanation given by Curry that self-sacrificial love, most powerfully seen in Jesus Christ, is the crux (to choose a deliberate word) of what love is, was far from a pallid platitude from some B-grade Hollywood romantic comedy.
As someone from a Pentecostal or charismatic background Bishop Curry's sermon honoured the spirit of what Pentecostalism is really all about: freely and ecstatically embracing the fire of God's love in Jesus Christ that was poured out in our hearts by the Holy Spirit from our heavenly father. More than ever there is a need for the Church to return to this first love, and humbly accept the fire of Pentecostal renewal.
My experience as a gay man
In my own life it's true that before I could receive the grace to repent from my sins, I needed to experience the fire of God's love. As a gay man, like many people in the world, I was too hurt by the hypocrisy of the Church and Christians to ever listen to a message about sin and the cross. I first needed the Holy Spirit, and an experience of baptism into God's love to soften my heart. For that, I rejoice.
As a celibate gay man, I disagree with Bishop Curry's view of same-sex desire, the nature of gay relationships and, in part, the definition of the love he preached. However, I think the failure to see God at work through our brother bishop is short-sighted. Clearly, God used him mightily; in that moment in St George's Chapel, I heard a prophetic voice that speaks truth to power. In the midst of that power, Curry preached a gospel truth that cannot be denied: self-sacrificial love comes from God in Christ and is the only way for lasting change, in both social and personal spheres.
We see that ultimately in Jesus but then in many others too, such as Paul the Apostle, Martin Luther King, William Wilberforce, Francis of Assisi, John Wesley and many others who brought transformation through peace and not the violence of the sword. That testimony of suffering faith was where I first located the true gospel message, which changed my view of the world. Jesus' self-sacrificial death and rising in glory saves all those who turn from their old life of sin and death.
The crux of the matter
While Bishop Curry may be in error in one big way that is personally very significant to me, scripture is clear that love covers a multitude of sins, including false teaching in one very important area. The witness of God's love that echoed from our slave brothers and sisters was, for me, the most powerful part of what Curry preached, and what gave Curry's sermon its real weight.
The rest of the sermon faded into the background as we heard the sweet spiritual preached. This testimony from hundreds of years of trust in the power of God's love and the gospel, through abject evil, suffering and the sin of slavery, ministered to the world and recalled the same suffering on the cross of our Lord Jesus.
His message was a refreshing message that took secular audiences by surprise and shook the anti-affective culture of white Western Christianity, brushing it away with an African American flare rarely seen from the traditional wing of many churches, even the Church of England. Now, that's fire!
"There is a balm in Gilead
To make the wounded whole
There is a balm in Gilead
To heal the sin-sick soul
Sometimes I feel discouraged
And think my work's in vain
But then the Holy Spirit
Revives my soul again
Don't ever feel discouraged
For Jesus is your friend
And if you lack of knowledge
He'll ne'er refuse to lend
If you cannot preach like Peter
If you cannot pray like Paul
You can tell the love of Jesus
And say, "He died for all".
David Bennett is author of A War of Loves - the unexpected story of a gay activist discovering Jesus' love
Click here for a free sample copy of Premier Christianity magazine