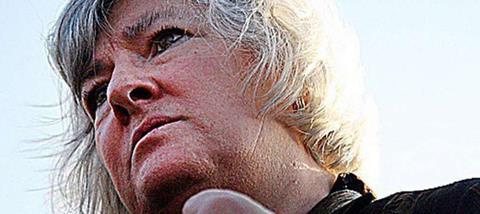 Norway is frequently hailed as a bastion and oasis for atheism and humanist thinking. This was certainly the case for Nina Karin Monsen who was raised in a proud Humanist tradition. Her family eschewed the primitive notion of external moral standards, and elevated personal moral freedoms. Looking back on it though, Nina recognises a certain something lacking in this upbringing: "It's like growing up in emptiness. It's a strange state."
Nina was born under the bombs of World War II. Strangely, despite the fact that both her parents were devout Humanists, they still had her baptised (but not consecrated) in a church.
Nina attributes the stress of the war to the problems her family had. Her father was an accountant – a thoughtful lover of chess, but paranoid about debt and constantly moving from rental home to rental home to avoid payments. Her mother was a housewife, who suffered emotionally, and passed that suffering along physically to her children.
"I think it was very demeaning. I think women abuse in different ways than men, it was not the kind of beating where I started to bleed off, it was 'lousing', as we say in Bergen."
It was something of a lonely childhood: full of frequent moves and ballet recitals. Nina coped with the isolation by doing a great deal of reading. She proved herself to be a bright girl who was very obedient to her parents and never did anything wrong.
Nina left home when she was 19; a decision which hurt her mother, who didn't want to release control of her daughter. The injury would never truly heal.
After leaving, Nina pursued higher education. Entering the academic environment, she brought her intelligence and drive with her, but she also brought something she couldn't control: her good looks. She regularly had to fend off the gentleman's hands that groped her thigh and other unwanted advances. When she excelled in classes, it was to the surprise of her male-dominated school, which told her that she must have a "male brain." In 1969 she became the first Norwegian woman with a Masters Degree in Philosophy. The next year she became one of the founders of Norway's New Feminist Movement.
Nina wrote and spoke on the subject of philosophy, and, as it became more culturally relative, on Feminist philosophy. She became quite a prolific author of both fiction and non-fiction.
In her philosophical writings and thinking, Monsen began to advance the thought of "personalism". She describes her philosophy: "This is expressed in the books I have written, such as The Loving Man and The Innermost Choice. The greatest joys are in thinking, looking for correlations and patterns and getting an eye-opening experience.""
Monsen was stunned to discover that the "person" she was describing in her philosophy was the Jesus of Christianity
In thirty years of crafting her theory of personalism, Monsen was stunned to discover that the "person" she was describing in her philosophy was the Jesus of Christianity: "Personalism is Christian thinking, and it fits faith like a glove. Faith is the hand, personalism is the glove".
As Monsen adopted the ideas of Christianity, her political and personal stances began to change. She shifted to a more conservative political stance – a lonesome position in her home country. This brought her no small amount of hatred and criticism from her countryfolk.
Monsen believes that the humanism which dominates the moral background of her country is bankrupt. She speaks from the experience of her own childhood. Reflecting on her upbringing she says that, with Humanism, there is no "sin," and without sin, there is no forgiveness. Her mother went to her grave begrudging Monsen for leaving the home at age 19. The woman had no route to forgiveness. Monsen believes the ethics which Christianity provides would be a boon to her homeland.
One of Monsen's passions is to drive Christians to stop being complacent and to truly think. She says that Norway, nay, the world, is in a culture war – and most Christians are not truly reflecting on what they are saying or doing in this war. The rhetoric, she says, is being dominated with emotion and not with solid arguments, and Christians are doing little to help their side. Still the activist and revolutionary that she always was, Monsen strives to change this.
Click here to request a free copy of Premier Christianity magazine