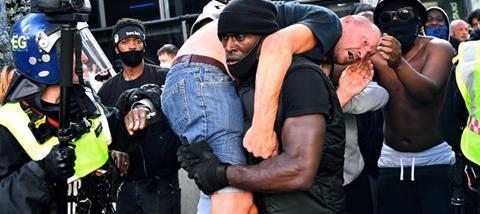 His name is Patrick Hutchinson. A father and grandfather, who I rather suspect is often at his local gym, because he has huge, muscly arms, with veins that stand out.
Until just a few days ago, he was a man renowned for kindness to his friends and family, but unknown to the wider world. And then a photographer captured a shot of him, a black man carrying a white, apparently drunken and allegedly far-right protestor to safety as anger boiled over in the streets of London.
"I was just thinking of a human being on the floor", said Patrick later, seemingly a little embarrassed by all the praise that he's received. "I scooped him up into a fireman's carry and marched him out".
The image of the two is utterly captivating. It's possible that, moments earlier, the rescued man would have been screaming racist vitriol. Although we can't be sure and shouldn't rush to judge, it's possible that, moments earlier, the rescued man would have been screaming racist vitriol. To hear Patrick's description of the attack on the lone man at the hands of rival protestors is harrowing - he said, his eyes clouded at the memory, "It wasn't going to end well". Our hearts were warmed with a surprising portrait of humanity at its best, kindness in the midst of rage, an act of selflessness as Patrick risked his own safety to help someone from the other side of such a great gulf, a courageous Good Samaritan.
But then I looked again, this time at the face of the man carried. His expression is a mixture of fear, incredulity and embarrassment. He knows that he was quite close to death and helpless before it until a stranger plucked him up. A part of him seems to scream that he wants to be put down, to be relieved of his rescuer. Surely glad to be alive, his mind nevertheless reels because, as he rides the shoulder of a man that he would categorise as an enemy, his paradigm of prejudice is undone. He is both dazed and confused by grace.
I spotted Jesus in that snapshot. All power and might are his, all authority in heaven and earth belong to him, unfathomable cosmic muscle. But in him is strength tempered by loving-kindness, restraint in the face of rejection. The fiery zealousness of James and John, who put in a request to nuke a Samaritan village, was met with a rebuke from Jesus.
A nation wants the kingdom to be restored to them, the hated Romans kicked out. Instead, the suffering servant humbles himself to death, and trudges the awful pathway to the cross.
And then I found myself in that poignant image. As a teenager, I mocked his name, and taunted his people because they trusted him. I was on the other side. Then, out of the blue he came, and picked me up. But then, like Jacob wrestling with God, how often I still struggle in his embrace. Discovering that there is nothing that I could ever do to earn his love, I am both grateful and bewildered by my poverty, so I shrink back, clutching my failures and sins close, nervous to accept his outrageous grace. I am like Peter, who protested when Jesus came with a bowl to wash those filthy feet, only to be told that, if you want to be close to Jesus, you just have to allow him to save you, rescue you, clean you up. That's the deal. I am like the returning prodigal, the stench of the piggery upon me, thrilled and confused by his welcome hug and kiss. I protest. I am no longer worthy to be called your son.
But he ignores my complaint, and has the band strike up and the barbecue fired up.
We're grateful, Mr Hutchinson, that you passed through the madding crowd.
And as we celebrate the one who left the 99 in search of us, and took the trek from heaven's throne to Calvary's hill, let's not only rest in the arms of his grace, but pass that grace around today.
Premier Christianity is committed to publishing a variety of opinion pieces from across the UK Church. The views expressed here do not necessarily represent those of the publisher