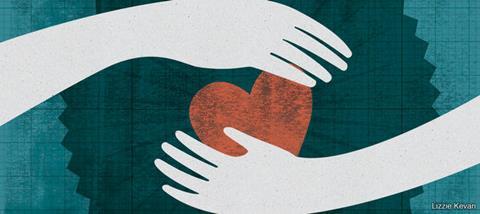 Katie and her husband Paul have two small children, and when Paul couldn't be at her bedside I took his place. Often I sat for hours just watching her sleeping, with tubes seeming to protrude from every part of her body. My wife Dianne had gone in for a hip replacement operation the day before Katie was admitted, so she was also in hospital, albeit a different one, 15 miles away.
When I visited Dianne we talked, but Katie couldn't do that. I don't like sitting still, yet I found it strangely easy to simply be by that bedside, watching her and praying.
Over the years I have seen life traumas affect people's faith in such different ways. Some have said: 'There can't be a God who loves me. If there was, he wouldn't let me go through this.' I understand that reaction.
Another reaction goes something like this: 'I don't really understand any of this. I know that with a word you could put it all right, but I also know that doesn't always happen. Whatever does happen, I need you more than ever. Please make this terror go away, but in it, and through it, and even if the very worst happens, please hold me in this darkness.'
Mine was the second reaction. I don't think this is because I'm more spiritual than others who have the first response; it is simply that, as I sat by Katie's bed, I realised that it all came down to one simple question: do I trust God?
What I found myself asking was: 'Do I trust God to somehow keep holding us all, whatever happens?' And I discovered that I did. That discovery was almost a surprise. It was a bit like David in the Psalms saying: '…If I make my bed in Sheol, you are there!…even there your hand shall lead me, and your right hand shall hold me' (Psalm 139:8,10, ESV). In other words: 'I really didn't expect to find you here!'
One day in the hospital, Katie said to me: 'Last night I woke up and you were sitting there holding my hand.'
I replied, 'Did you hear what I whispered to you before you went back off to sleep?'
She shook her head.
I said, 'It was this: "Talitha cumi." Do you know what that means?'
She shook her head again.
I said, 'It's what Jesus said to Jairus' daughter. It means "Little girl, I say to you, arise".' (Mark 5:41, ESV).
Just before Katie was born, I waited outside the operating theatre as Dianne gave birth by caesarean section. I remember it as though it were yesterday. I desperately wanted a boy. Suddenly I heard a cry, and then the door opened and the midwife handed me a tiny bundle.
She said, 'You've got a lovely daughter.'
My heart sank. And then she pulled aside the blanket covering the baby's face and I looked into Katie's eyes. At that moment I fell in love, and have been ever since.
Many years have passed, but as I waited in that same hospital and responded to Katie's tentative wave as she was wheeled into the operating theatre, I realised that although she is now a woman with a family of her own, I was still trying to be a father to her. And in that moment, it struck me that through every stage of my own life God has truly been a father to me.
Katie is now home and recovering well, and Dianne is waiting by the phone for the call to go on Strictly.
Click here to receive your free copy of Premier Christianity magazine.