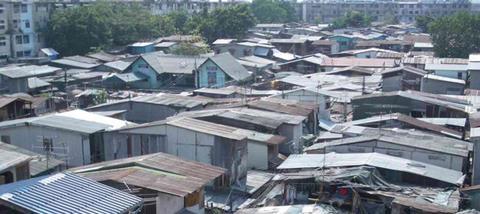 Metuakore's name means 'no parent' in his native Cook Island language. He was 11 years-old when he entered Ash and Anji Barker's world through his involvement in the youth programme the couple was running in Springdale, in
inner-city Melbourne.
When Ash dropped Metuakore back to his home one evening, the child's grandfather put a question to him. 'Look, there are 18 of us living in this small house. Will you take him on as your son?'
'I said, "I'll take him on, no problem,"' Ash recalls. 'But as my son? I think I'll have to ask my wife about that.
MY BODY WASN'T USED TO THE OPEN SEWERS AND SLUM CONDITIONS
'I remember going home that night and saying: "Anj, have you had a good day at work, dear? Would you like a son?"'
THE CALL TO THE POOR
As a committed 18-year-old Christian, Ash had attended a meeting led by Tony Campolo. 'Campolo said: "If Jesus has done so much for you, what will you do for him? Will you do anything for the cause of Christ?"' Ash recalls. 'I stood up at that meeting.'
Ash later met Anji, whom it transpired had been at the same meeting, and had also stood. The pair sensed a shared call to mission among the urban poor. 'We had both had this encounter with a God who had transformed us and can transform anybody, and we wanted to make sure that nobody missed out,' Ash says. They 'fell madly in love' and were married two years later.
Anji sensed a call to Haiti and Ash to China, but God had other plans, and the couple spent the next decade living and working primarily among migrants, refugees, drug users and dealers in inner-city Melbourne.
OPENING THEIR HEARTS AND HOME
'Well, his name means "no parent". We've moved into this part of town to be with people like him. If we say no to him, what are we doing here?' This was Anji's response to Ash's request that they should welcome Metuakore into their lives. The couple agreed to foster the boy. 'He was a lovely kid…a mischievous young lad,' Ash says.
Serving in Springdale, the couple soon learnt that God could use them to transform lives. 'We saw young people coming to faith and starting small house churches.
'We realised that churches in inner-city and deprived areas were missing in action. We wanted to start churches that could be run by these young people and their families.'
A SECOND CALL
During Metuakore's teenage years, Ash and Anji discovered that he had psychiatric issues. 'He got a young woman pregnant and Christine was born; she's now 21. I became a foster grandparent at 23,' Ash continues.
'Metuakore's world came crashing down. He saw trees talking to him…he got really paranoid. We loved him, and he got to know Jesus…but he got worse. He was in and out of institutions and jails.
'When he was 18 we got the phone call from the police: would we come and identify his body? He had died.
'For me and Anj, there was this sense that he didn't change in the way we had wanted…At his funeral I remember kissing his cold forehead and saying: "You didn't change as we all hoped you would do, but you did change me. You took me to places I never knew I'd see."'
Reflecting on what happened, Ash draws on the movie Titanic. 'Jack is at the bottom and Rose at the top,' he explains. 'Her life is very superficial and she meets Jack and she sees the way the world really is. In lots of ways, Metuakore was my Jack; my second calling to the poor had come.
'He was part of my conversion story of seeing that the world isn't as it should be – and there are limitations to what I can do – but through Jesus, change for me and for others around me is possible.
'I had a relatively good upbringing; good Christian parents. Most people don't have that. When you are at the centre of life and power, you don't see people living in the margins and at the bottom. You need a conversion experience to see that.'
CALLED TO THE SLUMS OF BANGKOK
Renewed in their sense of calling after the loss of Metuakore in the mid-90s, the Barkers began to think about moving to another community. 'We still had this sense of call to the world's poorest: how was that going to work out for us?' Ash says.
A friend working in Bangkok encouraged them to visit him there. Ash and Anji stayed with him in Klong Toey slum, which was then a two square-kilometre home to 100,000 people. 'We fell in love with the place,' Ash says.
Two years later, in 1999, they were invited by the Church of Christ in Thailand to begin work there, regenerating a church-run community centre that was on the brink of closure.
Ash and Anji, along with their five-year-old daughter, moved into a slum home the size of four double beds. 'The first six months were particularly heroic. I had dengue fever four times, and dysentery. I thought I would die. My body just wasn't used to the open sewers and slum conditions,' Ash says.
Later on, as their family grew – Anji gave birth to a son during the ten years they lived and worked in Klong Toey – the Barkers moved to a slightly larger home in a different part of the slum.
'There were times when we thought: "What on earth are we doing?"' Ash says. 'I remember when we brought our son home from hospital. It was hot, it was tropical; everyone wanted to touch him. We got him home and there were cockroaches in his crib.'
SLUM CHURCH
Ash and Anji began to run a series of small house churches. 'Church was usually on a Friday night, sitting on the floor and eating a meal together. We would make it very participatory, so it didn't feel formal. We'd sit in a circle and someone would share a story, someone would share a Bible passage and someone would ask for prayer.
'We would often do very ceremonial things, like light a candle for a person in need. And in a community like Klong Toey there was a lot of need. So many of our meetings were spent praying for people. Communion was also an important part of our centring in on the risen Jesus, and realising that we didn't have the resources for this community by ourselves,' Ash says.
Anji focused much of her work on coming alongside local people and helping them launch social enterprises. 'The key was starting where people were at,' Ash says. Prayer was very much a part of this process. 'I don't think the social enterprises would have survived had it not been for Jesus in the middle of them.
'Working in Melbourne we learnt that you can't just look at the deficits in a community. You have to look at the gifts, passions and talents that people have, and help bring them together and ignite the sparks. That's possible; we had seen the transformation of a whole neighbourhood in Melbourne. Those kinds of things came with us.'
EVERYDAY MIRACLES
Ash and Anji saw people come to know Jesus in a variety of ways in Bangkok, but God regularly spoke and worked through dreams. 'It was almost like people's world view was so tightly wound that Jesus could only get in there through their subconscious at night,' Ash says.
'One of my neighbours had his arm broken by a mafia-organised crime crew. We said: "We'll pray, but you pray too and ask God to make himself real to you."
'He was furious. He said: "Where is this God who is supposed to heal people like me?"
'We said: "Jesus isn't far away from any one of us."'
That night, the man – who was a taxi driver and could not work without the use of both arms – asked God to reveal himself. 'God did come, and healed his arm in the dream. When he woke up, his arm was healed.
'Not everyone had that kind of dramatic story, but a lot of people had a supernatural experience of God; more so than we had seen in Australia,' Ash says.
Embedding themselves among the people they are serving has always been a significant aspect of the Barkers' approach to mission. 'Programmes are not going to be enough; institutions are not enough,' Ash says. 'It takes people to reach people, and communities to reach communities. We feel like the gospel flows better relationally than it does just through a programme.'
Last year Ash, Anji and their family made their third international move to Birmingham, where they have founded the Newbigin Centre for Urban Hope. The centre is part of Springdale College, which offers BA and MA leadership and theology programmes. Ash's book, Risky Compassion (Springdale College), is out now