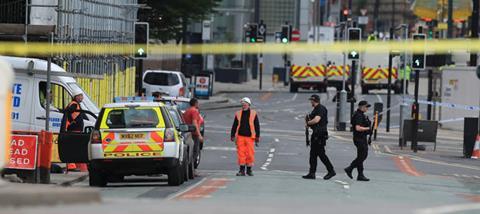 You're afraid.
The explosion in Manchester is being branded an act of terror because that's exactly the emotion it incites- terror.
In typical British fashion we attempt to be defiant against the threat. We share social media posts preaching to ourselves as much as our followers. We say "we're not afraid, you can't scare us." But our internal thoughts betray our underlying emotion, that of fear. We reconsider our travel into the city. We double check the emergency exits during our trip to the shopping centre. We hold our children tighter than usual.
We are afraid
While it's noble to try and resist the fear, its hold is too strong for us to resist in our own strength. It's impossible for us to avoid the truth; we are afraid.
We are afraid for ourselves.
We are afraid for our children.
We are afraid that evil will come to our door.
The Christian faith does not demand that we do not feel fear. Despite preachers reminding us that 'do not be afraid' is the most frequent command of the Bible, this doesn't mean that we shouldn't experience the natural response to a terrifying event. Instead, the Bible is full of people being honest before God. We should feel free to be candid about our emotion. For me today, it's being honest that I am afraid.
I am afraid for myself.
I am afraid for my children.
I am afraid that evil will come to my door.
What the Bible gives us is a framework in which to experience this emotion. The Lord's Prayer unsurprisingly offers a significant contribution to this framework. For many Christians this prayer is a daily saying of, "deliver us from evil".
It's an honest admission to God that we are afraid. In saying the Lord's Prayer we are acknowledging that there are evil forces and powers beyond our control that cause us to fear. But unlike unbelievers who fear alone, we fear in the context of God's sovereign power. We are afraid but we do this in the safety of being children of the Most High.
Perfect love casts our fear
1 John 4:18 says, "Perfect love casts out fear." Doesn't this sound encouraging? God's perfect love casts out fear. It's tempting to say 'Yes! Let's live in this today!' But we need to take care and read this in its context. The whole verse actually says, "There is no fear in love. But perfect love drives out fear, because fear has to do with punishment. The one who fears is not made perfect in love."
We are slowly being transformed into his image but that is not yet the reality of our lives. We are not yet made fear-free and perfect in God's love. That's why many of us finish the Lord's Prayer saying, "For the kingdom, the power, and the glory are yours, now and for ever." This defiant statement provides a context for our fear.
God is sovereign, yes. But we live in a broken world and we are broken individuals not yet made perfect so we feel fear.
Today please join with me as I pray:
Lord, I am afraid for myself. Have mercy.
Lord, I am afraid for my children. Have mercy.
Lord, I am afraid that evil will come to my door. Your kingdom come.
Click here to request a free copy of Premier Christianity magazine