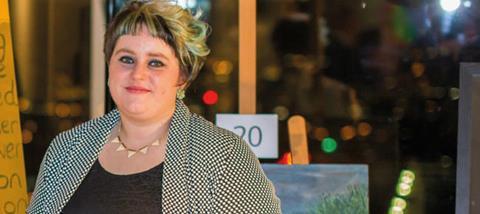 'Self-harm was a way of communicating. It was a very flawed way of communicating because it was secret, but it was a way of communicating with the world that I knew I was bad and I was trying to take care of it. I was trying to do what I could.'
When Laura Miles went off to study at the University of East Anglia, she was battling an addiction to self-harm. 'I got a real jolt of adrenaline… It wasn't until I started my masters degree that I actually completed a whole assignment without using self-harm, because it focused everything for me.
'I could endure stuff for a longer period because I was in pain; which is back to front, but it worked,' Laura says. 'Part of it was about punishing myself for not being good enough. I had to take that out on my own body.'
Laura had struggled with depression since she was 10 years old, having started self-harming during her early teens. The addiction to self-harm worsened during her university years. 'My first year at uni was a complete disaster. I ended up in hospital a couple of times,' she says. But Laura was determined to finish her degree.
SURPRISED BY CHURCH
During her second year at university, a friend said: 'Look, go to the Christian Union. They're Christians; they have to be nice to you. Just try it.' Laura risked it and made a friend there who began taking her to Proclaimers Church in Norwich.
She had occasionally been to traditional churches as a child, but this was different. 'It completely blew my mind. It isn't traditional. It's very 21st century; really accessible. The messages are presented in a way that actually relate to normal everyday life and it was just an incredible experience. I remember saying to one of my friends, "This really is a church, right? You're not trying to trick me or anything?"' Laura says.
She continued to attend church through her time at university, but Laura says she: 'Never met God properly because…being in a church just gave me a whole new list of "shoulds". I should read a Bible, should pray, should serve in church, should go the extra mile, should be the Good Samaritan, but I didn't have the well and the fountain that comes from God. That wasn't the church's fault; it was a bad mix of my understanding and where my value came from.'
THE DECISION TO DIE
Laura went on to get a job as an administrative assistant after university, but drifted away from church. She continued to self-harm. 'I could go to work and function and I would be incredibly useful…I always went above and beyond. But I would go home and there wasn't anything. I'd just go back to bed or self-harm. That was it. There wasn't anything beyond that. It was in that state that I came to the really calculated decision that I needed to die.'
Laura says her decision wasn't fuelled by emotion. 'I wasn't upset, I wasn't angry. I just looked at my life and I thought: "The first 22 years have been really bad. I haven't been happy and if I have to do this another three times over I don't want to do it."' She set a date and started researching the best way to die. 'I wanted to make sure that if I was going to do it, I was going to do it properly,' she says. She booked a ferry to Belfast as she wanted to commit suicide in a place she wasn't known, and took annual leave in order to make the journey.
A GOD-ENCOUNTER
It was while driving to Belfast that God intervened in Laura's world. 'I was literally driving to go and die. That was when I met God. It was so different from anything I'd previously experienced; the most significant moment in my life,' she says.
Laura had planned to spend her last 24 hours with God, reading and praying. 'Foolishly, I thought, "I can hold out against God for 24 hours",' she says.
I WAS LITERALLY DRIVING TO GO AND DIE. THAT WAS WHEN I MET GOD
As she was driving, she heard a track on the CD she was listening to called 'Save You' by Simple Plan.
'It's about a guy who's singing to a girl about how he wishes he could save her. It turns out he wants to save her from cancer, but I didn't know that at the time,' Laura says. 'The song talked about how he was always going to be there for her; he was always going to pick her up when she fell down; he was always going to believe in her, even when she didn't believe in herself.
'I remember praying: "God, that is what I want. That is how I want someone to feel about me… that they're going to be there for me, they're not going to falter, they're not going to become scared about everything I'm experiencing and they're going to love me."
'Literally, I just heard the answer: "That's how I love you."'
LOVE CHANGES EVERYTHING
Laura's encounter with God in that car was a turning point. 'I made the decision that I was going to try and keep going, because all of a sudden I had somebody that loves me like that,' she says.
Although she had decided not to take her own life, Laura recalls: 'Every coping strategy I had fell apart. I couldn't function any more to go to work. I struggled to hold a conversation; I completely shut down.'
It was then that she heard about Mercy Ministries UK, a Christian charity that runs a Bradford-based residential home for girls with life-controlling issues. Desperate for help, she applied and was given a place.
'Mercy really introduced me to God and how I can function,' Laura says. 'I realised I could take ownership over my thoughts and rebuild my cognitive reframing around what the Bible says, and what God says about me, rather than what I might say about myself. That, for me, was massive.
'I think of my time at Mercy as a little bit like a factory reset. Now I know the God who created me; he's the potter and I'm the clay. If he says I'm valuable, then I must be valuable, regardless of whether I think it or feel it. If he's saying it, it must be true.
'But the thing that changed me wasn't the Mercy house,' Laura says. 'It was Jesus. And he goes with me.'
Laura now works as a social worker, supporting young people leaving care. Mercyministries.co.uk