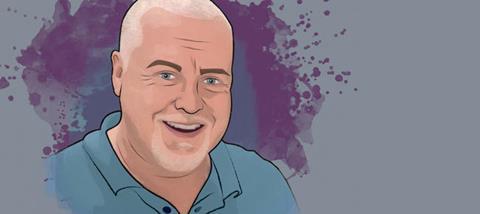 I grew up in in Drumchapel just outside Glasgow. At the time it was the worst housing estate in the whole of Europe. Other young boys my age were sniffing glue, taking drugs and carrying blades.
On my first day at school I was offered a fight by the hardest lad in the year. I remember him punching me in the head so many times. Somehow I won, and the next day in school I was hailed the hero.
One day I heard screaming in the street and saw this man dragging his 13-year-old daughter by the hair along the pavement. All the neighbours were watching and doing nothing. I was so infuriated I ran up and karate kicked him right in his head, to the cheers of the neighbours. It was instilled in me quite quickly that violence and taking the law into your own hands is how you deal with things. I had this moral high-horse attitude.
I stayed on at school until I was 18, but I had no real qualifications. The only thing I was good at was fighting. I went into the nightclub industry and became a bouncer. I got married at 21 and by the time I was 22 I was divorced. She had met someone else and was having an affair.
'I liked violence'
I headed down to London and worked with a team of men who were ex-Special Forces. We would be sent to nightclubs where the local doormen couldn't handle the situation any more. We went in and restored order to nightclubs. We would be very heavy-handed and the levels of violence began to get bigger. I liked violence and I liked nothing better than to be paid for it.
My uncles were involved with the Maltese mafia in Soho, who run most of the sex industry. They owned strip bars, adult DVD shops and peep shows. All of that sordid business was very lucrative. Later I ran the biggest brothel in London. My cousin has recently just got out of prison for managing it, so it obviously remained a family business long after I was gone.
I met so-called businessmen who were involved in fraud and were owed huge amounts of money. They didn't want to get their hands dirty so they came to idiots like me and my men. We kidnapped a lot of people, held them hostage and they would pay their money. These crimes were unreported; the people couldn't go to the police.
I ran the biggest brothel in London
We would go off to places like Spain, to the Costa del Crime, as they called it. There was one guy there who owed £13m. We ended up going over a few times to try and kidnap him. We stood to earn about £1.3m in commission. But every time we went the operation was foiled. I used to joke that he must have a guardian angel. The last time it was foiled when we were struck down by a mystery illness and had to come home early. And funnily enough, the day we arrived back in Heathrow we suddenly felt cured.
That job would have resulted in murder, I'm sorry to say. To my shame, I was the one who decided that, if we were going to have to kill this guy, I would put the bullet in his head. We were so stupidly cold that we were going to book lunch afterwards and celebrate.
Lured to a Bible study
I always thought we would never get caught, but the police finally caught up with me in 2003. I was found guilty of attempted extortion and was sentenced to four years in prison.
I'm still thinking at that point, "I'm a good guy." In prison there was a pastor called Duncan who would visit every week. What lured me to his Bible study were the cake, coffee and biscuits. I always remembered that when Christians pray they close their eyes. I thought, "Great! When they're all in their little holy huddles praying I'm going to fill my pockets!"
There were about twelve other guys there, mostly lifers and murderers. I was struck by how happy they appeared in this environment.
I found Jesus Christ and he changed me
The pastor got this guitar out, and I really regretted being there. I was imagining "kumbayas" and "hallelujahs". The first song was "Open the eyes of my heart". I remember coming over emotional. I began to cry. I hid my face behind the song sheet because I really didn't want anyone to see me crying in prison.
I had a really restless sleep; I guess I had a lot to think about. The next morning this Nigerian guy, Tony, forced a Bible into my hand. I reluctantly took it. That night, when I was locked up, I opened it at Ezekiel 18:27-32. It says: "But if a wicked person turns away from the wickedness they have committed and does what is just and right, they will save their life. Because they consider all the offences they have committed and turn away from them, that person will surely live…"
It hit me like a thunderbolt. I realised I wasn't a good guy and I couldn't justify my actions any more. I realised that I was wicked and I needed to change.
I went back to the Bible study and confessed to the pastor that I needed a new heart and a new spirit. He shared the gospel message with me in a very simple way. He spoke my language.
I found Jesus Christ and he changed me. I really believe that if you're a Christian there should be evidence that Christ has changed you, and there will be a desire to share your faith. When I left prison, I just knew I had to tell people. In the last eight years I've been to over 20 countries and spoken in some of the toughest prisons on the planet. I've been into more prisons today as a free man than I ever did as a criminal. God has an amazing sense of humour!
John Lawson was speaking to Sam Hailes. Click here to hear the full interview, as broadcast on Premier Christian Radio's The Profile. John Lawson's story, If a Wicked Man (New Wine) is out now. For more information visit escapeministries.co.uk