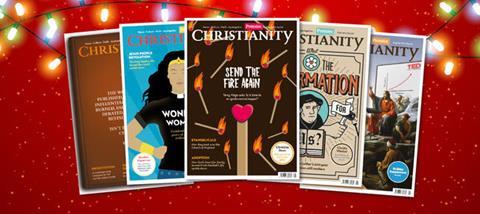 Our major investigation into the rise of evangelicals in the Church of England. From Justin Welby to the HTB effect - what's happening and is it cause for celebration or concern?
We need to have an honest conversation about race in the UK Church. Why are we so segregated and how can we heal the divide?
There's an unholy trinity of post-truth, alternative facts and fake news pervading our culture. Former tabloid journalist Sarah Lothian explains how Christians should respond.
Katie Stock's major investigation gives the inside story on how the UK Church is ministering to sex workers
One of the biggest names in dance music talks to us about his unusual Christian faith.
Talk of revival isn't nearly as common as it used to be. The founder of Newfrontiers Terry Virgo explains why now is the time to pray again.
Most of us take it for granted that contemporary Christian music exists and modern songs are played by worship leaders across the country every Sunday morning. But as Les Moir - the producer behind the UK's best known Christian albums - explains, this is a young movement with a fascinating back story.
Stormzy's critically acclaimed album Gang Signs and Prayer reached number one in the UK charts this year and his single 'Blinded by Your Grace Pt 2' contains some amazing God-centred lyrics. Grime record label boss turned church pastor Ben Lindsay reports on this and other developments in the world of hip-hop.
Increasing numbers of Muslim refugees are converting to Christianity. We look at why it's happening and what it means for churches in the UK
Nick Page, with the assistance of the Very Hungry Caterpillar, explains how to turn your crisis into a chrysalis