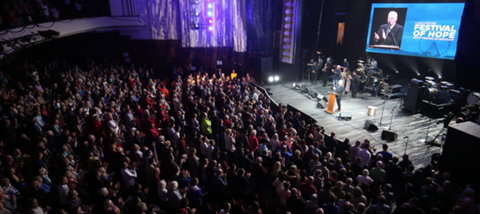 It was hard to know what to expect when entering the auditorium at Blackpool's Winter Gardens to hear Franklin Graham preach.
There's been no getting away from the controversy surrounding his visit. There was the thousands – including MPs – who signed a petition claiming he should be denied entering the UK because he was a hate preacher. The Muslim Council of Britain seemed to agree with this point of view.
There was also the bus adverts for the festival which were banned because his association was deemed offensive. Last month, Premier Christianity reported on how the planned visit was even dividing the Church, with Christians taking different sides on this debate.
Even at the event itself there were a handful of protesters warning those attending of the danger Graham was to Christianity. This negativity has to be acknowledged – even if you agree with everything Franklin Graham says – some of his comments have offended. Whether they're about homosexuality, Islam or Donald Trump, a lot of people have been left hurt by his words. But back in January when I spoke at length with Graham, he assured me he was bringing a message of love to Blackpool and he certainly delivered on Friday evening.
The words 'God loves you' were uttered six times within the 30 minutes he spoke for. Yes there was a lot about sin, plenty about judgement and even a bit about death – but time and again he brought it round to love. Graham was welcomed to the stage by a standing ovation from many who had gathered at the Winter Gardens.
Just over 2,000 were there to hear him speak what was quite a simple but certainly effective message. There was nothing new in what he said. The Bible verses were familiar. "For God so loved the world" check. "No one comes to the father except through me" check. "Jesus came to save the lost" check.
There were moments of humour. "It doesn't matter what diet you're on, you can exercise four times a day, lift weights, jog, whatever…you're going to die." There was even a bizarre reference to Donald Trump but the closest Graham came to controversy was his examples of sin. He spoke of cultural standards evolving but God's law never changing. While many would have no problem with him referring to lying, stealing and murder as sin – some may have struggled as he went in hard on the issue of abortion.
He gave his personal testimony of "running from God" but feeling "empty" and encouraged those like him to acknowledge what Christ did on the cross. It was an old fashioned telling of the Gospel. We're all sinners but there is one who forgives.
Was it the most engaging presentation of the gospel that I've ever witnessed? No. Was it the most people I've ever seen respond to the gospel? By some way.
Perhaps it was the cynic in me that was unexpectant or maybe it was Franklin Graham telling me earlier in the day that even if just one person turned their life around the festival would be deemed a success.
Far from just one – a conservative estimate of the number of people walking to the front to make a commitment would be 100-200 – of those some children and some elderly.
With two days still to go, that has to be encouraging for people in all quarters of the Church. Will it go as far as changing people's attitudes to Graham? I'd guess not but would those people who made commitments have had that experience of God if it were not for him? That's a difficult question many of his critics within the Church will have to answer.
SPECIAL: Subscribe to Premier Christianity magazine for HALF PRICE (limited offer)