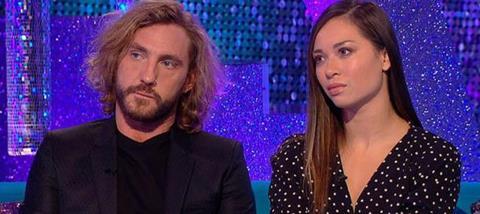 With dances such as the tango and samba, the professional dancers on Strictly Come Dancing and their celebrity partners are expected to form a close bond.
But sometimes that bond becomes a little too close...
As the years have passed, there have been so many relationship break-ups among the show's contestants, that the phenomenon has become known as the "Strictly curse". And the latest scandal has been grabbing headlines all week as professional dancer Katya Jones and Comedian Seann Walsh have had their private lives made excruciatingly public.
What happened?
On the night of Seann Washes' girlfriend's birthday – Seann and his dance partner Katya went for a drink, alone.
There was dancing, laughing and a now infamous kiss which the tabloids have published photos of.
This wasn't unreasonable press intrusion. There were no hidden cameras, or long lenses to catch the infidelity. They were kissing in public, on the pavement outside the bar.
Seann's relationship is over, but Katya's husband Neil Jones has said he will stand by her. Both parties have apologised:
In light of the story in today's newspaper I would like to offer my sincere apologies for my actions. This is no excuse but it was a one-off drunken mistake which I am truly sorry for.

— Seann Walsh (@seannwalsh) October 7, 2018
I'm so sorry about any offence or hurt I may have caused with my actions. I wasn't thinking and it was a one-off mistake after some drinks. I love my husband and we are very happy together, this is not a reflection on our relationship.

— katya Jones (@Mrs_katjones) October 7, 2018
The incident has raised questions around whether these two dancers should be allowed to continue in the competition.
The BBC appear to have decided that since this is showbiz, the show must go on. And so it will, with all eyes glued to watch Katya and Seann dance the Charleston this Saturday night.
Blessing or curse?
Jeremy Vine, who himself has a Christian faith and has been married for 16 years said he had feelings he couldn't explain towards his partner when he was on Strictly: "Suddenly I'm seeing someone who is like a goddess - super human. The power and the strength and grace of that person, and then you are spending eight, nine hours a day within two inches of them."
Vanessa Feltz said she understood how the "curse" took hold: "For me I definitely spent four heady days deeply madly passionately in love with happily married James Jordan until I lurched back to my senses, remembered I was on a TV show, gave myself a stern talking to and snapped back to being a grown-up."
Craig Revel Horwood has argued the Strictly curse is actually a blessing in disguise because it kills off failing relationships. But relationship breakdown is far from "Fab-u-lous darling".
A total of 10 couples have seen the demise of their relationship while one partner was on this programme. And according to research from the Marriage Foundation, celebrities divorce at twice the rate of the UK population.
Christians cannot and should not celebrate the so-called "blessing" that a relationship has broken down in such a painfully public manner. Strictly isn't a soap opera, yet it's veering tentatively close to one. When you think this family programme actually has more 16-34 year-olds tuning in than X Factor, questions should be raised about what message all this sends to the next generation.
What's the solution?
Should we make sure that only single people are allowed to tango across the ballroom? Sir Paul Coleridge, founder of Marriage Foundation said on Inspirational Breakfast this morning that such an idea was too prescriptive: "If your relationship is mature enough and you are honest enough and able to say 'yes, he or she is very attractive but...' it's perfectly do-able! We don't have to let these things get out of control do we?"
The two people in question have said sorry. They should be forgiven. While all of this should be a private matter, by continuing to appear on the programme, there's a sense in which they've also decided to act this out on the public stage. I would have expected that they voluntarily remove themselves from the show, or that the producers would strongly suggest this happens, regardless of ratings. Perhaps they'll be eliminated by public vote instead? Not a graceful exit, but perhaps a necessary one.
The ratings will rocket this week, and I admit a curiosity to watch the programme and to peer in at the chemistry and the inevitable awkwardness.
For entertainment value, you could argue the judges would give Strictly a perfect score of 10! As for family values and integrity? A score of two would be pushing it.
Enjoyed that? Get more articles covering news, culture, faith and apologetics in the latest edition of Premier Christianity magazine. Click here to subscribe to the print mag for HALF PRICE