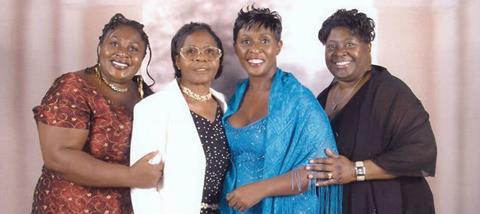 'Small in stature, meek in character, but a spiritual giant. ' This is how Jackie Hay describes her mother, Erna Simms, who has had many battles to overcome since the premature death of her husband 20 years ago. Despite the challenges she faces, Erna loves to serve other people and demonstrates the love of God to the many who call her 'Mum' and find a warm welcome in her home. 'I always say that Jesus lives at my mum's house,' says Jackie.
At 70, Erna is busy hosting church groups, cooking for senior citizens and visiting the homeless, as well as caring for her own children. 'My life is busy and it's good, but the Lord tests me in so many ways,' she says.
Born in Jamaica, Erna immigrated to the UK with her husband, Ben, in 1961. They moved to Birmingham when Erna got a job as an auxiliary nurse, and she lives there still. Though Erna had a latent faith since childhood, it wasn't until her husband's sudden death at the age of 50 that her belief in God began to play a more significant role in her life. At 49 she was left to bring up their four children alone. 'I wondered how she would cope after Dad died,' says Jackie, 'but when he passed away, Jesus became her husband.'
In recent years Erna's children have struggled with numerous serious illnesses. Throughout these difficult times, they have relied on their mother's strength. 'Even though I'm their mother, I'm fitter than all of them,' says Erna. It is her remarkable strength and self-sacrifice that have made her Premier Christian Radio's Mother of the Year.
Erna is the primary carer for one of her daughters, Shermin, who has had kidney failure for more than six years. In the last year Shermin has had twelve surgeries and Erna has supported her through them, as well as looking after her grandchildren.
Another of her daughters, Sharon, had a brain haemorrhage, and Jackie was diagnosed with breast cancer three years ago. Meanwhile Erna's son, Trevor, has struggled with depression for a number of years.
Despite these trying circumstances, the family has seen some amazing answers to prayer. In her mid-40s Erna first experienced God's healing when she had a minor stroke at home. Shermin, a nurse, prayed for her in the bathroom and she was healed. The symptoms have never returned.
Since growing in her own faith, Erna has also seen answers to her prayers for healing – especially throughout her children's illnesses. Shermin has received new medical treatments, and Jackie has now been given the all-clear. 'I won't say it happens a lot,' Erna says, 'but people do get healed when I pray. I depend on God's word. God said if we have faith as small as a mustard seed, that faith can do the work. I pray and believe that all things are possible and I see people get healed.'
Equally, she knows what it is like when prayers for healing are not answered. 'I'm glad I trust in God. Jesus said it is impossible to please him without faith. I have great faith and trust in him,' she says. She recalls a time when she particularly felt God's presence in her distress: 'When I heard the news about all four of them [her children being ill] – all of them something different, I just cried and I knelt down and it's just as if somebody sat down on the chair next to me, and the voice said, "I'm here with you, don't cry."'
Erna isn't only known as 'Mum' to her own family. Wherever she goes people look to her as a mother figure. Her home is open to numerous church groups and meetings, and the youth and children's groups are always welcome, despite the chaos that sometimes ensues. 'My mum took every piece of furniture out of her house to have the youth round,' says Jackie. 'She made it like a restaurant, so they were able to come round and a have a meal. She said they deserved to have something nice.'
"WHEREVER SHE GOES, PEOPLE LOOK TO HER AS A MOTHER FIGURE"
She lives in the smallest room in her house, so that the other rooms are ready for whenever anyone might need to stay. 'I just love people,' she says. 'If I could get everyone to come and sleep in this house [I would]. Especially when I go to see them at Crossroads, and they have nowhere to sleep; in the night I get up and pray for them.' Crossroads is a homeless outreach that Erna helps with once a month, whatever the weather. 'We serve people who don't have anything to eat and give them clothing, but I feel so good doing it,' she says.
But how does she keep going in this life of service? 'What drives her is the relationship she has with God and realising what the Lord has done for her,' says Jackie. 'The life my mum lives draws so many people to Christ.'
Mother of the Year:
The Shortlist
Johanna Matta nominated by her daughter, Luisa Bediako
Johanna donated a kidney to daughter Luisa's husband in 2012 after when they found out he had kidney failure in 2011. 'Mum's delighted that she could do something like this for us, and we're just amazed at her act of love and kindness that's really transformed our life as a family,' says Luisa.
Juliet Lamin nominated by Julie Ramsden
Juliet lost her only child, Philip, 16, last February. He had a cardiac arrest while playing football with friends after school. She set up a support forum for his school friends. She now fundraises for CRY (Cardiac Risk in the Young) and organised a two-day screening programme at the school. Juliet also works to promote better relationships between young people and the police.
Mary Sackey nominated by her daughter, Sharon Baiden
Mary has faithfully cared for a woman with special needs at her church. She has taken her to appointments, fed and clothed her and taken her to church. 'When I grow up I truly want to be like my mum,' says Sharon.
Marcelle Thomas nominated by her daughter, Shinead Prescod
Last year Marcelle and her husband were rushed to hospital and nearly died. Marcelle continued to care for her husband as well as looking after her children. She also runs a community group to encourage and enable young people and spends the weekends looking after single mothers going through trauma.