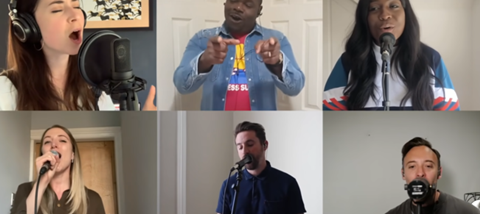 The UK Blessing, the video where members of 65 UK churches sing an encouragement to their countrymen, has now received over 2 million views on YouTube. But what does it mean?
The song begins with these words:
The LORD bless you and keep you,
make his face shine upon you and be gracious to you,
the LORD turn his face toward you
and give you peace.
If you've been to a liturgical church you'll recognize these lines that end every service. The practice of sending forth worshippers with this blessing stretches back thousands of years. It comes from Numbers 6:24-27, when the priests are instructed as to how they should proclaim God's blessing over Israel.
It's called the Aaronic or Priestly Blessing and was a regular part of Temple worship in Jerusalem and in synagogues too. The early church inherited this practice from Jewish worship, where it also continues to this day.
The sheer ancientness of this blessing is astonishing. Modern readers will struggle to appreciate these cryptic lines because of their antiquity. But a few insights from language and culture will help us to understand and meditate on them:
The LORD bless you
To bless, is to ask God to look favorably on someone, to bestow some kind of goodness or benefit upon them.
and keep you
The Hebrew verb literally means to "guard," "protect" or "watch over." We find the same verb three times in Psalm 121:7-8, "The LORD will keep you from all harm — he will watch over your life; the LORD will watch over your coming and going both now and forevermore."
make his face shine upon you
This sounds oddly concrete to us, but the concept it communicates is profound. The word panim (face) can also mean "countenance" or "presence." Think of how a person's face "lights up" when they see a loved one. We could translate it, "may God smile at you." It communicates God's affection and pleasure at hearing our prayers.
and be gracious to you
The Hebrew word here, hanun, is the same word "grace" that denotes God's desire to forgive sin and to show favor to the undeserving. It might surprise you if you think grace only comes along in the New Testament!
turn his face toward you
Yet another ancient expression that describes God giving his full and complete attention to our prayers, listening deeply to our concerns.
and give you peace
The Hebrew word shalom is broader than our word 'peace' which tends to just mean lack of conflict. Instead, Shalom includes health, safety, prosperity and wholeness. Ultimately, this phrase describes God supplying our physical and material needs as well as our emotional needs.
Putting these ideas together, we find that the Aaronic blessing describes God's loving provision and his watchful, protective gaze over his people. We hear of God's heart for listening to our prayers and his desire to comfort and sustain us in every way. What welcome words to our troubled, anxious hearts during the Coronavirus pandemic!
The biblical text emphasizes that these words of blessing had no human author. They were not penned by an ancient psalmist or by a prophet. God himself is their originator, and he alone can fulfill them. When God instructed priests to speak them over Israel, he was making it clear that they were acting as mouthpieces, human voices to proclaim his loving intentions. God is the one who activates these words in the lives of listeners, to do for them what they cannot do for themselves.
This changes how I listen to this song and watch the video. To me it's not about the Church being alive in spite of the lockdown, or the unity it displays. It's not even about how the Church has blessed hundreds of thousands through concrete acts of kindness. Through this video, I think it is the Lord himself using the voice of the UK Church to express his incredible love for the world.