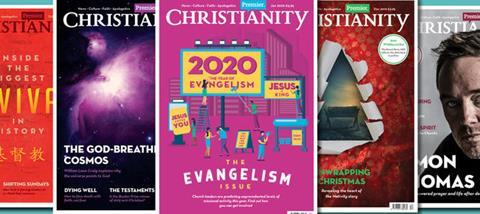 With so much bad news swirling around, it was a delight to publish October's cover story by Paul Hattaway. Paul, who co-authored The Heavenly Man with Brother Yun, is an expert on the growth of Christianity in China. I was amazed to discover that according to the numbers available, what's taking place in China right now is the biggest Christian revival in history. While this should be celebrated, it's come at an immense cost, as Paul explains: "Many house church leaders in China say that President Xi is determined to finish the job that Chairman Mao began, namely the complete eradication of Christianity from the country." It seems wherever the Church is persecuted, it grows. And wherever the Church grows, it is persecuted. We must continue to pray.
A huge amount of our news coverage continues to be dominated by issues relating to LGBT (just off the top of my head there's been Israel Folau, the Methodist ruling and controversy over Bethel church). Division and upset are commonplace. And yet, in June's cover story, Megan Cornwell uncovered a principle it seems all sides can agree on: Our headlines might be saturated with LGBT-related issues, but on a local church level, there seems to be a conspiracy of silence. Very few evangelical leaders are willing to nail their colours to the mast on this subject, and this indecision (or cowardice) isn't just hurting the Church's witness to the world, it's hurting the thousands of people who identify as both gay and Christian and who don't know where they stand inside many of our congregations.
This was without doubt, one of the most hard-hitting interviews this magazine has ever published. Marcus Jones' conversation with the TV presenter Simon Thomas who lost his wife Gemma to leukaemia, is an absolute must-read. You can also watch the full conversation on YouTube or hear it on The Profile podcast.
As a black pastor of a white-majority church, Ben Lindsay has a unique perspective on race and the Church. I found his warnings about unhelpful and damaging stereotypes we can so easily fall into, immensely helpful...and convicting! I also appreciated the way that Lindsay writes with understanding and compassion, which isn't always easy when addressing such emotive subjects.
Krish Kandiah's article on orphanages didn't just shock me. It completely changed my mind. I can't think of a higher compliment than that.
I'll admit to being sceptical when I was first called into a meeting and told that I absolutely had to "meet these people". But within just a few minutes of conversation, I was intrigued. The Bruderhof is a Christian group who live in community, own no possessions and by all intents and purposes, seem to be creating some kind of utopia (in West Sussex of all places!). When I sent our deputy editor Megan Cornwell to live with them for 48 hours, she was similarly impressed (and told me she didn't want to leave!). Neither of us are off to join them just yet, but in our frenetic digital world, we could certainly see the plus side of not owning a mobile phone...
Pass the tissues, would you? Soul Survivor both created and defined a generation of Christians. This is a fitting tribute to a much-loved event by YCW editor Ruth Jackson.
When Justin Welby told us he spoke in tongues daily, neither the interviewer Justin Brierley nor I thought too much of it. After all, millions of Christians do too. No big deal. But within hours of us releasing the interview, a host of mainstream media channels including The Guardian and the BBC were running the story, with the BBC putting scare quotes around the offending phrase in their headline: "Archbishop Justin Welby prays 'in tongues' every day".
Penned by the brilliant Nick Page, this quirky and amusing piece is worth your time. Not convinced? Read the intro and I reckon you'll be hooked: "Here's the thing. Every week I go to church and someone at the front tells me I'm a sinner and that I should stop. But no one ever tells me how. I know that I'm forgiven, of course. I confess my sins and that's wonderful. But there's nothing else. No plan. No practical advice. So each week it's like I have a kind of sinectomy – my weekly growth of sin is amputated. The problem is that it soon starts growing back. Sometimes even during the sermon..."
When we sat down for our interview, I knew the elephant in the room would have to be tackled. The former Lib Dem leader's views on gay sex had dominated headlines and generated a huge amount of media attention. We talked about that at length. But what I didn't anticipate, was Tim's answer to the question 'How did you become a Christian?'. I was intrigued to learn the story of Farron's conversion would feature rainy afternoons in Singapore and books about biblical prophecy.
Supply and demand have been inverted. In the past, there was a high demand for preaching, but finding a decent sermon was a hard task (you may have to travel for miles). Nowadays, a huge number of brilliant sermons can be downloaded and streamed online, and yet in our increasingly secular culture, the cultural demand for preaching is at an all time low. In this piece, Skye Jethani outlines the dilemma and proposes a possible solution.
Lisa Mainwarring's personal account of attending a fasting retreat in Germany was eye opening. It also challenged my beliefs and theology on fasting, grief and hearing God speak.
I first came across the content contained in this article at the Unbelievable? apologetics conference. Tim Alford was addressing a group of youth leaders and parents on the subject of what makes Generation Z tick. As I listened, I became convinced that youth leaders and parents weren't the only people who needed to understand this. Ultimately, any Christian who cares about the next generation needs to understand how they think, because this will allow us to present the Gospel to them in a way they can understand. Tim did a brilliant job of summing up so much important research in this short article.
It's been wonderful to work with RT Kendall on a number of articles for Premier Christianity (and there are more on the way). RT's passion for both scripture and the presence of the Holy Spirit is inspiring and contagious. This is a timely word for the UK Church.
Having observed this trend for some years, I decided it was time to write about it! But penning an article on evangelicals who are deconstructing their faith turned out to be the most difficult piece I've ever written. Not only is the phenomenon difficult to define, but each individual story is different. Nevertheless, I was grateful to receive positive feedback from many Christians who say they've been through this process. Whether you're sceptical of the new direction some are taking, or are eager to embrace it, I hope this piece aids your understanding of a trend which deserves serious and careful thought.
There's plenty more where that came from! Don't miss out on quality Christian journalism in 2020. Sign up to our twice-weekly newsletter and subscribe to the magazine