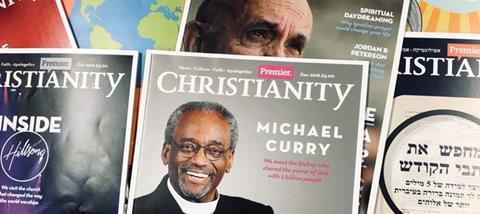 Given that our (small) team has written, designed, edited and proofed 920 pages of magazine content, uploaded 268 blogs and produced 71 podcast episodes in 2018, I think it's fair to say this has been a very busy year and we're all looking forward to a much-needed holiday!
I've already done my best to summarise the biggest news stories of the year and we've also shared our most popular articles from the past 12 months. But what have been the best? What's stood out? Which features have most challenged me, inspired me, or changed the way I've thought about God, my faith and the world we live in?
Well, in no particular order, and with much gratitude to our talented in-house team and many freelancers who have helped make this year such a huge success, here, whittled down from the 200 or so print articles we've published, are 15 of the very best:
The problem of knife crime has worsened throughout 2018, with the latest figures showing stabbings in London are at their highest level in six years. February 2018's cover story looked at how Christians are taking positive action in their local communities. Premier has since launched a campaign on this issue and is encouraging Christians to pray for peace on our streets.
Either this is a stunning miracle that most Western Christians are completely unaware of, or Orthodox church leaders are misleading their people by faking a miracle. Regardless of whether you're a believer or a skeptic, this article on the 'Holy Fire' phenomenon makes for fascinating reading.
The conversation around this Canadian academic reached fever pitch in 2018. Some say he's a dangerous misogynist. Others have hailed the author of 12 Rules for Life as one of our generation's greatest thinkers. So which is it? Justin Brierley argues (spoiler!) that no, he isn't the saviour of Christianity, but he may well be a "gateway drug" to the faith. And that, along with the way he's encouraging young people to take the Bible seriously, should surely be welcomed.
One of the great joys of editing Premier Christianity is the opportunity to meet new people and hear their stories. Every testimony matters, because they are all powerful demonstrations of the reality of God and his ability to change lives forever. Emma Heath's story reminded me not only of Christ's power to save, but how he can take our scars, our past and our failures and turn them into something beautiful.
When Liz Dodd decided to cycle around the world, she didn't invite God along for the ride. But he kept turning up anyway!
There's a common misconception that studying biblical languages is a dry, dull and difficult exercise. And at times I'm sure it can be. But this article by Melissa Briggs proves how going back to the original languages can also be a life-giving experience for Christians. In this piece, Melissa explains how her faith was revolutionised as a direct result of learning just a handful of Hebrew words.
Nothing was off limits in this interview. Rachel shared her insights on everything from feminism and sex to youth work and adoption. You can also hear this interview (and many others which we didn't have room to print in the magazine) on The Profile podcast.
Premier Christianity has a 50 year track record of opening up the big subjects. We haven't shied away from the controversial issues this year (and we won't next year). This personal reflection by Adesanya Adewusi on what's been dubbed the prosperity gospel, is eye-opening and challenging.
Although they're best known for their worship music, Hillsong has also become something of a church planting movement. In the UK alone they've grown from 110 to 14,000 congregants. I wanted to find out what was behind this incredible growth, and also put the most common criticisms of the movement to the church's leaders.
If you thought Premier Christianity only covered the church world then think again. "The earth is the Lord's and everything in it" says Psalm 24 (emphasis mine). Therefore we reckon God has thoughts on all sorts of subjects, even plant-based diets! Vegans sometimes have a reputation for being brash and dogmatic. But Liz Dodd's culture column was open and generous.
The world's leading New Testament scholar helps us unpack who Saint Paul really was. If you want to read more from Tom Wright, make sure you subscribe to the print magazine, where you'll be able to read his new column.
Rob Parsons nails it. Required reading for anyone involved in church leadership.
RT Kendall explains why every Christian should want to be popular in heaven and famous in hell. It's another practical and stirring piece from the much-loved Christian author.
Whatever you thought of his royal wedding sermon (and personally I thought there was far more to commend than to condemn) there's no doubt that Bishop Michael Curry has become one of the most famous Christians in the world. In this interview with Cole Moreton, Bishop Michael opened up about what it was like to preach to a global audience of 2 billion people.
Well...is he?
Get more articles covering news, culture, faith and apologetics in every print issue of Premier Christianity magazine. Subscribe now for HALF PRICE (limited offer)