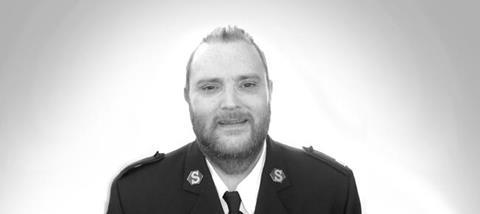 Friday 11th May 2007 is a date that will be imprinted on my mind forever. It was the day I was diagnosed with a brain tumour. At 35, surely I was too young to have the 'Big C'? Apparently not.
I saw a potential crisis of faith ahead. It was going to be very easy to shout at God and turn my back on him because of what he was allowing to happen. When a close friend and I talked after I had received the news, we were determined to remain positive, leaving the situation with God. But I wasn't sure how easy this would be in reality.
UPHELD IN PRAYER
I was initially told the tumour was benign. The neurosurgeon planned to operate in the hope of removing most of it and then treating the rest in other ways, so I could make as full a recovery as possible.
I SAW A POTENTIAL CRISIS OF FAITH AHEAD
God seemed to be answering prayer. I often lay on my hospital bed not knowing what to pray, but still feeling uplifted by the prayers of hundreds of others and the promise that God's Spirit would pray the prayers I couldn't.
Not only was my own Salvation Army church praying for me, but I began to get cards and letters from churches of all denominations, and even individuals I didn't know. I felt so supported. There was nothing to fear, no matter what happened.
MALIGNANT TUMOUR
I was soon to face another challenge, however. The operation showed the tumour to be malignant and too dangerous to remove as it was deeper in the brain than first thought. The side-effects of the medication also produced problems. I now have a weakness down the right side of my body and have developed epilepsy. I constantly get tired and impatient. How could God still use me? I wondered.
Despite this, people were still thanking me for my positive example. I was unaware of it, but God was using my actions and attitudes to bless and challenge others. I then underwent a six-week course of radiotherapy, hoping it would shrink the tumour, or at least stop it getting any worse for a while.
TURBULENT ROADS AHEAD
More shocking news came my way. I was told that the average life expectancy for a person with my type of tumour is approximately three to five years. This was far shorter than any figure I had been given before and it hit me hard. How could there be a future? God still seemed to be assuring me that there was. The radiotherapy came and went (as did my hair) and I started to get used to the side-effects, symptoms and the increasing number of tablets I needed.
Two years later I stopped eating, drinking and taking my medication. There was no rational reason for this, and it wasn't because I didn't want to. I simply couldn't. I started to get very ill physically and psychologically. I remember lying back on my pillow and saying that if God was as compassionate as he claimed, he would let me die.
I was eventually admitted to hospital. The medical team spent six months putting me back together physically, and then another two months trying to return me to where I had been psychologically. At times I wasn't on speaking terms with God. My crisis of faith had finally happened. But God just kept sending the right visitors at the right time.
It was during my stay at the neuropsychology unit that God began to draw near again and to show me that I could still be used. I told people I met there that I was a Christian minister and found myself being confided in. I could hardly help myself, but I seemed able to help those around me. I left the centre feeling that God was close.
A NEW CALLING
I became determined to reach my 40th birthday. I did it and had a huge party to celebrate, but then came another setback. The Salvation Army told me I wasn't well enough to keep working. I knew it myself but didn't want to admit it, and I was duly retired on medical grounds. This caused another argument with God. He had called me to full-time ministry and now it seemed I'd been thrown on the scrapheap. But, as always, when one door closes he opens another.
I had been doing some work for a brain tumour charity and they invited me to travel around the country with them, meeting groups of people who were battling brain tumours, along with their carers. I never hid the fact I was a minister, but I also never preached to them. Despite this, people would come up to me, speak about their personal battles and ask for prayer.
UNLESS THERE IS SPIRITUAL HEALING, PHYSICAL HEALING WILL COUNT FOR NOTHING
I realised this was the new ministry God had called me to. I was in a unique situation. I could sympathise and understand where they were coming from. What a great way to carry out his calling.
SPIRITUAL HEALING
Since then, life has become an accepted cycle of scans, specialist meetings, stays in hospices and changes of medication. Unfortunately, my tumour hasn't shrunk, but there is no evidence of growth. It seems to be under control for now. I know one day things will change, but until then I'll keep on ministering.
Many ask whether I pray for healing. Yes, I do. But God heals in many ways. If he heals me physically, brilliant! But unless there is spiritual healing, physical healing will count for nothing. I won't need my physical body in heaven (thank goodness!), but I do need my spiritual one.
Over these past months God has been working a spiritual healing in me. It has been a challenging but incredible experience and he hasn't finished yet. I feel closer to him and more able to face the future now than I have done for many years.
Click here to receive your free copy of Premier Christianity magazine.