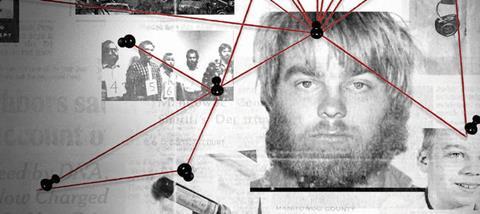 Deep down, all of us want to be Sherlock Holmes. Or, more specifically, we all want to solve mysteries. Some may pore over footage of JFK's assassination to find the fabled 'second shooter', while for others the mystery might simply lie in finding out who used the last teabag in the office or where on earth we left our keys.
In a culture in which history, detail and discussion is more accessible than ever, true crime documentaries have reached as close as anything our on-demand culture has to the zeitgeist.
True crime has always been a familiar genre, but for many it was seen as a space for the conspiracy theorists and nut jobs who didn't believe in the moon landings to get excited about grisly murders (best avoided if you want to keep your feet grounded and your friends intact). This all changed in the autumn of 2014 with the whirlwind success of American podcast Serial. Since then, the true crime documentaries and dramas have just kept on coming.
THE SUCCESS OF SERIAL
Coming out the stable of This American Life, a famed US radio documentary series, Serial told the story of Hae Min Lee and Adnan Syed. Lee, an 18-year-old high school student, was murdered in Baltimore in January 1999. A year later, Lee's ex-boyfriend Syed was given a life sentence for the murder but denied all involvement. It was a local story involving doomed high school lovers, all but forgotten by those who were not directly impacted.
Yet 14 years later, Serial made the case a worldwide talking point and Twitter trend. The show's forensic study of the day in question, the suspects, the motives, the trial and all the details and stories that didn't quite add up caught the public's imagination as people became experts on Baltimore cell phone towers, high school athletics programmes, the role of key witness Jay and whether there was, in fact, a payphone at Best Buy.
The weekly 45-minute podcast courtesy of host Sarah Koenig was just the start for many as the Serial section on Reddit hunted down more clues, and podcasts about podcasts were spawned. The internet hadn't seen anything like it since the early days of Lost. Serial took a broad look at the case, telling the story of both Lee and Syed, and never firmly nailing its colours to the mast in terms of where the guilt lay. Hot on Serial's heels came Making a Murderer in late 2015, featuring the convictions of Steven Avery and his nephew, Brendan Dassey. The show began by outlining an earlier sexual assault case, which saw Avery wrongly convicted and jailed before his guilty verdict was overturned. However, years later Teresa Halbach was last seen at Avery's salvage yard before the remains of her body were found in the same place. Unlike Serial, Making a Murderer firmly painted its suspect as the victim of seemingly tampered evidence, putting the pieces in place to suggest some kind of police cover-up, or at least that the authorities refused to countenance any other suspect for Halbach's murder.
Similarly, the show broke down Dassey's confession, suggesting he was manipulated into giving it and had nothing to do with Halbach's murder. Making a Murderer barely gave a nod towards balance, raising defence attorneys Jerry Buting and Dean
TRUE CRIME CAN, PARADOXICALLY, PROVIDE AN ESCAPE FROM ESCAPISM
Strang up as heroes, while painting special prosecutor Ken Kratz as the villain of the piece, even digging into Kratz's personal life. While these two shows may have had the biggest cultural impact, they are in no way isolated cases. The Jinx (2015) reflected on the life of real estate heir Robert Durst and his connection to three apparently unrelated murders over a 20-year period. Unlike either Serial or Making a Murderer, The Jinx set out to prove the guilt of a free man, and ended on the shocking note of Durst, unaware that he was still being recorded, muttering to himself [SPOILER WARNING]: "What the hell did I do? Killed them all, of course."
This year the first series of American Crime Story (2016), which was broadcast on the BBC, took a dramatised but pretty accurate look at the OJ Simpson murder trial and not guilty verdict, while ITV and BBC3 have entered the fray in recent months with The Investigator: A British Crime Story and Unsolved: The Boy Who Disappeared, respectively. One thing is very clear: the conspiracy wackos have become mainstream. Everyone has an opinion and a theory, and all facts and evidence appear to be up for grabs.
FROM ENTERTAINMENT TO REALITY
On one level, these programmes are entertaining and satisfy a desire to get our minds working. They lead us to come up with theories and get into good, old-fashioned arguments (the Premier Christianity and Premier Youthwork teams are still split over the supposed guilt of Syed and Avery).
However, what has been most amazing about this new raft of shows is the genuine impact they have made. Not just on wider culture, but on the individuals involved in the cases. Just last month, Dassey's conviction was overturned after a judge reached a decision that was highly critical of the prosecutors, concluding that they had violated Dassey's constitutional rights and made false promises to him during interrogations. Dassey will now either be freed from prison or face a new trial. Unsurprisingly, given his outburst at the end of The Jinx, Durst is currently awaiting trial for first-degree murder. In both cases, the role of the documentary was crucial in bringing fresh evidence to light.
The post-Serial story of Syed is even more astonishing. This summer, Syed's original conviction was set aside by a judge who called for a new trial, and Syed's legal team is currently applying for bail. While this may not seem too dissimilar to the Dassey and Durst cases, what's extraordinary here is that the key piece of evidence (a boring memo related to cell phone tower data, which requires so much backstory it would be quicker for you to listen to all ten hours of the show) was not uncovered during the series. Instead, it was the community surrounding the show – the Reddit threads, the spinoff podcasts, etc – that unearthed the evidence. The internet actually made a difference for good (possibly, depending on your view on Syed's guilt)!
BRINGING BACK THE ZEITGEIST
It's pretty interesting timing for these shows to have a real-life impact. If anything, you would think they were a decade too late. The on-demand revolution achieved through Sky+, iPlayer and Netflix has pretty much killed off the idea of the zeitgeist: the next-day-water-cooler-conversations. Gone are the days when the big drama would be dissected and picked apart in the office the following morning. Instead, we all live in fear of spoiling or being spoiled by someone further ahead in a series than us.
So it's pretty surprising timing for a show to capture the imagination to the extent that most of the online world seems to be talking about it; that office arguments are breaking out about it; that people are being freed from prison because of it. But perhaps that's exactly why these shows buck the trend. When something comes along that seems rooted in real world experience, it's such a break from our coddled norms that we flock to it and want to experience it…together. Full disclosure: towards the end of the first series of Serial, we held lunchtime sessions to listen to and discuss Serial episodes in the Premier Christianity and Premier Youthwork office. No cultural touchstone, before or since, has had the same impact. The question then becomes, why this cultural touchstone? Why, in a world with a multitude of options has it been these cases that have reignited the presumed-dead community that surrounds the most popular of culture?
There is something that these shows offer that has been missing in a world of hashtags: genuine involvement and participation. Sure, plenty of shows claim to be interactive, but their token involvement pales into insignificance compared with scanning genuine archives for genuine clues related to a genuine murder, as many fans of Serial did. But clearly this isn't just something that applies to real-life cases. The popularity of Broadchurch a few years ago showed a similar buy-in. In a culture starved of community, people seem desperate to latch on to anything that can connect them with others, be it a conversation, a friendly disagreement or a brand new theory.
Five
RECOMMENDATIONS
Serial (season one) Podcast
Popular high-school senior Hae Min Lee disappeared in Baltimore back in 1999. Detectives arrested her classmate and ex-boyfriend, Adnan Syed, shortly afterwards and he was found guilty of murder, despite his claims of innocence. Sarah Koenig and her team investigate what really happened, examining witness statements and interviews with Syed, leaving listeners to make up their own minds as to whether he is innocent or not.
Making a Murderer TV documentary, Netflix
When local photographer Teresa Halbach was murdered in 2005 in Wisconsin, the evidence seemed to point to Steven Avery, the last man to have seen her alive, and to his nephew, Brendan Dassey. But having served 18 years for a rape he didn't commit, are the police and prosecutors manipulating evidence to prove Avery's guilt? Was Dassey's confession extracted unlawfully? Defence lawyers seem to think so and they present some interesting evidence of their own.
The Jinx TV documentary, HBO (available on Sky)
Real estate heir Robert Durst is named as a suspect in three apparently separate murders (those of his first wife, a neighbour and a close friend). He agrees to be interviewed by the director of All Good Things, a feature film inspired by Durst's story. The Jinx features footage from these controversial interviews, in which Durst appears to be his own worst enemy. The series gained widespread exposure when he was arrested for first-degree murder the day before the finale.
American Crime Story (season one) TV docu-drama, BBC
Subtitled The People v. O. J. Simpson, the first season of this true crime series was touted as the real account of what happened back in 1994 when Simpson's wife, Nicole, and her friend Ronald Goldman were murdered. Simpson was famously acquitted of the murders, but this dramatised, behind-the-scenes series has captured the public imagination. It features a host of big-name actors including Cuba Gooding, Jr and John Travolta.
The Investigator: A British Crime Story TV documentary, ITV
Mark Williams-Thomas, the former police detective who unmasked Jimmy Savile as the UK's most notorious paedophile, reexamines a chilling murder case that has baffled detectives for more than 30 years. Russell Causley is currently serving a life sentence for the murder of his wife, Carole Packman, whose body has never been found. Could Packman still be alive? Or did Causley kill her and later fake his own death for romantic and financial reasons?
IN A CULTURE STARVED OF COMMUNITY, PEOPLE SEEM DESPERATE TO LATCH ON TO ANYTHING THAT CAN CONNECT THEM WITH OTHERS
CRAVING JUSTICE
Detective shows are ten-a-penny, so why do we hold this grisly interest in murder? (These true crime shows are always about murder.) No one is watching a true crime documentary about pension fraud or disagreements over military policy in Afghanistan (as the second series of Serial proved). Clearly, we want to consume things that matter. We're bombarded with fantasy. In our films and TV shows we're taken to faraway lands filled with mythical characters. But sometimes we need to be grounded. We need to see that our choices and actions have real-life consequences. That we're not alone in hurting and despairing at the rest of the world. True crime can, paradoxically, provide an escape from escapism.
And perhaps the reason these particular pieces of media cause the biggest ripples goes deeper still. As humans, we're desperate for justice. We see it with our wannabe-Sherlock-Holmes-ness. We see it with people's insistence that someone else (the CIA? Russians? Aliens?) killed JFK. And we see it with the popularity of these shows. Syed's story struck a chord because people got angry, because there was a feeling of, "This isn't how it's meant to be."
All humanity aches for justice. These shows remind us of that, but we see it all the time: in protests, on placards and in the work of charities. When something is out of sync, our response is to want to do something about it. There are very few things more human than the pang injustice causes – call it what you like: divine discomfort or holy discord – but we see throughout scripture that God stands with those who stand against injustice, be it on an individual level or in the global inequality we see the refugee crisis and those struggling to eat around the world. Of course, the other reality of humanity is that our own selfishness gets in the way of these pangs sometimes, so shows that allow us to streamline our justice from behind a computer screen or with our headphones plugged in are the perfect 21st-century balance.
The Church has to be at the forefront of justice movements. Historically, it has (the abolition of the slave trade, America's civil rights movement, etc). Change has been shaped by those attuned to God's heart for the downtrodden. And obviously, the Church around the world continues to be a force for good, but I wonder if sometimes we underestimate how powerful that is to the rest of the world. If we see in these true crime shows a desire for justice,
how can the Church harness some of that? A heart for justice doesn't have to be about petitioning Theresa May. These shows focus on justice at a local level, with stories most people had never heard of. What are the issues in your community? Where is the injustice on your doorstep? Is your local church on the side of local groups that are facing injustice?
The thing about these true crime shows is that they bring a message of hope. The desire for justice exists in the shadiest parts of the internet. People will get behind and want to do something about a cause they can believe in. And more shocking than that, change is possible from the unlikeliest of sources: the shallow, vacuous world of the media. Change is possible on message boards and in courtrooms. Change is possible in a culture that tells us little people can't enact change; that things are just the way they are. Somehow, justice is flowing like mighty rivers out of TV screens and iPhones.
JAMIE CUTTERIDGE is editor of Premier Youthwork and Premier Childrenswork magazines