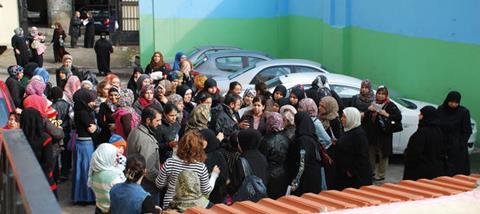 'There is one statement that you hear every time,' says Pastor Stefan of the conversations he is having in his native Lebanon with Syrian refugee families.
'They say: "We thank God that we lost our houses, we thank God that we left our country. If we hadn't done that, we wouldn't have heard about Jesus, and that God is our father and loves us." 'This is on every tongue,' says Stefan, who along with his wife, Camille, heads up the Lebanese Church of God in Bourj Hammoud.
For Stefan and Camille, discovering a destitute Syrian family desperately trying to shelter at the foot of the church stairs is a normal occurrence. The average couple might have ten or 15 children with them; many will be grappling with sickness, financial difficulties and the pain of having lost family members.
'They don't know where to go or what to do. We give them food, clothes, mattresses and try to find them a place to go. Here there is nothing for them; there is no government programme for refugees,' Stefan says.
Stefan explains that some of the refugees are fortunate enough to have relatives in the Lebanon; these families will put up a makeshift home on their relatives' balcony or rooftop. Members of Stefan's church community will help put plastic around the balcony to keep rainwater out.
The church gives the refugees food boxes, medical supplies, baby milk – which Stefan says is too expensive for most refugees to buy – and nappies. Without nappies, plastic bags are usually put on the babies, leading to extreme skin irritation.
AN OPPORTUNITY, NOT A TRAP
With a history of conflict between Lebanon and Syria, Stefan says that many Lebanese view Syrians as enemies. Fear of refugees is widespread. 'Everybody is afraid; but the Lord said to me: "Don't be afraid. You can see this in two ways: either as a trap, or as an opportunity." I see it as an opportunity.'
Camille, who is of Swiss and Lebanese origin, grew up in the Lebanon with a father who was a pastor and the general director of Bible Society in the Lebanon and Syria. Ten years ago she felt prompted by God to reach out to the many local underprivileged children who she saw ending up without an education and on the streets. She and Stefan launched the Spring of Life centre, now a registered NGO that aims to provide for the practical and educational needs of children at risk .'One of our main goals is to help those children adopt the understanding of who Christ is, and follow Christ as a lifestyle. We work on this with everyone involved, be it children or adults. We want them all to have a relationship with God,' she says.
EXPLOSIVE CHURCH GROWTH
With refugees arriving in such huge numbers, last year the church began to hold a Sunday lunch for them on alternate weeks. 'A hundred people or more would come,' Stefan says. 'We would cook for them and do a drama, and give them a message about the love of God. We communicated that what is happening to them – God is not behind it but God loves them and wants to help them survive it and to turn it for their good. Usually, when I gave an altar call, everybody received Jesus,' he says.
The common response from these Muslims is a desire to have a relationship with Christ, Stefan says. 'When I say to these people, "Who wants a relationship with Jesus?" everyone lifts their hands.
'Whatever you say, they accept, they are open. They say: "Wow! Is that following Christ? We thought that you were worshipping devils, worshipping Mary, worshipping idols. But now I see that you are better than us."'
Stefan and Camille feel that the arrival of so many open-hearted Muslim refugees has led to a season of growth they had never predicted. 'We are seeing unbelievable, unexpected growth,' says Stefan.
The church gives out Bibles to those who have received Christ; many of whom continue on with their journey towards Europe. 'But this time, they have Jesus with them,' says Stefan.
Those who choose to remain in the local area and have begun on the Christian journey often join house groups and send their children to the Spring of Life centre. The centre currently has 130 children enrolled, most of whom are refugees.
Immersed in the faith at the centre, many of the children choose to then get involved in the church's youth ministry. 'We now have 40 fully committed youth in the church,' Camille says.
Whatever you say, they accept, they are open
While charities such as the Red Cross, Caritas and World Vision share the church's community facilities, the church is struggling to generate the funds needed to keep on reaching out to the refugees. 'It costs $250-300 to feed everyone at a Sunday lunch,' says Stefan, who has taken the decision to stop holding the lunches for the time being.
EVERYDAY MIRACLES
The centre also runs a women's ministry. 'They know it is a place of faith, but in the beginning it is more out of curiosity that they come,' Camille says of the many Muslim women who get involved.
As they pray together, Camille has seen a number of miracles take place among these women. 'One boy we prayed for came with a very high fever and a cough; he was in a very bad state. We laid hands on him, and I said, "In the name of Jesus you will be healed; you just have to believe." The mother said "Yes, I believe." And the boy was healed instantly. The fever and cough disappeared and they were astonished. This was something they had never experienced. It was incredible for me too, to see a healing that was so instant.'
Another refugee woman that the community prayed for had not seen her brother or heard news of him for two years. Desperate, she asked for prayer. 'I said, "God knows exactly where he is. We can pray that you get news." We prayed, and all of a sudden she started shouting in the meeting – she had just received a text message from her brother!'
VISION FOR GROWTH
The church is baptising an average of one refugee family per month, and Stefan believes that more growth is yet to come. He wants to see 600 children enrolled at Spring of Life next year, and needs more teachers in order to facilitate this. He would like to launch another 50 house groups.
'We would love volunteers and missionaries to come over here from other parts of the world. We need people to help us write proposals as we don't have time to do this,' he says.
Camille and Stefan have a Swiss passport and could leave for Switzerland or London at any time. But they sense a strong call to stay. 'We know we have a calling here and we just depend on God for his protection. As long as we can be a light and shine here, we want to…' Camille says.
A WORD FOR EUROPE
As Stefan sees numerous refugees move on from Syria towards Europe, he passionately wants to encourage believers in the West to take their opportunity to share Christ with them. 'I have a word for Europe,' he says. 'They are going in millions to Germany, to Britain, to all Europe. You should now move quickly for them, show them love. Tell them about Jesus. If we don't do it quickly, their hearts will become rocky. There are Islamists there; they will reach them. There are fish; go fishing now.
'If you wait, they will become sharks later. We need to go quickly and help them before ISIS take them and send them to fight you, and send them back to fight us here. You couldn't go to Iraq or Syria to reach them, but now God is sending them to you.'
For more information about Spring of Life, visit hayatministries.org
*some names have been changed