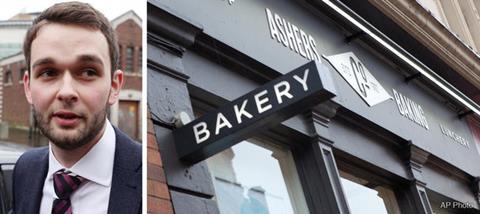 When a court in Northern Ireland ruled that Christian-owned Ashers Bakery discriminated against a gay man, commentators wasted no time in expressing their views on the verdict. The case was, depending on your point of view, either a great victory for gay equality, or a great defeat for Christian freedom.
The events that led to district judge Isobel Brownlie's ruling against Ashers began in May 2014. Activist Gareth Lee approached the Belfast bakery and asked for a cake with the slogan 'Support Gay Marriage' printed on it. Mr Lee had been served by Ashers previously, and his order for what became known as the 'gay cake' was initially accepted.
'Having taken the order, I immediately felt guilty about it,' Karen McArthur said.
After some deliberation over the weekend between Karen and her husband, Daniel, they phoned Mr Lee to explain that making the cake would contravene their religious beliefs.
IT SEEMS THAT RELIGION HAS BEEN EFFECTIVELY BANISHED FROM THE COMMERCIAL SPHERE
'Individually and as a family we decided that what was to be on the cake was against our Christian beliefs…I wish to emphasise this is in no way related to Mr Lee's sexual orientation. We have many gay customers whom we serve regularly without any difficulty,' Mrs McArthur said.
Mr Lee said the 'blatant refusal of service' made him feel like a 'second class citizen'. Supported by Northern Ireland's Equality Commission, he took Ashers and the McArthurs to court.
DISCRIMINATION
In her ruling the judge said there could be no justification for how the McArthurs 'unlawfully discriminated' against Mr Lee. The judge ruled the bakery had discriminated not only on the grounds of sexual orientation but 'religious belief or political opinion' too. The McArthurs' defence was that they did not know the customer's sexual orientation, religious beliefs or political opinion when refusing the order, so it was impossible for them to discriminate on any of those grounds.
The judge said even if she had been persuaded that Ashers had been unaware of Mr Lee's political beliefs, she still would have found that they had treated him less favourably.
She ruled the defendants 'did have the knowledge or perception' that Mr Lee was gay, and discriminated on those grounds.
Judge Brownlie did not believe that making the cake was equal to promoting or supporting gay marriage, therefore they were obliged to fulfil the order.
Although the judge acknowledged that the McArthur family had 'genuine deeply held religious beliefs', she added, 'This is a business to provide service to all. The law says they must do that.'
Mr McArthur said after the judgement that the ruling 'suggests that all business owners will have to be willing to promote any cause or campaign no matter how much they
disagree with it. Or as the Equality Commission has suggested, they should perhaps just close down, and that can't be right'. 'But we won't be closing down, we certainly don't think we've done anything wrong.' The McArthurs later officially announced they will appeal the judge's decision.
REACTION
Writing on the Premier Christianity blog, director of Solas, the Centre for Public Christianity, David Robertson said the ruling was 'another example of double standards being imposed'.
'Does this ruling now mean that a Jewish baker should be forced to bake a cake with a swastika on it for the BNP (neither the sign nor the party are illegal in the UK)? Would the equalities commission sue a Muslim baker who refused to bake a cake with a cartoon of Mohammed on it, for a Charlie Hebdo party?
'To refuse to bake someone a cake because they are gay would be wrong. To refuse to decorate that cake with a message which you find offensive is your right.'
Peter Lynas, a former barrister and Northern Ireland director of Evangelical Alliance, comments: 'This judgment will cause great concern for all those in business. It turns out the customer is always right and businesses have no discretion in deciding which goods and services to produce. The law rightly protects people from discrimination, but it has now extended that protection to ideas.
'Mr Lee's beliefs were not relevant to the decision not to produce the cake – they were and remain unknown. To extend the law to include the religious beliefs of the supplier is, we believe, a significant change in the law that will have wider implications. It seems that religion has been effectively banished from the commercial sphere. Even the right to freedom of religion under the European Convention of Human Rights could not save the McArthurs.'
Ashers Bakery were supported by the Christian Institute, which funded their defence costs. Mr Lee was awarded £500 in damages.
The bakery's name is derived from Genesis 49:20 which says 'Asher's food will be rich; he will provide delicacies fit for a king'.
While the two sides for and against the Ashers have been loud, there's also a chorus of people who are shocked the dispute even reached court. But for now, this case (along with other recent cases) suggests the right of citizens to be treated equally always trumps religious rights.
Ireland votes for Gay Marriage
Ireland has become the first country in the world to legalise gay marriage by a referendum – 62.1% of voters backed the change.
Irish Prime Minister Enda Kenny said it was a 'small country with a big message for equality' around the world. The first gay marriages are now likely to take place in the early autumn.
The co-founder of the Association of Catholic Priests, Fr Brendan Hoban, described the gay marriage referendum as 'an unmitigated disaster' for the Catholic Church in Ireland.
The Church of Ireland has said that while it accepts the State's new legal definition of marriage, the Church defines marriage as between a man and a woman.
Currently 17 countries, including the UK, Spain, France, Argentina and Denmark, along with several states in the US, allow same-sex couples to marry.