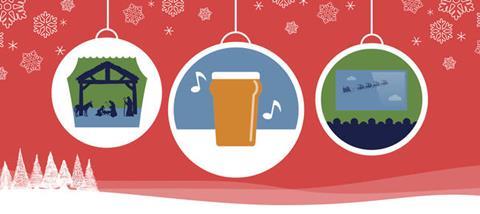 According to research by Lichfield and Worcester Cathedrals, 94 per cent of occasional church visitors expect a Christmas service to be "uplifting", and the same number said their reason for attending carol services was for the music. So it seems we, as the Church, have our work cut out for us as we seek to make everyone feel at home and encouraged by seeing God's plan for humanity in the Christmas story.
According to an Evangelical Alliance survey, only one-third of the UK population knows that Emmanuel means "God with us". So our Christmas services are a key moment to increase the theological literacy of our community. This doesn't need to be in the context of a heavy sermon but this is a crucial time of year for all of us to engage with the gospel in a new way. Be it through creative prayer or singing a new worship song, the focus ought to be on the arrival of our promised King.
There is a balance between remaining true to your regular worship style while also being accessible to church visitors who are expecting a more traditional service. Having a range of services and events to cater for different groups can often be the best approach. With all this in mind, we've gathered together a variety of tips to give your Christmas season a little extra sparkle. From original outreach ideas to the latest Christmas albums, whatever your church tradition, you should find something that will enhance your programme at this, the most wonderful time of the year.
Christmas outreach ideas
It's time to pile on the layers of clothing and get out into your local community to spread the message of our saviour's birth. Be sure to order enough leaflets with information about your Christmas events. You'll want to hand out as many as you can.
Beer & carols
Don't expect people to come to church this Christmas, bring Christmas to the people! Beer & carols is a fun, downto-earth way of celebrating. Have a chat with your local landlord and arrange a date for your church to provide live music, free of charge.
Flash mob
Organising a flash mob may seem intimidating, but don't feel that you have to go huge. You could start at your local school gate. Have a look on YouTube for inspiration on Christmas publicity that has the potential to go viral.
Christmas film marathon
From It's a Wonderful Life to Home Alone, one highlight of the season has to be the opportunity to watch Christmas films. Ensuring you have the proper licences, of course, organise a week of film evenings. Consider the range of people you might like to invite. An OAP 'silver screening' might enjoy Meet Me in St Louis, while the youth group would laugh at Elf. Popcorn is essential.
Nativity photobooth
Whether it's a welcome addition to a pre-existing event or a gazebo in your local shopping centre, everyone loves a good photobooth. You'll need a supply of tea towels, crowns and angels' wings to allow groups to create their own nativity scene. You can either email or print the photo for the participants.
Cot security
Set up a cot in your town centre with some burly men in high-vis jackets acting as security. When curious passersby question what they're doing, you can explain "a baby is going to be born soon", "the king is coming" or "we are waiting for a special baby".
5 Christmas albums
Christmas Stories - Jenny & Tyler (Residence Music)
This husband and wife folk duo have achieved a jazzy nostalgic feel that makes for ideal Christmas listening. It is a must-have for any festive road trip or present-wrapping marathon.
Unto Us: A Christmas Collection - Matthew West (Capitol CMG)
Matthew is a self-confessed Christmas nut, known to listen to festive albums in July. His love for the season comes across in this album. Unto Us is written for congregational use and is a great reminder of the joy of Christmas.
Tennessee Christmas - Amy Grant (UMC)
This is the first all-new Christmas album from the multi-platinum artist in nearly 20 years. Although it's not a worship album, Tennessee Christmas does contains some traditional carols alongside the non-religious Christmas songs. 'O, come all ye faithful' is a particular highlight with raw and vulnerable qualities.
Christmastime - Jody McBrayer (Stow Town)
Jody McBrayer, former member of the pop group Avalon, brings his own fresh take to some Christmas classics on this release. One favourite is his rendition of the French carol 'Bring a torch, Jeanette, Isabella' which is sung in both French and English.
Majesty in a Manger - Various (Integrity)
This collection of original songs features well-known Christian artists including All Sons & Daughters, Darlene Zschech and Seth & Nirva. Designed with churches in mind, your congregation could well find a new Christmas worship song favourite.
Christmas prayer ideas
Creative prayer is not just for children's ministry; it enables more creative and tactile adults to engage with God in a different way. Because the season is drenched in imagery, Christmas is a perfect time to give this style of prayer a try. Here are a few ideas to get you started.
Gratitude baubles
Leave a basket of baubles with fine permanent markers at the back of your carol service inviting guests to write something they'd like to give thanks to God for this Christmas. They can take them home to hang on their own tree.
Paper chain prayers
Invite everyone to write prayers on individual strips of paper. Staple the strips together (you'll need a couple of volunteers to do this!) and, if it's a Communion service, have some children place the prayer chain on the Lord's Table.
Stars in the sky
Hand out pre-cut stars for the congregation to write what guidance they are seeking from God. Using a large piece of dark blue fabric with a bigger star in the centre, pin each star in the sky as an act of prayer.
Holly wreath
Holly leaves are prickly and potentially painful. They can help us to remember those who might find Christmas difficult. Ask church members to write names or situations on green paper holly leaves. Arrange the leaves and glue them onto a cardboard wreath, add some red circles as berries, representing God's healing Holy Spirit, and hang on a door.
Alternative Christmas carols
A worship diet of only traditional carols can jar with a more contemporary service style. Here are some alternative Christmas carols for your use this year. But remember, visitors won't be as familiar with them, so variety may be the best plan.
'From the squalor of a borrowed stable (Immanuel)' - Stuart Townend
For many of us, this Townend classic is as nostalgic as the more traditional carols. Be sure to get your top bassist on this to create the best overall sound.
'My soul magnifies the Lord' - Chris Tomlin
With a focus on Mary's Magnificat in Luke 1:46-55, this song is heavily influenced by scripture. While the verses tell the story of Christ's birth, the rousing chorus encourages people to praise the God who "has done great things for me".
'For all that you have done' - Rend Collective
Using the tune of 'Auld Lang Syne', Rend Collective have created a modern hymn with timeless lyrics. This is a fresh piece that will enthral both regular churchgoers and your Christmas guests.
'Born is the King (It's Christmas)' - Hillsong
With it's uptempo style, this is a stirring song for Christmas morning as we celebrate our King's birth. There's a great music video available on YouTube if your church doesn't have its own worship band.
'A Hallelujah Christmas' - Cloverton
As a clever reworking of the Leonard Cohen classic, popularised by Jeff Buckley, your youth group will be all over this song (and likely to already be able to play it on the piano!) This will add a smile to any guests to your Christmas services.