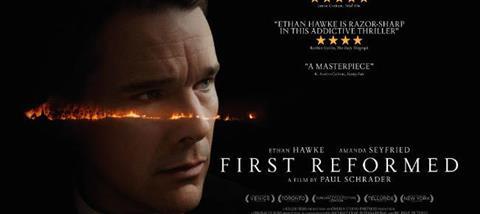 First Reformed is deeply unsatisfying. Not because it's a terrible film, but because its inchoate ending leaves you feeling unsettled, unnerved and with more questions than answers.
Rather than viewing this as a lapse in creative judgement by director Paul Schrader, it's perhaps a deliberate technique, as some of the complex themes in the 113-minute movie can't be neatly wrapped up into a happy-ever-after conclusion, nor should they be.
First Reformed follows the life of Reverend Toller, played by Ethan Hawke, a former military chaplain struggling with the death of his son, whom he had encouraged to enlist in the armed forces. He meets environmental activists Mary (Amanda Seyfried) and Michael (Philip Ettinger) who are pregnant with their first child.
As Toller pastors Michael, who is becoming increasingly despondent and depressed about the trajectory of the world in light of climate change, he experiences his own 'environmental conversion' as he realises the negative impact humans are having on the earth.
He becomes increasingly dissatisfied with what he sees as the myopic vision of the ironically named Abundant Life ministries, which is focused on preparations for the church's reconsecration ceremony, bankrolled by an ethically dubious local businessman.
But this film is about more than environmental issues, it's also about the complexities of the Christian walk: the mixed motives we all wrestle with and the challenge of holding onto truth and hope in a complex and multifaceted world. It's also about the nature of sin and how Christians can be blind to it in our own lives.
Although First Reformed is critically acclaimed, it won't appeal to everyone. It's arty, slow and includes some gruesome scenes. There are echoes of Taxi Driver – one of the films also written by Schrader – in the dark, pulsing music that accompanies Toller as he drives through the city at night, past neon signs, his mood and mental health deteriorating.
There are also difficult questions addressed. At one point the lead pastor of Abundant Life, Pastor Jeffers (Cedric Kyles), confronts Toller about his increasingly erratic behaviour and what he sees as an obsession with climate change. He asks: "What if this is his plan?" to which Toller responds incredulously: "You think God wants to destroy his creation?" It's a question that will get Christian audiences thinking.
As people of faith, we know in part the end of the great story of life, but First Reformed encourages us to look at ourselves and ask: is it OK to potentially accelerate this process through destructive consumerist habits, while simultaneously worshipping the creator?
If you like happy endings and films that confirm, rather than challenge, your world view, this is not the film for you, but if you prefer nuanced films that provoke debate and some soul-searching, then this is a must-see movie.
Click here to request a free copy of Premier Christianity magazine