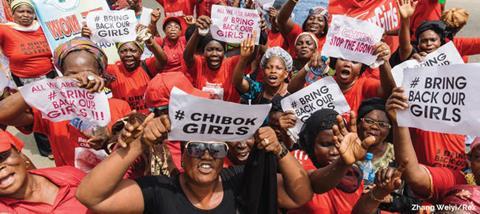 The girls were kidnapped from Chibok village in Borno province by Islamist terrorist group Boko Haram on the night of 14th April. While some girls are thought to have escaped, some of those who remain are believed to have been sold as brides. Others, many of them Christians, have appeared in a video wearing Islamic dress. Boko Haram leader Abubakar Shekau claims in the video that they have converted to Islam.
The Bring Back Our Girls campaign has received huge support thanks to social media, with world leaders including Prime Minister David Cameron and US First Lady Michelle Obama as well as celebrities posting pictures of themselves with the slogan.
Church leaders have welcomed international efforts to help the girls, but stressed that the danger posed by Boko Haram has long been known. World Evangelical Alliance secretary general Geoff Tunnicliffe said: 'We appreciate the worldwide media attention that this latest incident has received as well as the rising awareness in the international community, even though we are aware that this terrible practice has been going on for decades in smaller numbers.'
Estimates of numbers killed so far in Boko Haram-related violence vary, but may be as many as 10,000. The group's tactics include raids on schools and villages, often leaving hundreds dead. Although it is known for brutal attacks on churches, most of those killed have been Muslims.
Churches in the UK have held prayer vigils for the safe return of the girls. A vigil coordinated by the National Day of Prayer and Worship was held at the Emmanuel Centre in Westminster. Pastor Jonathan Oloyede, who was involved with the event, described the kidnappings as 'a heartbreaking situation'.
In Nigeria, the senior pastor of the Lagos-based God Bless Nigeria Church, Tony Rapu, led members of his congregation on a 'freedom walk' to the National Stadium in Lagos. He said: 'Let us watch and pray, because only God can rescue those children, not through the barrel of the gun.'
The general secretary of the Association of Evangelicals in Africa, Aiah Foday-Khabenje, said: 'My prayer is that Boko Haram – which is also made up of people created in the image of God – will themselves have the fear of God and voluntarily release the girls to go back to their homes and families. I ask the Church to continue praying fervently until the girls are released.'