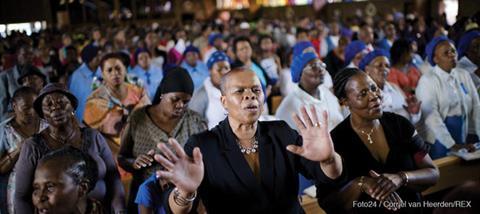 Christianity will lose its place as the majority religion in Britain by the year 2050, according to the Pew Research Center.
Christianity currently has more members in the UK than any other religion or atheism combined. But Pew's The Future of World Religions report says by 2050 Christianity will go into the minority with just 45% identifying themselves as Christians.
GROWTH OF ISLAM
Over the next four decades, Christians will continue to make up the largest religious group worldwide, but Islam will grow faster than any other major religion. If these trends continue, the number of Muslims around the world will outnumber Christians after 2070.
Muslims are expected to nearly double their numbers in Europe in the coming decades. By 2050, one in every ten Europeans will be Muslim.
The report says that the average Muslim's fertility rate is 3.1 children per woman. The Christian rate is 2.7.
The Pew research also shows that atheists, agnostics and other people who do not affiliate with any religion will make up a declining share of the world's total population. Nevertheless, a recent WIN/Gallup poll reported that the UK is the sixth least religious nation in the world. The poll also showed that only 30% of Brits describe themselves as religious.
By 2050…
One in every ten Europeans will be Muslims
The number of Chinese Christians could be as high as 900 million
Four in every ten Christians will live in sub-Saharan Africa
President of Win/Gallup International Jean-Marc Leger said that globally, an average of two-thirds of people still consider themselves religious. 'Religion continues to dominate our everyday lives and we see that the total number of people who consider themselves to be religious is actually relatively high,' he said.
'Furthermore, with the trend of an increasingly religious youth globally, we can assume that the number of people who consider themselves religious will only continue to increase.'
CHINA: A BIG UNCERTAINTY
Professor David Voas, an expert on religious population changes at the University of Essex said, 'Christianity is going to continue to grow, particularly in the Global South, on the African continent especially. But, in relative terms, it's Islam that will be the big gainer of the next few decades.
'A revival could change things considerably and if we had some remarkable great awakening it could turn things round completely, but those sorts of things are epoch-making events and are not to be taken for granted.
'I think the big uncertainty is China...The Chinese government has been anti-religion traditionally and Christianity in particular has suffered over the last century from suppression.
'Now, if that were to change...then I think it's very likely that we could see a substantial growth in the Christian population, and that would of course change the balance of the global population.'
The WIN/Gallup poll found that China was the world's least religious nation, with only 6% of people saying they are religious. But some experts are suggesting the People's Republic of China is undergoing huge shifts in its religious make-up.
'Media reports and expert assessments generally suggest that the main effects [in China] are rising numbers of Christians and declining numbers of religiously unaffiliated people,' the Pew report says, although it acknowledges 'only rough estimates' can be made.
RELIGION CONTINUES TO DOMINATE OUR EVERYDAY LIVES
One of the world's leading specialists on religion in China, Purdue University sociologist Fenggang Yang calculates that the proportion of China's Christian population could rise dramatically from 5% in 2010 to 67% in 2050.
The professor said China could 'very soon' become the largest Christian country in the world. 'Not many people are prepared for this dramatic change.'
A recent study by Foreign Policy found that online searches in China for the words 'Christian Congregation' and 'Jesus' far outnumbered those for 'The Communist Party' and 'Xi Jinping', China's president.
Official Chinese government estimates put the total number of Christians at 25 million, but many outside observers suggest the real number may be closer to 60 million.
Christianity will also grow in sub-Saharan Africa. By 2050, four out of every ten Christians in the world will live in the region, according to the Pew research.