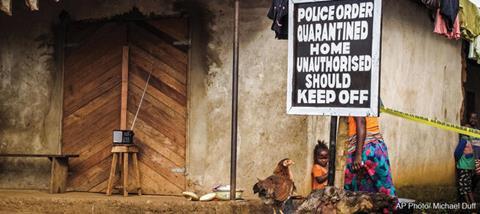 Despite contracting Ebola in Liberia, American missionary Nancy Writebol is keen to return to the country. She was working with Christian charity Serving in Mission (SIM) as a hygienist when she had to be flown home for treatment in July.
She and co-worker Dr Kent Brantly were given experimental drug ZMapp, which had not previously been tested on humans. Both made a full recovery and were declared virus-free. Since her recovery, Writebol has committed her time to raising awareness of the crisis in West Africa. Writebol told Premier Christianity that she has no regrets. 'I'm just very thankful we could be there at the start of all of that and to be able to help and serve and be the hands and feet of Christ,' she says. 'There is an opportunity and it is possible that we might be returning to Liberia. We're just seeking the Lord right now and waiting on that timing.'
A 'GOOD RESPONSE'
Meanwhile, Christian virologist Ruth Parry is busy working behind the scenes. An expert across a range of infectious diseases, her attention has been mainly concentrated on Ebola in recent months, both in terms of the UK's involvement in Sierra Leone and in preparing the UK for a possible outbreak.
EBOLA FACTS
• The virus first emerged in humans in 1976
• The largest outbreak before 2013 occurred in Uganda, with 425 cases recorded
• More than 15,000 cases and nearly 6,000 deaths have been reported in the latest outbreak
• Ebola spreads among humans via contact with the blood or body fluids of a sick person or the body of someone who has died from the virus
• More than £20m has been raised through the DEC appeal
• Band Aid 30's single 'Do They Know It's Christmas?', released to raise funds for the Ebola crisis, went straight to number one
She says international efforts to contain and fight Ebola have been commendable in recent months. 'The world has made a good response by supplying money, sending health care workers and scientists, and building hospitals and treatment centres,' she says. 'All of these things take time to organise and set in motion, and in the meantime the virus was continuing to spread within the three affected countries.
'The developed world has committed a large amount of money and resources to helping support those affected countries. You have to understand that Ebola is not an infection of which developed countries have a great deal of experience, so it may have taken a little while to understand what was happening and work out which interventions would have the most impact.'
EIGHT MILLION REACHED
So far, member agencies of the Disasters Emergency Committee (DEC) and their partners – including CARE, Tearfund, Christian Aid and World Vision – have reached more than eight million people in West Africa.
CARE has provided hygiene kits for 6,600 vulnerable people in Sierra Leone, while Christian Aid has distributed food and hygiene kits to 2,100 people in quarantine there. Tearfund is working with more than 350,000 people in 1,000 churches to prevent the spread of Ebola, while World Vision has reached 7,500 people in mosques and churches with disease prevention advice.
DEC chief executive, Saleh Saeed, said: 'It is heartening to see how DEC members have rapidly increased the scale of their work to urgently prevent the spread of the disease and we are beginning to see some hopeful signs that the spread may be slowing in some areas…But we urgently need to provide more support for people living under quarantine and to ensure that everyone who displays symptoms seeks testing and treatment immediately.'
A TRAIL OF DEVASTATION
Christian Aid has also teamed up with the United Nations Development Programme (UNDP) to distribute essential household items to Ebola survivors in Sierra Leone, including basic food items, foam mattresses, kitchen utensils, shoes and female sanitary supplies.
Christian Aid spokesperson Jeanne Kamara said: 'Those fortunate enough to have survived the Ebola virus are left with next to nothing. The joy of surviving the devastating virus is quickly overshadowed by the pain of having everything they own destroyed during the decontamination process.
'In addition to losing all their possessions, survivors and their families find themselves facing stigma in their communities and with little means of rebuilding their lives. Those living hand-to-mouth simply cannot afford to replace all their belongings; particularly in homes where the main breadwinner has died from the virus.'
RUTH PARRY ON WHAT WE CAN DO TO HELP
GO: If you're a health care worker or biomedical scientist you can volunteer to go to Sierra Leone to help support the UK's role there. Volunteers get full training and appropriate immunisations, although unfortunately there is no
immunisation against Ebola.
GIVE: You could donate money to the charities that are working in the affected countries.
INTERCEDE: Pray for volunteers that they have the strength to deal with what they have to do, and that they would not become demoralised by the scale of the problem.
Click here to receive your free copy of Premier Christianity magazine.