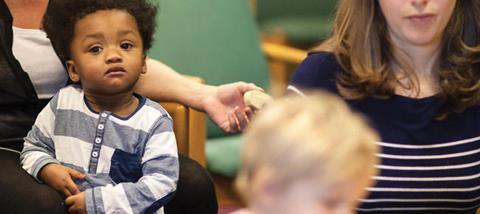 According to a new report by Christian Research on behalf of Scripture Union, children are open to spirituality and have a 'natural inclination for prayer', regardless of whether their parents have an active faith or not.
The study maintains that children treat prayer as conversation and expect real and immediate responses from God. Christian Research also concluded that moments of loss, separation and confusion trigger soulsearching and embryonic spiritual inquiry among children.
Rob Powys-Smith from Christian Research said: 'In each of the focus groups, we had some expectations of how the children would respond. Their openness and, more importantly, their expectation to have their prayers answered was a challenge to those expectations. Prayer seems to be a very natural part of their journey of faith, whether or not they are active churchgoers.'
Maggie Barfield, project lead on the study for Scripture Union, said: 'What has surprised us with this research is the openness children have to spirituality and prayer across the board. It would be expected that children from an active Christian family would pray, but to discover even those from a family with a less active faith were praying to a higher power is fascinating.'
Scripture Union commissioned the project to better understand children's engagement in prayer and with the Bible. The project focused on children aged eight to 12 and included interviews with parents. An 11-year old boy told researchers, 'Miracles happen. The one I remember the most was when I was little, in Year One. I had this really bad stomach ache. I prayed and within five seconds it had cleared up completely'.
A nine-year-old girl commented, 'When I'm struggling at school with something or someone, I'll just talk to him in my head. It's just like talking to a friend who won't tell anyone else, because it's like your secret with him'.
The research is the initial phase of a new Scripture Union project, entitled Guardians of Ancora. The tablet-based game is said to be the first of its kind, integrating biblical content in a dynamic gaming environment.
THE SPIRITUAL CHILD
Another recently published work in this area is Dr Lisa Miller's book The Spiritual Child (Bluebird) which looks at the 'clear, scientific link between spirituality and health'.
The book, which quickly became a New York Times bestseller following its release in May, leans on Miller's research, which she says shows that 'every child is born with natural spirituality' and that there is an 'innate capacity' for spiritual connection in children.
Miller's research also revealed that children with a 'positive, active relationship to spirituality' are 40% less likely to use and abuse substances, 60% less likely to be depressed as teenagers and 80% less likely to have unprotected sex. She said that these children 'have significantly more positive markers for thriving, including an increased sense of meaning and purpose, and high levels of academic success'.
THE PARENT IS AN AMBASSADOR OF GOD, A VERY SACRED CHARGE
Speaking to Premier Christianity, Miller said, 'Depression in a teen, particularly at a mild or moderate level, is very often a hunt for ultimate meaning and purpose…the questions of head are answered through the spiritual knowing of the heart – uniting head and heart is the work of spiritual individuation in teens.'
THE PARENT AS AN AMBASSADOR OF GOD
Miller said that the innate spirituality of a child must be fostered through parents and community. 'Our research shows that the child "takes in" spirituality often through the parents. The love of the parent and that of God are tightly woven together in the experience of the child.
'The parent is an ambassador of God, a very sacred charge. This all means that what we do as parents does not just affect our child's sense of self…it affects the child's sense of the entire universe, the theological, sacred and ontological.'
Dr Miller said that the best things parents can do are firstly to show unconditional love to their children, secondly to bring their own spiritual lives into each day 'transparent and open to our children' and thirdly to 'express to our children the sanctity of our family as a spiritual event'.
Science and 'the power of spirituality' are set to become 'the next big idea in psychology', according to the publishers of Dr Miller's book. And with the recent release of Pixar film Inside Out – which examines the inner thought life of children and has been praised for its underlining spiritual messages – there seems to be a growing interest in young people's spirituality. How will the Church respond?
According to Dr Lisa Miller's research, children who have a positive, active relationship to spirituality are:
40% less likely to abuse substances
60% less likely to be depressed as teenagers
80% less likely to have dangerous or unprotected sex